Click Here for More Articles on REGIONAL - WASHINGTON, DC
BWW Review: RENT Returns to the National Theatre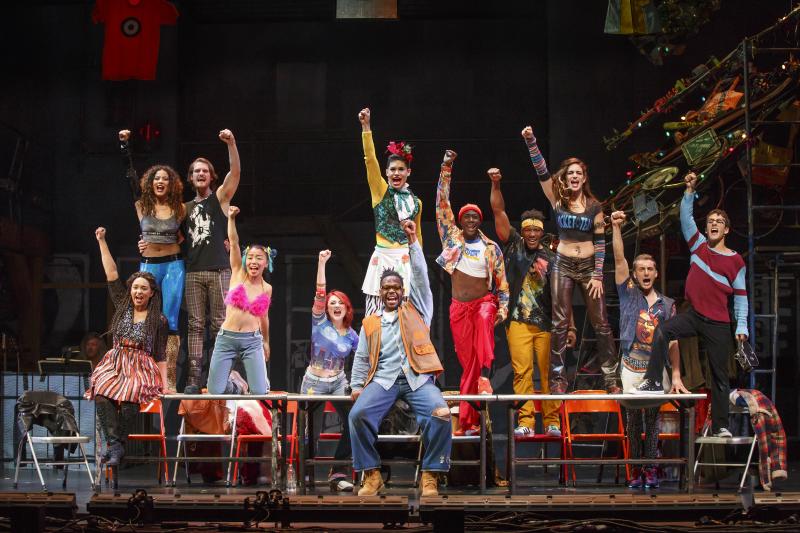 I went to high school in the mid to late 90s and, well, Jonathan Larson's Rent was my generation's Hamilton. All of the musical theater geeks in my high school were obsessed with it. It's hard to believe it's been around for two decades or so. As indicated by the vocal response at DC's historic National Theatre last night - where the non-Equity national tour celebrating this special anniversary is playing this week - the show still receives a tremendous response from its audience. While Larson's story - a modern adaptation of La Bohème set in the East Village during the AIDS epidemic - is now a bit of a period piece, the music and the overall message withstand the test of time.
The enthusiasm of the local audience may be, in part, due to the familiar tunes and characters, but it's also due to the touring production's passionate young cast under the solid direction of Evan Ensign (whose work is based on Michael Greif's original direction). While several cast members seemingly lack the finesse that might mark the best productions of the show - if I were to judge based on last night's performance - there's no denying their overall earnest approach to the material.
The best vocal moments come during the anthem "Seasons of Love," featuring a tremendous solo moment from understudy Ashley de la Rosa as well as some great ensemble singing with tight harmonies. Alia Hodge (understudy for Joanne) and Katie LaMark (Maureen) also make a strong vocal impression during "Take Me or Leave Me," made all the more special by their magnetic chemistry and stellar commitment to performing the material rather than just showing off their extremely strong voices. Whether singing or not, they're believable as a pair of lovers who are the very definition of 'opposites attract.'
That same kind of commitment to delivering a complete performance is also seen with "Tango: Maureen." Hodge performs this number a duet with Danny Harris Kornfeld, who delivers an exceptionally well-acted performance as Mark - our narrator of sorts and, important for this number, Maureen's ex-lover.
Other strong vocal moments emerge from Aaron Harrington, as Tom Collins, especially on the reprise of "I'll Cover You." It took me awhile to warm up to Mr. Harrington. He didn't make much of an impression in the first half of the show and was hugely overshadowed by the winning David Merino as Angel. (Merino, as an aside, certainly put his own special spin on the role and more than demonstrates his considerable acting chops every moment he is on stage.) However, during that particular reprise, I truly believed Tom's love for Angel and how much he believed that love and kindness matters over everything else.
Other actors have standout moments when the spotlight shines solely on them. LaMark demonstrates her knack for comedy and unique song interpretation skills in "Over the Moon." Repeat viewers will be happy to know that her rendition is not just a copy of the many others that are out there (including Idina Menzel's original one). She puts her own zany stamp on it and it's a good one. LaMark, like the others mentioned above, shows tremendous promise as a musical theater performer, including potentially on a grander scale.
Unfortunately, some of the weaker moments of the show emerge during the crucial love scenes between Roger (a vocally inconsistent, but certainly sufficiently angry Kaleb Wells) and Mimi (Skyler Volpe). The pair doesn't really have any chemistry so it's hard to believe they're either falling in love or lust ("Light My Candle"). Additionally, Volpe certainly tries her hardest to deliver her numbers and sells "Out Tonight" quite well, but, like Wells, she is somewhat vocally inconsistent. She hits some nice notes in all of her numbers, and her tone is beautiful, but she lacks complete vocal control throughout any given number. Likewise, when she needs to deliver the sass and attitude, she does, but overall, she comes off more as a suburban teenager trying to find her identity than a junkie with a big heart who has walked a hard road.
These quibbles aside, the cast and the rocking band pour every ounce of energy into everything they do, from the frenzied title song ("Rent") early in the show to the very end. No one phones it in - the songs, the choreography (by Marlies Yearby) - or anything else, which creates a consistently electric atmosphere with some help from Jonathan Spencer's lighting. An electric atmosphere, I might add, where you can still understand the lyrics thanks to some exceptional sound mix work. That, my friends, is no small feat in touring market, union or otherwise.
Running Time: 2 hours and 35 minutes, including one intermission.
RENT plays the National Theatre - 1321 Pennsylvania Avenue, NW in Washington, DC - through June 25, 2017. For tickets, call the box office at 202-628-6161 or purchase them online.
Photo: Company of RENT; by Carol Rosegg, 2016