Click Here for More Articles on REGIONAL - DC Metro Area Virginia
BWW Review: GODSPELL Gets Updated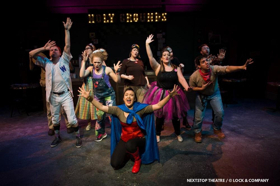 A group of strangers are sitting in a coffee shop and two religious zealots come in, kill the Wi-Fi, and keep you captive for ninety minutes while they attempt to convert you. Then the one religious zealot turns on the other, attempts to kill him while live streaming it. Sounds like the plot of a direct to video horror film rather than the basis for a reimagining of a musical.
Godspell is one of those shows that is reinvented with each production. There is a timelessness about it that makes it just as applicable today as it did when the first production opened off-Broadway in 1971. NextStop Theatre Company's current production, Godspell is more grounded in our obsession with electronics and social media, then with the overall notion of becoming a community. Director Lorraine Magee sets this in the present in a coffee shop (the aptly named Holy Grounds), but that does not matter to the show; it could have been set in a Walmart and nothing would have been different. The concept of setting it in a coffee shop and taking away the Wi-Fi so these people are forced to become a community together may look good on paper but it stumbled in execution. At the end (spoiler alert, the Jesus-like character gets crucified), Judas turns the Wi-Fi back on, presumably just to live stream his final act. The final moment when Jesus says goodbye to each of his tribe gets lost while everyone is grabbing their iPhones and iPads out of a box, stripping the heart out of the show.
At the center of show, Alan Naylor as the Jesus-like drifter is a fine performer with a beautiful voice, but lacks the authority to lead his congregants. His parables should be fun games he plays but here they just become robotic. Mr. Naylor, a gifted performer, would have been much better suited in a different role. And that goes to the rest of the cast. There are some very fine performers in the cast, but with one lone exception, no one is playing the part they should have been.
The one lone exception is the uber-talented Chani Wereley. When she first transformed from barista to Wonder Woman (?) I thought this was an excellent choice to lead the stand-out female song, "Turn Back, O Man", especially since most of the world is obsessed with Gal Gadot presently. However, when she belted out on "Bless The Lord", I was floored. Everything about her entire performance was above the rest of the ensemble that I was hoping that she would lead every number, especially the lifeless "Turn Back, O Man". Her glorious voice was the most gratifying part of the night. The rest of the ensembled was just mechanical on every aspect from rearranging the furniture to playing the parables as if they were forced to have fun together.
The music, under expert direction of Elisa Rosman, was up to NextStop's usual high standards and the vocal arrangements and orchestrations based on the recent Broadway Revival were executed flawlessly, although Mr. Naylor's voice was difficult to hear over the orchestra, particularly during "Alas For You". The minute details that went into Jack Golden's scenic design was outstanding and Brittany Shemuga's lighting perfectly made the intimate set feel warm.
Godspell is a show with heart and soul. Unfortunately, here, the heart and soul has become over caffeinated. Artistic Director Evan Hoffman has done some amazing things with this tiny Herndon space and this one might have been better off with Mr. Hoffman at the helm.
Running Time: 1 hour and 45 minutes, with one intermission
Godspell plays through April 1, 2018 at NextStop Theatre Company, 269 Sunset Park Drive, Herndon, VA 20170.
Box Office: (866) 811-4111 or online.
Photo Credits: Lock & Company