BWW Review: Broadway Goes Center Stage with LITTLE SHOP OF HORRORS at Kennedy Center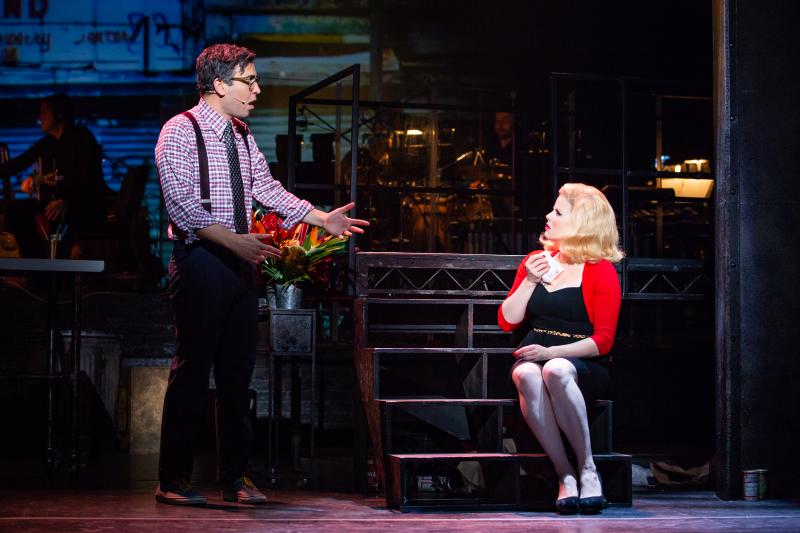 The fourth offering in Kennedy Center's new Broadway Center Stage semi-staged concert series, Howard Ashman (Book and Lyrics) and Alan Menken's (Music) Little Shop of Horrors features a lot to like, including one of the best portrayals of Audrey I have ever seen and a unique take on the infamous man-eating plant Audrey II. Particularly given the short rehearsal period, the weaker points can be more or less overlooked. All things considered, this presentation - swiftly directed by Mark Brokaw - offers a fabulous time at the theater.
A vocally strong trio of Street Urchins (Amber Iman as Crystal, Amma Osei as Ronnette, and Allison Semmes as Chiffon) enthusiastically introduce us to the seedy reality of impoverished Skid Row with some help from Donyale Werle's minimalist scenic design and Alex Basco Koch's projections. Focus narrows on the Skid Row Florist Shop where shop-owner Mr. Mushnik (Lee Wilkof) employs the nerdy orphan and aspiring botanist Seymour (Josh Radnor) and the ditzy, but well-intentioned Audrey (Tony Award nominee Megan Hilty). Seymour has found a strange and exotic kind of plant, which he affectionately names Audrey II (Michael James Leslie). He has feelings for Audrey, who is unfortunately dating the sadistic dentist Orin Scrivello (Nick Cordero) because she thinks a girl with a past (such as herself) doesn't deserve such a great guy as Seymour. Seymour is concerned that his special plant is dying. Traditional methods like giving the plant water and sunlight don't seem to do the trick. He inadvertently discovers that blood, of all things, seems to satisfy the plant and help it grow and thrive. In fact, the plant demands blood.
Seymour must continue to satisfy the plant's cravings all while balancing new commitments resulting from his (and the shop's) new fame. After all, the plant is the reason for all of the positive attention and new financial opportunity. Seymour takes matters in his own hands to solve some of the major dilemmas in his life - how to feed the plant and how to keep Audrey safe - but there's some question as to how long it will take for his actions to catch up with him. The plant grows bigger and stronger and more demanding and Seymour finds himself at a crossroads. Things are spinning out of control. He wants a nice quiet life with Audrey in a cute little town, but there are complications - including some he never imagined possible.
Speaking of never imagined possible, let's discuss Megan Hilty and Michael James Leslie's performances as Audrey and Audrey II.
Those that have seen Megan perform in concert have probably heard her wonderful rendition of "Suddenly Seymour" with her husband Brian Gallagher. Her turn as Audrey features the stellar vocals you might expect and she nails the comedic moments in "Somewhere That's Green." Her portrayal, however, is not overwhelmingly cartoonish or ditzy. She achieves a balance some others before her have not. Her Audrey is a charming yet flawed human that has been dealt a less than ideal hand. You can't help but fall in love with her and want her to succeed.
Unlike Ms. Hilty, Mr. Leslie has had more than a few performances of Little Shop of Horrors under his belt having voiced Audrey II in London, Los Angeles, on Broadway, and on tour. The situation he encounters in this presentation, however, is slightly different - and not just because he replaced James Monroe Iglehart at the last minute. There is no puppet. Leslie himself appears in a rolling chair and embodies the plant with some help from costume designer Jen Caprio and of course his obvious physical acting skills. As Audrey II grows bigger and stronger, Caprio provides Leslie with additional costume elements, which are functional, yet also clever and creative. With more blood at his disposal, the plant has the capability to move more freely. As Audrey II becomes bolder - and clearly hungry for even more control - Leslie moves about the stage on his own two feet. While I will admit it took some getting used to not see a puppet, this approach fully emphasized the plant's human qualities. While it would probably be a bit of a hokey disaster with a lesser actor, Mr. Leslie is fantastic and fully won me over even before he uttered "Feed Me."
As Orin and Mr. Mushnik respectively, Nick Cordero and Lee Wilkof give some great performances. Cordero is exceptionally believable as the not-so-nice dentist and he sells the character's big number ("Dentist!") with reckless abandon. While he unfortunately went up on his lines playing one of three ancillary characters in Act II (scripts are available to the actors to use in this semi-staged concert format, but he did not use one at this point), he demonstrated his versatility. Wilkof - who is certainly no stranger to the show having originated the role of Seymour - fully embodies the role of the grumbling yet lovable shopkeeper.
I've saved Josh Radnor as Seymour for last. While Mr. Radnor has a few non-musical Broadway credits, most of his work has been on television. On the night I attended, he did not appear as comfortable in his role as the other cast members, particularly during the musical numbers. He was more or less believable as the adorkable botanist and could carry a tune, but I wondered what the result would have been if a more seasoned high-level musical theater actor had been cast opposite Ms. Hilty. I commend Mr. Radnor for taking a risk, especially in a musical presentation with a short rehearsal period though. It wasn't a bad effort and it's entirely possible his performance will grow even stronger as the short run continues.
No matter though. For some great music, expertly played by Joey Chancey's ten-piece orchestra, some first-rate performances, and all-around fun time, check this show out through Sunday, October 28!
Running Time: One hour and fifty minutes including one intermission.
LITTLE SHOP OF HORRORS, presented as part of the Broadway Center Stage series, plays the John F Kennedy Center for the Performing Arts in Washington, DC through Sunday, October 28, 2018. Tickets can be purchased online or by calling the box office at 202-467-4600.

Related Articles View More Washington, DC

Stories

Shows
Jennifer Perry is the Senior Contributing Writer for BroadwayWorld.Com's DC page. She has been a DC resident since 2001 having moved from Upstate New York (read more...)