Click Here for More Articles on DC - Theatre Life
BWW Interview: Theatre Life with Kristin Chenoweth
Today's subject, Kristin Chenoweth, has been living her theatre life to the fullest since 1993 when Paper Mill Playhouse in Millburn, NJ cast her as the ingénue in their production of Animal Crackers. The show effectively launched her career and she went on to become a Tony Award-winning actress, and a highly successful recording and concert artist. She has also made many appearances on television and in film. On April 8th you will have the privilege of seeing this immense talent live onstage at The Music Center at Strathmore and, judging from past performances, it's going to a great evening of music.
Ms. Chenoweth's Broadway stage credits are wide ranging and varied to be sure. There is, of course, the bubbly (no pun intended) Glinda (with a GA) in Wicked, the very precocious Sally Brown in You're a Good Man Charlie Brown (Tony Award for Best Actress in a Musical), the comedic yet tortured stage star Lily Garland in On the Twentieth Century, and secretary Fran Kubelik in Promises, Promises. Then there are her performances in Kander & Ebb's Steel Pier and Bock and Harnick's The Apple Tree. As a non- musical performer, she starred in the Broadway play Epic Proportions. Her most recent Broadway appearance was her concert entitled My Love Letter to Broadway.
On the non-Broadway side of her career Ms. Chenoweth has put her classical training to very good use. We all know that she has an incredible top range, which helps immensely if you are going to sing "Glitter and be Gay" from Candide in the role of Cunégonde. That performance with the New York Philharmonic is preserved on DVD so take a listen to it and you'll see what I mean. She also premiered I Am Ann Hutchinson at Strathmore, which was composed by Broadway composer Andrew Lippa.
Her recordings feature everything from 20s and 30s standards and Christian music to showtunes and everything in between.
For her work on the ABC series Pushing Daisies, Ms. Chenoweth received an Emmy Award for Best Supporting Actress in a Comedy Series.
Ms. Chenoweth is totally committed to music and arts education. Read on as to why she thinks it is so important.
In the case of this interview I never spoke with Kristin Chenoweth directly. Let's face it, I am not worthy of that kind of privilege. The questions were sent in and graciously answered in the form of an audio file which was then transcribed for print. The words you see in brackets within the answers are added only for clarification.
I want to thank Ms. Kristin Chenoweth for taking time out of her extremely busy schedule to answer my questions for Theatre Life. It is not often someone with her status agrees to be interviewed for the column and to say that I am forever grateful to have this opportunity is an understatement.
Come see Kristin Chenoweth and her longtime Musical Director Mary-Mitchell Campbell in concert April 8th at the Music Center at Strathmore. It's going to be a great time for sure.
Who would you say had the biggest influence on you becoming a performer?
Probably my mom, to be honest with you. She let me practice all the time, fed my need for ballet and piano, and encouraged me to be in choir and drama. If I had a solo, she wanted me to practice to make sure it was ready. She told me it was okay to choose [performing] for a living.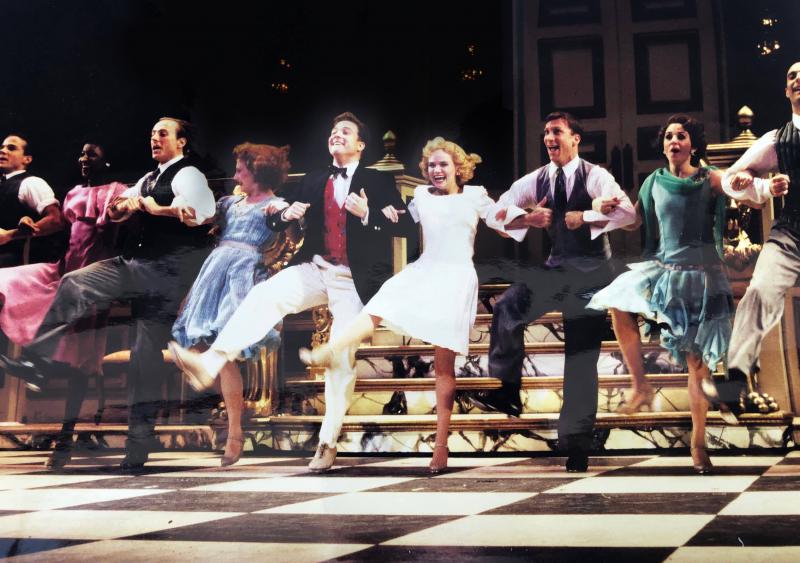 If I'm not mistaken Animal Crackers at Paper Mill Playhouse in 1993 was your first professional performing job. What do you recall about your audition?
It was the first audition I had in New York. I was there with my best friend. It was at the Actor's Equity building. I wasn't a member of the union so I waited outside until the very end of the day to see if they had time to see me - which they did. I went in and I sang "Somebody, Somewhere" from The Most Happy Fella. They asked me if I could belt. I sang "On the Other Side of the Tracks." This was for Charlie Repole and Michael Lichtefeld, the director and choreographer respectively. They had been looking for someone for the role for a couple of months in New York and hadn't found what they thought was a perfect fit. And, it was at that moment, after I ran a little bit of the scene they asked me who my agent was. I did not have one. They asked me how I could be reached. I left them my parents' phone number. I lived in Pennsylvania at the time.
They called and offered me the part. That got the ball rolling for everything that would come after - agents, a place to live permanently, and job security for four months. A major life decision was made as well in that moment - to not go to the Academy of Vocal Arts in Philadelphia and to move to New York. Animal Crackers will always be special to me for that reason because of making that important decision.
Can you please give us a small idea of what the audience might hear at your upcoming concert on April 8th at The Music Center at Strathmore?
I'm so glad I get to come back to Strathmore since we debuted I Am Ann Hutchinson there, composed by my friend Andrew Lippa. I am thrilled that I get to come back there. It's a beautiful home for music that allows me to be comfortable singing all different kinds of music. Of course, I will give people what they want from me. There are certain songs that are attached to me that will be represented, but maybe I will get to do some new things that are coming out on an upcoming record in September. I always change up my show. It will be everything from Jerome Kern and Dolly Parton to Don Henley - all of that.
With five albums to your credit, can you please tell us about the process of choosing the material that will go on each recording you make?
Obviously, to quote Simon Cowell on American Idol, song selection is so important - and definitely so for an album. You want the listener to go on a journey with you. At least that is what I still wish. I know we are at a place where downloads of singles are the most important thing, or a certain song that lands is the most important thing. Obviously, I want that as well, but I really hope and wish that people will still not forget to take out a record and listen to it from A to Z.
Each [album] has been difficult for song selection.
The first one was classical in tone with hats off to the American Songbook on the classical side. It was fully orchestrated and I think it was one of the last times that an artist has been allowed to stand in the room with the orchestra and record at the same time. That is a gift I'll never forget.
As I Am was an inspirational record. I was going to make a Christian record that represented my faith so this was important for me personally to do. It has everybody from Sandi Patty to Amy Grant - all the greats that I grew up with - and even a hymn that just brings it all back to my childhood when music first came into my life. That was in church.
I think when you're looking at "Some Lessons Learned," that one was produced by Bob Ezrin who is one of the greatest producers that has ever lived. That particular one was a heartbreak for me because I was doing a TV show at the time and unable to tour it and I was unable to really promote it as it should have been promoted. It's one of my favorite records because it has such a wealth of material emotionally, from heartbreak to friendship. All of the things that I look for in music are on there, including a song that I asked Desmond Child to help me write. So that one in particular, I am so proud of - and people are rediscovering it all the time. It makes me sad that I didn't understand how important it would be to tour that. It definitely has a country flair to it. It is very pristine and I am just very happy with it actually.
Given your background in opera, what would your dream opera role be?
Well my dream role, I don't know if I could sing anymore if I am being completely honest. It's definitely The Doll in the Doll's Aria ["Les Oiseaux dans la Charmille"]. It's [from] Offenbach's The Tales of Hoffman. I don't know anymore if I am living up in the stratospheres probably as much as I used to as far as singing coloratura. It feels like the voice is deepening and it's moving into more of a lyric soprano, which I am absolutely fine with and would welcome. Maybe now it would be like [the title role in] Susannah by Carlisle Floyd. All of these [roles] would require me to stop doing any other kind of music, singing, or work and to concentrate solely on that - because that's what that kind of work requires from me and it deserves it from me. If I was ever given the opportunity, I would really have to consider it because it deserves the kind of time it would require from me.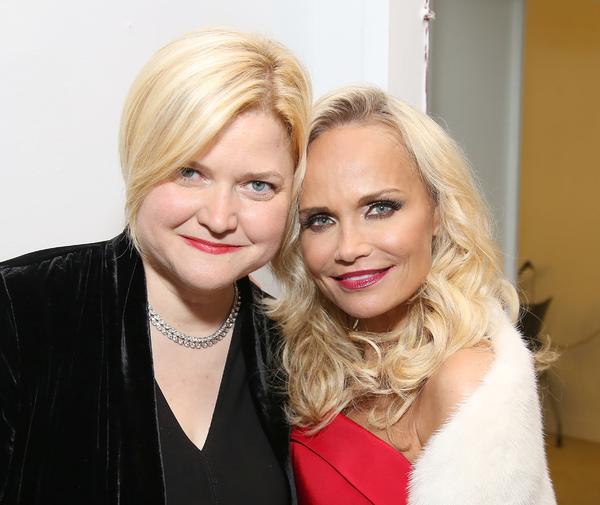 You have a long-standing collaboration with your musical director Mary- Mitchell Campbell. How did the two of you first meet?
We met at the Hole in the Wall Gang Camp that Paul Newman and Joanne Woodward started in Connecticut. I was asked to come in and sing a couple of songs during a camp, actually by Paul Newman. I came out there and I met everybody and she was playing the piano and let's just say it was love at first sight musically and friendship wise. I feel so lucky to have someone in my life like her.
You are a very big advocate of arts and music education. Why is it so important for young people to be exposed to the arts?
Because it's a safe place and a place of freedom for a lot of people. Whether they end up doing it for their living or not, who's to say that they might become a production stage manager? Who's to say that an idea that sparked while at camp isn't something they write as a movie later? Who's to say whether it helps them understand, when they someday have a child that wants to do music, how music can bond people together? That, I think, is probably why it's become so important to me at this point in my life to let people know what [being exposed to the arts] meant to me. There are kids out there that don't think that they can say that they love music or dance, or that they want to paint or hang a backdrop, or that they want to see a production being done a certain way. Or, how about this, I think that creativity, as far as the human race is concerned, is just getting started in a big way, or in a lot of ways. We have our youth to thank for that.
Of all of the roles you have performed on Broadway and elsewhere are there any that stand out as being personal favorites? Please explain why.
For sure Candide at the New York Philharmonic that was filmed for [PBS'] Great Performances was a highlight for me because I'd always been told by my teacher Florence Birdwell (who I admire very much) that [Cunégonde in] Candide was my part. I had very much looked up to Barbara Cook and I always wanted to do that role. I took a week off from Wicked and staged it, performed it, and filmed it over the next weekend. I went straight back into Wicked. I think about that time in my life and how much I was doing at a high level. It's not easy for me to do that anymore. I have to do one thing at a time and slow down a little bit, but boy do I look back at that time of my life and I'm so very grateful.
Special thanks to Bucklesweet Media's Director of Public Relations Her Royal Highness (HRH) Amy Killion for her assistance in coordinating this interview.
Additional photo assistance provided by Paper Mill Playhouse's Director of Press and Media Relations Shayne Austin Miller.
Theatre Life logo designed by Kevin Laughon.

Related Articles