Click Here for More Articles on DC - Theatre Life
BWW Interview: Theatre Life with Joshua Morgan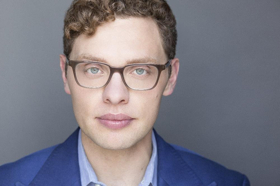 You might know today's subject Joshua Morgan from his many performances in and around the DC area. He has worked at such prestigious local theatres as Arena Stage, Theater J, Folger Theatre, and Rep Stage. He also ran a wonderful theatre company called No Rules Theatre Company for years.
Currently, however, Joshua is living his theatre life as part of the company of the Broadway bound musical Ain't Too Proud: The Life and Times of the Temptations, playing through July 22nd in the Eisenhower Theater at Kennedy Center.
Some of Joshua's memorable DC area performances include a show stealing performance as Motel the tailor in Fiddler on the Roof at Arena Stage, The Chosen, Our Class at Theater J, [title of show] and Soon at Signature Theatre, Awake and Sing! at Olney Theatre Center, Twelfth Night at Folger Theatre, and Winnie the Pooh at Adventure Theatre.
While running No Rules Theatre Company, he performed in their productions of Assembly Required: Comedy A to Y and You're a Good Man Charlie Brown. His No Rules directorial credits include Medea's Got Some Issues, In Love and Warcraft, Touch, and The Last Five Years.
Joshua moved to New York City a few years back and less than a month after arriving he was onstage in Les Misérables on BROADWAY!! He was also the producer for The War Boys at the misnamed Access Theatre.
Regionally, he has appeared in Jesus Christ Superstar at North Carolina Music Theatre and How to Succeed...at Houston's Theatre Under the Stars.
If you go see Ain't Too Proud: The Life and Times of the Temptations you have the opportunity to see Joshua back on a DC stage and that is always a good thing. He even gets to play a little piano at the end of the show. Provided you can snag a seat, check out Joshua and his extremely talented castmates. Now maybe it's time for Motel: The Musical...HMMM.
Growing up, what was the one show that had the biggest influence on you becoming a performer?
I spent a bunch of my formative years in Los Angeles so it wasn't until 1998 when I went to New York and saw Bernadette Peters in the revival of Annie Get Your Gun that I realized I had to do what she was doing! I've been a super fan ever since btw.
Where did you receive your training?
I went to the University of North Carolina School of the Arts. I'm a proud fighting pickle J along with several members of the Ain't Too Proud family including Costume Designer Paul Tazewell and Producer Tom Hulce.
Can you please tell us a little something about Ain't Too Proud: The Life and Times of the Temptations and who you play in the show?
First and foremost, I'm honored to be a part of this show. It's a true highlight of my career. I genuinely look forward to going to work to be part of this group of people who are so dedicated to making this show as good as it can be. The Temptations were pivotal to the cultural, political, and societal changes of the past fifty years and along with that responsibility comes hardship. This play explores the extreme highs and extreme lows of one of the most groundbreaking musical groups of our time.
I play their manager Shelly Berger who is a legendary talent rep having managed the Tempts, The Supremes, and the Jackson 5 among many others. He is still very active and has been around for a good deal of rehearsals and performances. Shelly is a savvy, strategic man and just talking with him informed a great deal of my sense of the role. It's also my first time playing someone who is sitting ten feet in front of me; sort of surreal in fact.
What is it about the Temptations music that makes it so ripe for theatrical presentation?
Director Des McAnuff and Choreographer Sergio Trujillo created probably the most defining juke box musical to date (Jersey Boys). They understand the form and how to theatricalize immortal music and the complicated lives of the artists who created it. From my biased perspective, they have outdone themselves and taken it a step further with this show. The Temptations came up in a time of political chaos and to quote my character the in the show..."The music is colorblind." The Tempts broke down boundaries and paved a path for culture to shape our societal landscape. And, unfortunately, we need that story told now more than ever. These two things combined make this show very ripe for theatrical presentation.
You left DC a few years ago to move to NYC. What was the most surprising thing you found in the way theatre is done in the city versus here in DC?
Well, it's less of a geographical difference, I think, and more based on what the end goal is. Meaning - in DC, we're playing in a primarily not-for-profit market while my experience in New York was commercial (profit driven). The expectations and experience will, of course, be different because one is centered around the community and service and the other is centered around turning a profit from the product. So - it almost felt like I needed to take my training and artistry and amp it up a few notches for longevity (most shows in DC ran no longer than three months) and stamina.
You appeared on Broadway in the last revival of Les Misérables. What do you remember about your opening night in that show? What was the total experience like?
There were fifteen days between when I moved to New York from DC, started rehearsals, learned four tracks and opened. I have never been thrown into a lions den like I was in those handful of weeks. And immediately after starting performances, I played all four of my tracks, Thenardier included, within a matter of days. It THICKENED my skin and tested my resolve and technique as an actor. And I'm grateful for it. Opening was wonderful because I was joining the company with several other new members including Alfie Boe (Valjean) and Montego Glover (Fantine) and I believe it was a bit unusual for us to have such a welcoming because most of the company had already been doing the show on Broadway for a year if not longer if they came from the touring production.
The total experience taught me so much about myself in different situations. It was not easy, but it was glorious. I am forever grateful for the people who gave me the opportunity and to the many, MANY loyal fans for whom the show means a whole lot.
You ran a wonderful company here in DC called No Rules Theatre Company for years. Now that you are permanently a New York resident, would you consider starting a theatre company in the city?
I loved No Rules. The company meant the world to me. I have two big regrets in my life and one of them is the fact that No Rules didn't continue on. I take full responsibility for its ultimate wind down because so many people put so much into the company and I was proud of our work. I wanted that to continue. Now - as for starting another theatre company - haha... I always say that I will go to my grave with having founded and ran a theatre company as probably the most difficult thing I will have ever done.
I don't know if I will start another one even though I do enjoy producing. But I have actually taken all the knowledge I gained from running my businesses to starting another business, Artist's Strategy, that helps freelance artists develop strategic business plans focusing on financial management, marketing, long term goal setting, self producing, etc. It's something I'm deeply passionate about and is certainly an offset of what I did with No Rules.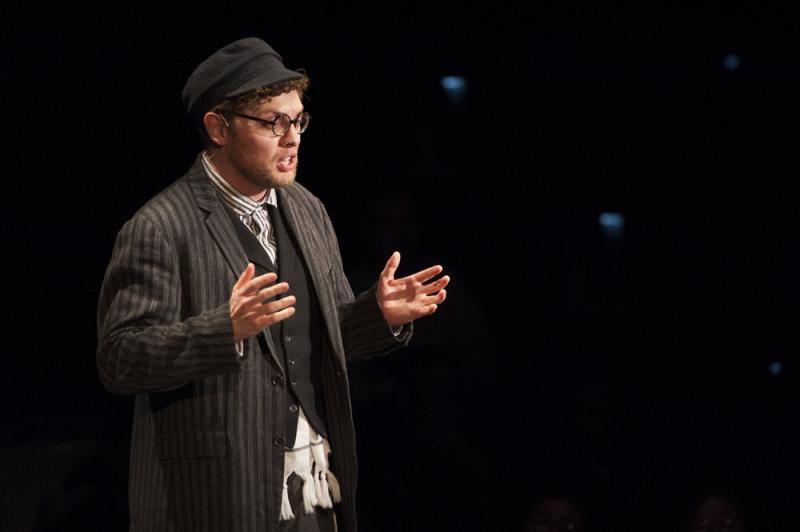 What would you say are some of your favorite roles you have played so far in your career?
My favorite roles have been Danny in The Chosen which was presented at Arena Stage alongside Theater J and directed by Aaron Posner, Motel in Fiddler... which Molly Smith directed at Arena and Wladek in Our Class, which Derek Goldman directed at Theater J. They were all such complicated young men - which tends to be a running theme in most of my work, actually. Though I have seen an uptick in more grounded characters in the past few years. Maybe that says something about my own psyche?
Special thanks to Kennedy Center's theatre publicist Brendan Padgett for his assistance in coordinating this interview.
Theatre Life logo designed by Kevin Laughon.
Related Articles