Interview: Theatre Life with Gerald Steichen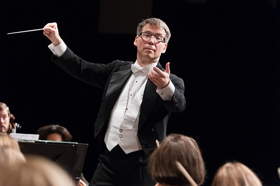 Today's subject Gerald Steichen is currently living his theater life in the orchestra pit in the Kennedy Center's Opera House as the musical director for the national tour of Rodgers and Hammerstein's The King And I. The show is in town through August 20th.
Regarded as one of America's most versatile conductors, Gerald's career has taken him all over the world conducting everything from opera and classical music to Broadway musicals.
Just to give you an idea of Maestro Steichen's talents, in his ten-year reign as one of the conductors for New York City Opera (NYCO) he conducted such varied projects as La Bohème, L'elisir d'amore, Jake Heggie's Dead Man Walking, Rachel Portman's The Little Prince, Jonathan Miller's production of The Mikado, The Pirates of Penzance, and Rodgers & Hammerstein's Cinderella. While doing that, he also conducted Cats on Broadway for two years.
His national tour credits include The Secret Garden, Phantom of the Opera, and Peter Pan. You might have also seen him onstage opposite Dixie Carter as Manny the pianist in Master Class.
Gerald's passion for education led him to an impressive eighteen-year-run with Lincoln Center's Meet the Artist series. As if all of this wasn't enough, Gerald is also a gifted chamber musician performing in locations as far away as Harare, Zimbabwe with the HIFA Festival.
Keep in mind Gerald's job is not as easy as it looks. When on tour, part of the conductor's job is to keep the musical integrity of the show intact from venue to venue. That is not easy when you have a different set of musicians in every city. Yep, Gerald travels with three other musicians and everyone else gets picked up in whatever The King and I is playing.
You have to have a certain temperament to be in this kind of position and with Gerald's vast musical background he is perfect for the job. I urge you to catch The King and I at Kennedy Center while it's in town. Please remember to look in the orchestra pit and notice all of the REAL LIVE musicians playing the music too. With Maestro Gerald Steichen on the podium, your night in the theater is guaranteed to be "Something Wonderful".
When you started out in music, was the goal to have a classical career exclusively or was musical theater always part of your artistic plan?
The truth is that I come from a family of musicians. It was just something we did. I played multiple instruments in school and church in a small town in Oklahoma. I actually planned to be an attorney. I started listening to others playing piano and thought I could play better than these folks. Theater people are also much more fun. It was more about being well-rounded.
Which college did you attend for your musical training and who would you say was your most influential professor?
I grew up in Tonkawa, Oklahoma, where I attended a small junior college called Northern Oklahoma College. I then went to Oklahoma City University for undergrad and then University of Southern California for my masters in accompanying. The voice I still hear in the back of my head is still my junior high school piano teacher named Jan Angle. She would smoke in my house which you never did, and say "So, entertain me."
Does having a classical background help for conducting The King and I?
Absolutely because I do think it is Rodgers and Hammerstein's opera. You can't just beat time. You have to create art; there are a lot of subtleties in the conducting.
You have been the associate conductor on a bunch of national tours of Broadway musicals. Is The King and I the first tour where you are the musical director?
When I first moved to New York I did a show called Huckleberry Finn, which was a touring children's show. Since then I've done Phantom of the Opera and The Secret Garden as an assistant musical director on tour and Cats on Broadway while conducting at NYCO.
This production utilizes the original orchestrations and dance music by Robert Russell Bennett and Trude Rittman respectively. In a day where most musicals are rescored for a smaller orchestra, was this something the Rodgers and Hammerstein organization insisted on?
If you are going to do Rodgers and Hammerstein, it's very closely monitored. This tour is actually using a reduced orchestration, but you wouldn't necessarily know it because Josh Clayton's reduction is as close to the originals as you are going to get. He really gets the style. There are only 17 players versus the original 31 but it sounds really full.
For this tour you are only traveling with piano, percussion, and bass, picking up the rest of the orchestra in every city you play. Can you please take us through what happens on your first day in a new city from the orchestra read to the downbeat in the first performance?
The local contractor hires the local players and on Tuesday morning we rehearse the new orchestra. We've got only four hours. Thankfully we have been fortunate to have had great orchestras so far. The players get the parts three weeks prior so they have some time to look over the music. Later that day, we do a sound check for the singers and then we go.
I imagine there are always variables with a new orchestra in every venue you play. Have you had a situation thus far on tour where you insisted a musician be replaced after the first rehearsal?
In one city, I actually fired several musicians ahead of our first break. It was just that bad.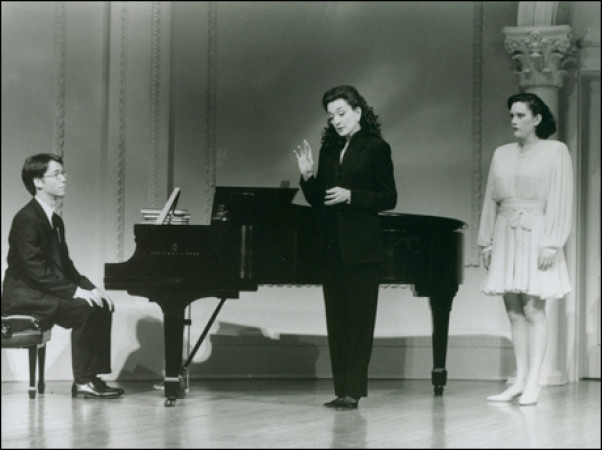 What are some of your favorite operas?
As far as the classics, Madame Butterfly and Il Trovatore comes to mind. Of the modern pieces, it would have to be Dead Man Walking,
After 66 years, why do you think The King and I still appeals to today's audiences?
It's a fabulous story with great tunes. You can't go wrong with that.
Special thanks to Kennedy Center's Senior Press Representative for Theater & Education Brendan Padgett for his assistance in coordinating this interview.
Theatre Life logo designed by Kevin Laughon.