Interview: Parker Esse Makes Sure Arena's ANYTHING GOES is De-Lovely!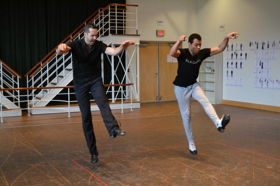 "Times have changed" belts Reno Sweeney, the nightclub singer turned evangelist in the musical Anything Goes, and boy, have they ever. However, one thing remains constant for the characters of Cole Porter's zany, 1934 madcap musical, and that is that the rousing title number is sure to bring audiences to their feet when the show begins performances at Arena Stage on November 2nd. Choreographer Parker Esse is responsible for not only ensuring that happens, but also for making sure that the moves of the characters on board the S.S. American are not only de-lovely, but the tops!
"With a big dance show like Anything Goes, we have to Raise the Roof, the title song alone has a five minute dance break," says Esse in a phone interview during a break from rehearsals. "Since we're in the round for this production, the space is going to feel like a cruise ship and the tap dancing is going to only accelerate its speed."
Esse is no stranger to Arena Stage or the Fichandler Theatre, having choreographed multiple shows there including last year's Pajama Game and 2010's landmark production of Oklahoma. He worked with Arena's Artistic Director Molly Smith on the later, and the two are once again working together as director and choreographer on Anything Goes. Their relationship dates back more than a decade and Esse is quick to credit Smith as a great collaborator.
"Molly loves throwing challenges my way. When we opened the Mead Center with Oklahoma, the challenge was how to do a 15-minute dream ballet in the round. The Fichandler [Theatre] feels like a living space being in the round and so the movement always feels natural," says Esse.
Anything Goes is set in the thirties onboard the luxury liner the S.S. American. The characters are an eclectic group, and the music itself ranges from ballads like "I Get A Kick Out of You" to the rousing gospel-inspired anthem "Blow, Gabriel, Blow." With so many musical styles, it begs the question for any choreographer, where do you start?
"For iconic pieces, like Anything Goes, I start from a very emotional place. With dance, we must convey all the emotions of the song through physicality, and if we are not physically connected to those emotions, we lose the ability to tell the story through dance. I also look at the time period in which the show is set; listening to the musical influences of the time, especially Cole Porter's contemporaries. What was the influential dance craze of the time, what was happening historically, socially or economically, which might have had influence over the story? Most importantly, how can we make this story relevant for a modern audience," says Esse.
A hallmark of Anything Goes is the presence of tap dancing in the show-stopping title number. While tap has certainly been featured in other shows at Arena, it usually has been done in their traditional proscenium space, the Kreeger Theatre. Not since their 1999 production of Animal Crackers has a tap heavy musical been featured in-the-round at Arena.
"Coming into a theatre like the Fichandler at Arena Stage, there is an immediate and intimate connection as the actors are only steps away from the audience. Being in the round is immersive and inclusive, as though the audience were a part of the space and an extension of the production."
Animal Crackers also has a special meaning for Esse. He credits it as the show and experience that changed his life and got him interested in becoming a choreographer.
"Growing up I always thought I'd be a performer, but right after graduating from NYU Tisch, I was cast in Animal Crackers at Arena Stage. During those rehearsals I was able to observe choreographer Baayork Lee's thought process. The notion of working with a director and a creative team to fulfill a vision suddenly inspired me. The notion of starting from scratch and creating my own vision to share with an audience, is what continues to ignite my passion for the theatre" says Esse.
Lee was one of the original cast members of Michael Bennett's 1975 groundbreaking musical A Chorus Line. Esse credits her as both a mentor and a teacher.
"Baayork was a phenomenal mentor, taking me under her wing. She said, 'let me show you what Michael Bennett taught me'. She led me through his process of how to breakdown a musical. We always began by listening to an entire score or a particular song, hundreds of times, dissecting the musical phrasing and discovering the dynamic shifts and storytelling within each phrase, and that was only the beginning," says Esse.
It has been almost two decades since Esse met Lee and he's now back in the same space with Anything Goes. With the show set to run through the craziness of the midterm elections and close just before the holidays, the tongue-and-cheek nature of the musical's title is not lost on Esse.
"Molly and I think the musical is extremely relevant to the current climate. Our goal as artists is not only to tell stories, but also to make audiences think. In so many ways this story brings to light the glorification of celebrity, either positive or negative, and our infatuation with celebrity as a nation. How has celebrity influenced our current political climate and where do we go from here? How do we allow ourselves to be continually taken with and by these personas we witness daily in the media, where some days it seems that just about Anything Goes. This zany and madcap musical allows us to step back from ourselves for a moment and laugh with these timeless characters, while they refresh us with hope for a new tomorrow."
Anything Goes runs from November 2 thru December 23 at Arena Stage - 1101 Sixth Street SW, Washington, D.C. For tickets please click here.
Photo: Parker Esse rehearsing Anything Goes with Corbin Bleu. Credit: Arena Stage.