BWW Interview: Arena's SOVEREIGNTY and Kalani Queypo Explore the Native American Experience on Stage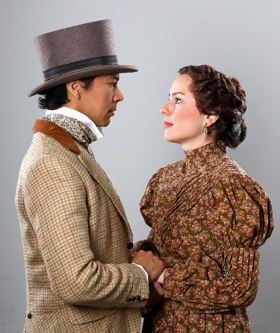 So far this season, Washington audiences have been treated to a variety of theatrical outings including: a Broadway tryout (Mean Girls), two first-rate Gershwin musicals (An American In Paris and Crazy For You) and an intimate evening with activist-songstress Nina Simone (Nina Simone: Four Women). However when Mary Kathryn Nagle's play Sovereignty begins performances at Arena Stage later this week, they'll hear something rarer than an original musical and of immense importance to America's history and story - the Cherokee Language.
"When we look at the history of Native Americans, we know the bullet points, right? We know the trail of tears, the March of the Cherokee and a few other items. So to hear the Cherokee language spoken onstage, there is a power in that. And from that language comes the hopes, dreams and stories of a society passed down thru generations," says Kalani Queypo in a phone interview shortly before Christmas.
Sovereignty follows Sarah Ridge Polson, a modern day Cherokee lawyer, as she fights to restore the jurisdictional rights of the Cherokee Nation. The play spans from the 1830's to the present and Queypo plays John Ridge, one of Polson's ancestors who also fought for the rights of the Nation during the tumultuous years of Andrew Jackson's presidency.
"It is a political piece about one powerful nation and another powerful nation that is rising. The play is a very fluid story where the past is very much the present and the present is very much fighting for the future. And through that it is about seeing where we come from, how it effects and navigates us through the world today," says Queypo.
He says that what makes Sovereignty powerful is seeing how the United States used the Cherokee National to advance itself, especially in the early 1800s. However, Queypo says there is a danger to doing historical pieces on stage.
"There is a danger in doing historical pieces, both on stage and screen, because often times you lose the beauty of storytelling and get caught condensing the plot into historical moments and facts," says Queypo. "What Mary Kathryn Nagle has tried to do is humanize John Ridge, help us understand him, not just for his noble causes and desires, but also his flaws. This was someone who had a ferocious command of the English language, studied the U.S. government laws and was yet not allowed to practice due to his race."
Central to understanding John Ridge is creating a sense of empathy for the character. "On our first day of rehearsal Molly Smith asked us two questions that best symbolize the piece: what would you do to save your family and what are you willing to do to save your country? From there it is easy for people to not only relate to him, but to identify with him as well," says Queypo.
Sovereignty is being presented as part of the second annual Women's Voices Theatre Festival and as part of Arena Stage's Power Plays Initiative. With the latter, Arena commissioned 25 plays over the next decade exploring the American experience. Sovereignty is the fourth play and Queypo says an important one because you can't talk about the American experience without talking about the indigenous American experience.
"Having the native voice in this tapestry is not just important it is paramount. And I respect and admire the responsibility Arena Stage takes in truly wanting to produce plays of importance," says Queypo.
In addition to marking Queypo's Arena Stage debut, Sovereignty also embodies one of the actor's lifelong passions - ensuring the accurate representation of Native Americans in television, film and onstage. He was a founding member of SAG-AFTRA's National Native American Committee and serves on the Advisory Council for Native Voices Theater at the Autry Museum of the American West, both are dedicated to providing productions with resources needed to accurately portray the Native American experience.
"When the idea rises to do a play about Native Americans, and this is the same on television and film, it is easier for a producing entity to say no because it seems so daunting to gather the resources to do it right," says Queypo. "Our mission is to create a resource, serve as a voice for authentic voices, so we can move away from this era of inaccurate portrayals."
The play could not be timelier on several fronts. With the #MeToo movement, greater emphasis is being made on ensuring that female voices are being heard in all communities. As part of the Women's Voices Theatre Festival, Arena will hold a post-performance conversation on January 28th with Gloria Steinem and Mary Kathryn Nagle moderated by Director Molly Smith.
Shortly before rehearsals started, President Donald J. Trump (R) caused an uproar when he mocked Senator Elizabeth Warren (D-MA) as "Pocahontas", a term used in reference to her Native American heritage, during a ceremony honoring Navajo World War II veterans. Complicating matters, and making the insult worse, was the fact that the president uttered the remark while standing in front of President Andrew Jackson's portrait in the Oval Office. Jackson features prominently in both Native American history and Sovereignty.
"When you hear about a native playwright, like Mary Kathryn Nagle, and then you have the resources of a company like Arena Stage with a director [Molly Smith] whom you've always admired, you make time to be a part of this. Why? Because you could not have a more timely play or a more timely story." Says Queypo.
Sovereignty runs from January 12th thru February 18th at Arena Stage - 1101 6th St SW, Washington, DC 20024. For tickets please click here or call (202) 488-3300.
Photo: Kalani Queypo and Dorea Schmidt. Credit: Tony Powell.
Related Articles View More Washington, DC

Stories

Shows