Click Here for More Articles on REGIONAL - WASHINGTON, DC
BWW Review: NIGHT TRAIN 57 at Kennedy Center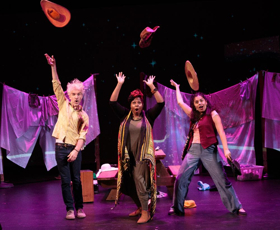 Laundry night in our house doesn't garner much excitement. However, in the world of Dan Zanes, Claudia Eliaza and Yuriana Sobrino, hanging your socks out to dry leads you on a magical, musical, mystical journey up in the heavens, courtesy of a magic train. That is the basic premise of Night Train 57, Kennedy Center's latest co-commission with VSA, and trust me, this is one journey your whole family will want to take together.
It is a beautiful night in Dan Zanes' backyard. He's hung laundry out on the line to dry. His friend Claudia Eliaza stops by and they start singing. Yuriana Sobrino is new to the neighborhood, but heard the singing and asks if she can join in. With a lantern, Dan's book of instructions, Yuriana's map, and a snazzy and terriffic set list of songs by Grammy Award-winner Zanes, the trio hops aboard the magical Night Train 57. Next stop is into the intergalactic stratosphere of space.
From the first song ("Songs Are Everywhere") it is immediately apparent that one of the show's messages is that music brings people together. With such catchy and infectious tunes as "A Seat for One and All" and "Bright Morning Song," you can't help but get out of your seat to sing and dance. In this case, you - the audience member - are actually encouraged to do so.
At one point, the trio encounters some magical flowers that need music back in their lives. The result is "Bloom Baby Bloom."
While you are taking "Guitars to the Stars," you can't help but be impressed by the trio's multiple musical talents. They sing, play all kinds of instruments including guitar, trombone, percussion, and more.
Director Brian MacDevitt has created a fun experience for all. The trio of performers has great chemistry with the audience and keeps everyone fully engaged from beginning to end. Where else can you go and have an impromptu dance party just because you can?
Rob Siler's projections take us into outer space and beyond with eye popping images.
Jessica Cancino's basic set of two large clothes lines perfectly set us up for where we are going.
Jane Chen's lighting is full of color and wait till you see how she handles the takeoff and landing of the train.
Another feature of this show is that it is totally sensory friendly - meaning if you have a child with autism or any other kind of disability where certain sounds or images might act as triggers, you need not worry. This show is created so everyone can enjoy it.
Night Train 57 is one of those shows that you should consider seeing this holiday weekend. Zanes, Eliaza, and Sobrino's talents can't be beat and MacDevitt and company have created an entertaining production that everyone can enjoy.
Running Time: 60 minutes with no intermission.
Night Train 57 runs through October 8, 2017 in the Family Theater at the Kennedy Center, located at 2700 F St NW, Washington, DC.
For tickets, click here.