Her Majesty The Queen Consort Celebrates 100 Years of Elmhurst Ballet School
She visited on Tuesday 14 March 2023.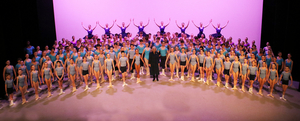 Her Majesty The Queen Consort visited Elmhurst Ballet School on Tuesday 14 March 2023 and shared a mutual love of dance with students, staff and alumni as the Birmingham based school continues to celebrate its Centenary.
Elmhurst Ballet School was founded by Helen Mortimer in Camberley in Surrey in 1923 and relocated to Birmingham in 2004. Her Majesty has supported Elmhurst since 2006 and the engagement marked her fifth visit to the school.
Her Majesty was received by Professor Helen Higson OBE, Vice Lord-Lieutenant for the West Midlands and presented to High Sheriff David Moorcroft OBE, Lord Mayor of Birmingham Councillor Maureen Cornish, Elmhurst Ballet School Principal Jessica Ward, and Director of Birmingham Royal Ballet Carlos Acosta CBE.
During the event, Her Majesty met staff and alumni from the school's Camberley and Birmingham years and watched a short performance ending with the Grand Défilé showcasing all 200 students. Her Majesty was introduced to international students from across the Commonwealth, including Australia, Malaysia, Nigeria and South Africa.
Her Majesty unveiled a plaque within a brand-new centennial wall art that spotlights ten decades of Elmhurst. The 8.7m x 2.7m design is on display in the school's foyer and takes the viewer from Elmhurst beginnings to its pioneering developments in dance training, education, health & wellbeing and research.
Jessica Ward, Principal of Elmhurst Ballet School, said: "Her Majesty is a huge supporter of Elmhurst and it is always a pleasure to welcome her back to Birmingham, this time to celebrate our 100th birthday. The students are at the heart of everything we do and we are grateful Her Majesty shares our passion in providing the very best start in life for young people in our care."