ERRATICA Presents TOUJOURS ET PRES DE MOI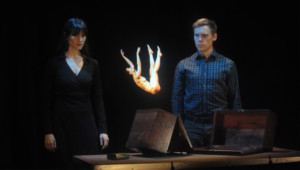 Using the 19th century 'Pepper's Ghost' illusion, a man and woman interact with miniature holograms of their past selves, uncovering a story of loss, regret and unresolved trauma
Directed by Patrick Eakin Young
Assembly Roxy, venue No. 139, upstairs, 2 - 27 Aug 2018 (not 13 & 20), 15.00 (15.50)
Trailer: https://vimeo.com/30943552
Incorporating dance, physical theatre, video art and an era-spanning set of opera, Toujours et Près De Moi blurs the lines between past and present, reality and illusion, to explore a couple's - or former couple's - story of absence and heartbreak.
The Victorian music-hall illusion of 'Pepper's Ghost', which creates moving 3D images by projecting on to a large piece of glass, is used to invoke virtual representations of the two unnamed characters' past selves. The figures interact with the set, each other and the real-life actors with uncanny realism to suggest a relationship fractured by loss, absence, heartbreak and regret.
The wordless performance is underscored by recordings of five unaccompanied classical singers performing Renaissance Madrigals by Carlo Gesualdo as well as contemporary work by Salvatore Sciarrino, Christopher Fox and James Weeks.
Artistic Director Patrick Eakin Young said "This piece is about memory and ghosts and those parts of our past that live together in their imagination. It might be infidelity, or a child that has not been had or has been lost, and how those traumas live with us through our lives. The title comes from one of the choral pieces by Weeks. 'Complainte' is his setting of a poem by Mary Queen of Scots about the death of her first husband. His spirit is always close to her."
ERRATICA is a London-based arts company that creates diverse musical spectacles, both in the UK and internationally. Established in 2009 by artistic director Patrick Eakin Young, ERRATICA's new music theatre productions explore the theatrical and narrative potential of the human voice: sung, spoken, live, recorded, distorted or disembodied. Driven by eclectic musical scores - whether borrowed, newly composed or collaboratively devised - its work combines live and mediated vocals with diverse technologies to tell powerful stories in new ways.
Patrick Eakin Young is a director, designer and artist, originally from Toronto, Canada, now living and working in the UK. He attended Columbia University in New York and has assisted directors in the US both regionally and off-Broadway, held observerships at both the Metropolitan Opera and the Royal Opera House, assisted for the South African artist and director William Kentridge, and been a fellow of the Atelier Opéra en Création at the Festival D'Aix-en-Provence, France. Since 2007, he has been directing and producing contemporary musical spectacles through ERRATICA. His work has been presented in New York, Johannesburg, Toronto, and London.
@ERRATICA_UK | #ToujoursetPres | www.erratica.org
Running Time: 50 minutes | Suitable for ages 14+ (contains nudity)
Featured This Week on Stage Door
Shoutouts, Classes, and More from Your Favorite Broadway Stars

More Hot Stories For You