Dance Consortium Presents Dada Masilo's GISELLE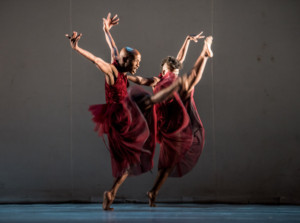 Dance Consortium is delighted to announce Dada Masilo's forthcoming UK tour of Giselle. Following the international success of her acclaimed reinterpretations of Carmen, Romeo and Juliet and Swan Lake, Soweto-born dancer and award-winning, internationally-renowned choreographer, Dada Masilo brings her latest production Giselle to the UK this autumn with London premiere performances at Sadler's Wells on 4 & 5October, and a subsequent tour taking in Nottingham, Bradford, Birmingham, Salford Quays, Milton Keynes, Brighton and concluding in Canterbury on 2 November.
The tour is an exciting addition to Dance Consortium's 2019 performance schedule and continues the organisation's unparalleled commitment to bringing the best international contemporary dance to audiences across the UK. Dada Masilo's Giselle is a Sadler's Wells' co-production and marks Dance Consortium's 45th tour since 2000.
Dancing in the title role, Masilo leads her company of twelve exceptional dancers with theatrical mastery, accompanied
by a hauntingly beautiful score from South African composer, Philip Miller, which fuses electronic sampling from the orchestrations by Adolf Adams, layered with African voice and percussion. Masilo was born and raised in the Johannesburg township of Soweto. Trained in classical ballet and contemporary dance she fuses these techniques with African dance
steps to create her high-speed style. Giselle marks the fourth classic Masilo has reinterpreted in a decade
and cements her growing reputation as a powerful and dynamic choreographic voice on the international stage.
This is Giselle but not as you know it. Opening in a lively South African village, Masilo's Giselle tells the story of a trusting peasant girl who is thrust into a world of betrayal and shame when her lover rejects her. Spurned by her family and killed by heartbreak, Giselle returns from the grave as a supernatural being bent on revenge.
Mixing contemporary dance, traditional Tswana movement and the vocabulary of classical ballet, Masilo recontextualises the themes of grief and revenge inherent in the original and asserts a timely #metoo twist to the traditional Giselle narrative. Barefoot and grounded in her body, Masilo's protagonist is the antithesis of the weak, frail and vulnerable Giselle with whom we are familiar. Myrtha is recast as a male Sangoma, or traditional South African healer, and the Willis - both male and female - are a vicious mob ready to exact their revenge.
As a dancer, Masilo has impressed with her signature speed of movement and the precocious theatricality with which she embodies her roles. As a choreographer, her fine instinct for staging and her deep love for the classics sees her tackle the established ballet canon with remarkable boldness and daring artistry.
Dada Masilo says of her Giselle: "I wanted to make a ballet that was not pretty ...I wanted to get away from that and bring it back home to South Africa and give it that edge, put it into that context. The world that we're living in right now, there's so much disruption, so much chaos happening, I think the Giselle that I made fits very well into what is happening round the world. My approach is to show that contemporary African dance and ballet can co-exist by finding an innovative way of fusing the two. I believe that we need to collapse barriers that exist between them because they are restrictions, and as dancers we don't need restrictions."
Dada Masilo's Giselle received its world premiere at DansensHus, Oslo in 2017, co-commissioned by The Joyce Theater's Stephen & Cathy Weinroth Fund for New Work, the Hopkins Center, Dartmouth College, Lyon Dance Biennale 2018, and Sadler's Wells. Additional commissioning grant from La Batie-Festival in Geneva, with additional funding from the Samro Foundation.
Photo Credit: Stella Olivier
Featured This Week on Stage Door
Shoutouts, Classes, and More from Your Favorite Broadway Stars




More Hot Stories For You