Announced: Winners Of The Keats-Shelley Prize 2018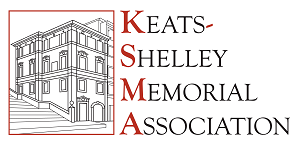 On Monday April 23rd The Keats-Shelley Memorial Association announced the winners of the annual Keats-Shelley Prize writing competition which this year attracted a record number of entries from around the world. The prize giving event was held at the Society of Antiquaries (founded 1707) at Burlington House in central London.
The prizes were presented by Chair of the Judging Panel, Liz Lochhead, winner of the Queen's Gold Medal for Poetry and National Poet of Scotland 2011-16. The panel of judges include poets Matthew Sweeney and Jo Shapcott, and Professors Simon Bainbridge and Sharon Ruston.
Winners in the essay section:

First Prize Adults: Tara Lee - 'Philosophic Numbers Smooth' prize £1,000
Tara is a Dphil student at Oxford. She is working on mechanism and vitalism in the work of William Blake. In addition to her cash prize she will also receive the first Keats-Shelley Prize Study Fellowship inaugurated this year, for a week's study in the Keats-Shelley House in Rome.
Second Prize Adults: Clare Jones - Bat, Bat, Come Under My Hat' prize £500
Clare is a graduate of Carleton College, Minnesota, USA and the recipient of fellowships from the Fulbright Programme and the Iowa Writers' Workshop. She is also a poet. Her poems have appeared in POETRY, Sport, Entropy, and Sweet Mammalian.
Young Romantics: Mine Kovavisarach - Of Liberty and Revolutions' prize £700
Mine is a 17 year old student at Wycombe Abbey in High Wycombe, Bucks. She loves history, contemporary literature and poetry.
Winners in the poetry section:

First Prize Adults: Laurinda Lind - 'Conscientious Objector' prize £1,000
Laurinda Lind lives in North Country in the far north of New York State, USA. She teaches college composition classes, and was placed first and second in state poetry contests last year.
Second Prize Adults: Laurence O'Dwyer - 'Avenida Libertador' prize £500
Laurence O'Dwyer holds a PhD from Trinity College Dublin. He has received the Patrick Kavanagh Award for Poetry, a Hennessey Irish Writing Award, a fellowship from the Mac Dowell Colony (New Hampshire) and residencies from the Tyrone Guthrie Centre (Ireland), the Rensing Center (South Carolina) and the Vermont Studio Center.
First Prize Young Romantics: Allegra Mullan - 'Storm' prize £700
Allegra Mullan attends Camden School for Girls in London
Second Prize Young Romantics: Nadia Lines - 'Cast Off' £300
Nadia Lines is 16 and lives in Hampshire. She has always loved poetry, particularly the work of Keats.
With winners from the USA, Ireland and England, this year's theme of 'liberty' clearly inspired global creativity, especially in the Young Romantics 16-18 category where 2018 entries were up by 50% over last year's. The theme of 'liberty' was chosen to mark the bicentenary of Shelley's Prometheus Unbound (1820), the four-act lyrical drama, in which the heroic Prometheus strikes a blow for human freedom against the power of the gods.
The prize giving evening was introduced by readings from the Young Romantics by actors Jonny Taylor and Polly Edsell, both of whom recently starred in 'Rebel Angel' by Angus Graham-Campbell, the critically acclaimed play about John Keats' time as a medical student. Graham-Campbell compiled the readings, Fanfare to Liberty, from words by William Blake, Mary Shelley, Percy Shelley, John Keats and Dorothy Wordsworth and more.
Extract from 'Fanfare to Liberty' compiled by Angus Graham-Campbell:
Polly Edsell: I never saw daffodils so beautiful. They grew among the mossy
stones about and about them; some rested their heads upon these
stones as on a pillow for weariness; and the rest tossed and reeled
and danced, and seemed as if they verily laughed with the wind,
that blew upon them over the lake; they looked so gay, ever
glancing, ever changing
Jonny Taylor: Beyond the shadow of the ship,
I watched the water-snakes:
O happy living things! No tongue
Their beauty might declare:
A spring of love gushed from my heart,
And I blessed them unaware:
Sure my kind saint took pity on me,
And I blessed them unaware.
The selfsame moment I could pray;
And from my neck so free
The Albatross fell off, and sank
Like lead into the sea.
Polly: Independence I have long considered the grand blessing of life,
the basis of every virtue.
Jonny: I would I were a careless child,
Still dwelling in my Highland cave,
Or roaming through the dusky wild,
Or bounding o'er the dark blue wave;
The cumbrous pomp of Saxon pride
Accords not with the freeborn soul,
Which loves the mountain's craggy side,
And seeks the rocks where billows roll.