Sooner Theatre Will Present ANNIE This Holiday Season
The musical runs December 11-13 and 18-20, 2020.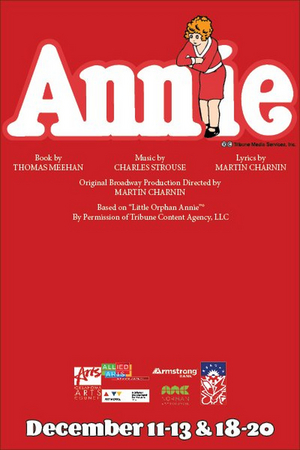 Leapin' Lizards! The irrepressible comic strip heroine takes center stage in one of the world's best-loved musicals.
Based on the popular comic strip by Harold Gray, Annie has become a worldwide phenomenon and was the winner of seven Tony Awards, including Best Musical. The beloved book and score by Tony Award winners, Thomas Meehan, Charles Strouse and Martin Charnin, features some of the greatest musical theatre hits ever written, including "Tomorrow."
With equal measures of pluck and positivity, little orphan Annie charms everyone's hearts despite a next-to-nothing start in 1930s New York City. She is determined to find the parents who abandoned her years ago on the doorstep of a New York City Orphanage that is run by the cruel, embittered Miss Hannigan. With the help of the other girls in the Orphanage, Annie escapes to the wondrous world of NYC. In adventure after fun-filled adventure, Annie foils Miss Hannigan's evil machinations... and even befriends President Franklin Delano Roosevelt! She finds a new home and family in billionaire, Oliver Warbucks, his personal secretary, Grace Farrell, and a lovable mutt named Sandy.

*This production will be socially distanced and in-person, following all CDC guidelines and City of Norman requirements. The safety of cast members, crew, staff and audiences are first priority, and if need be, shows will be moved online into a virtual setting. Masks are required at all times. Performers are expected to wear a mask at all times during rehearsals and when off-stage. Audience members, staff and crew will wear their masks at all times. Additionally, a row of seats will be left empty between each occupied row of seats, and available seats are in pods with theatre holds in between.
There is an option to live-stream this production, but if we need to move all tickets to livestream, all in-person ticket purchasers will receive information on how to access the live-stream link.
Click here for tickets.
More Hot Stories For You