BWW Review: HIDDEN SYDNEY is Raucous, Unmissable Expose of Sydney's Past at World Bar, Kings Cross
Once upon a time, many Premiers ago, when the world was new and the only cross worth knowing was far from Christian, Sydney was abuzz with glamour and debauchery, which Hidden Sydney transports audiences back to in a spectacular promenade performance. A partnership between Working Management and Live Ideas, Hidden Sydney is a once-in-a-lifetime piece featuring a range of Australian performers, emerging and established, recreating a typical evening on Kings Cross in its heyday.
A difficult performance to review without giving away some of the sensational, and oft literal, twists & turns so beg, borrow, steal or sell who you have to for a ticket.
Hidden Sydney was for those who lived through (and likely contributed to) its infamy a play of nostalgia, heart and hilarity. For millennials like me it was a wistful and powerful investigation into the impact of gentrification on genuine cultural engagement. To that effect the highlight of the night was Virginia Gay's recitations and reminder of the adventurous spirit that makes human life worth living. Lauren Clair also kept the spark of Australian irreverence alive in her address of the audience as a host of "hostesses" which culminated in quite the matchmaking experience by Paul Dowson as the stereotypical corrupt cop.
Immersive theatre is not built into Australia's tradition, so Hidden Sydney's style of promenade was refreshing and held a sense of triumph over the continued cutting of resources to arts in the same way the nightlife for which Sydney has been world-reputed has been hacked off at the knees. The sense of community created by interactive theatre is one on which our industry must rely and be galvanised by.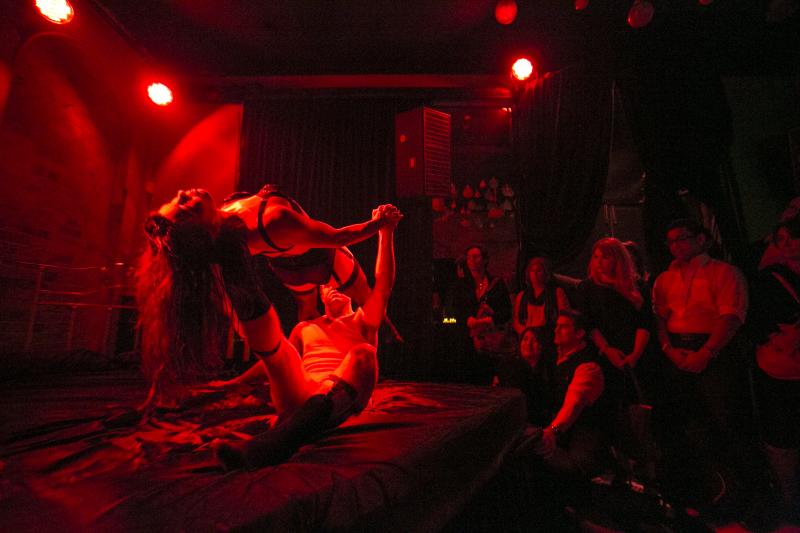 Journeying throughout the multi-story World Bar as different Cross hotspots, the effort and attention to detail in the production was truly commendable work by Hugh O'Connor. Although much of it was in the creation of ambience, Matt Marshall and Jed Silver's lighting and sound design respectively gave a presence the piece would be lost without. Particularly kudos for the mood change for the scintillating audience with Rosaleen Norton, the truly erotic work of Fiona Jopp and Thomas Greenfield, whom had to navigate an intense routine as well as some interactively inept audience members. The host of writers (Trevor Ashley, Ray Badran, Nikki Britton, Benito Di Fonzo) made for a distinct diversity which amplified the authenticity of these moments, particularly the scene concerning underworld figure Abe Saffron, where Ben Gerrard shined through the drag makeup.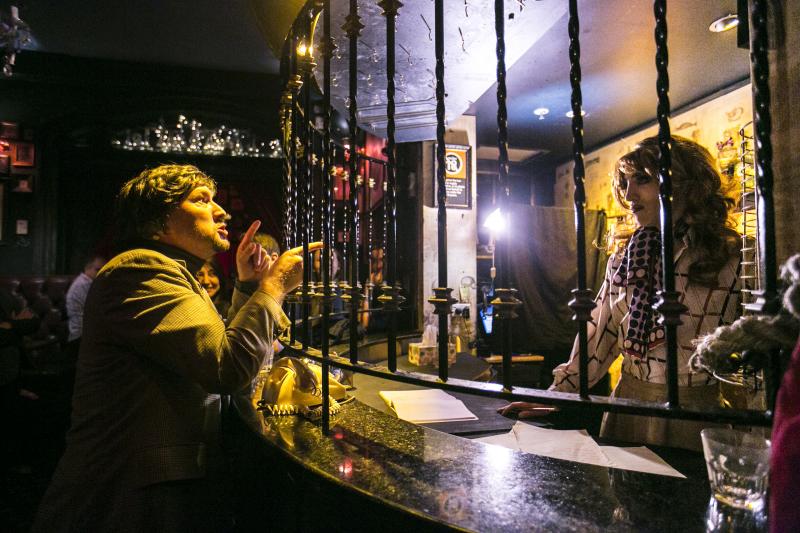 Lucas Jervies' direction clearly focused more on creative resilience and improvisational comedy which far exceeds technique or narrative method in performances like this, making for much more compelling and unpredictable experience. Ben Fink's composition pumped the performance full of emotion and heart, sinking in some tragedy about what we may have lost from the Cross in terms of drama and depravity, we've also lost passion and pleasure. The dirt from which the strongest sprout, if you'll permit a touch of poetry. That's what Hidden Sydney does to a person. If that doesn't convince you to buy a ticket, then try saying no to the silky smooth sounds of Rob Mills. That fabulous ham could sell ice to the eskimos and the set of seal knives for $49.99.
Hidden Sydney was smart, sexy and unique. I give it four Silver Spades!
More information available here. Tickets available here.
Images by Jamie Williams.