Review: SHE LOVES ME Is An Utterly Adorable Confection Of Captivating Classic Musical Charm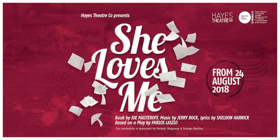 Thursday 30th August 2018, 7:30pm, Hayes Theatre
Old world charm and wonderful performances come together for SHE LOVES ME, the heartwarming story of lonely-hearts letter writers. Joe Masteroff (book), Sheldon Harnick (lyrics) and Jerry Bock's (music) 1963 musical adaptation of Milkos Laszlo's PARFUMERIE is revived for a fabulous experience of the early days Broadway musicals and is the latest treat at Hayes Theatre.
Director Erin James delivers an utterly gorgeous presentation of this amusing love story, gathering a fabulous cast and creative team to present a visual and aural feast. The work, centred on a 1930's perfume and toiletries shop in Eastern Europe lends itself to a beautiful aesthetic which production designer Isabel Hudson has made good use of. Hudson has created a detailed wood paneled Art Nouveau store complete with Walter Crane style wallpaper and large artworks in the style of Alphonse Mucha's posters. The beautiful formality of the era is expressed in the smart three-piece suits which express each male character's personality with subtle details, from assistant manager Georg Nowack's (Rowan Witt) reserved tones to lady's man Stephen Kodaly's (Kurt Phelan) more flamboyant style and delivery boy Arpad Laszlo's (Joel Granger) slightly too small pants and knit sweater. The beautiful feminine dresses favored in the post-depression, pre-war era are presented with equal expression of character along with ensemble performers Suzanne Steele and Georgina Walker appearing in an array of frocks to represent the shop's customers. Letter writer Amalia Balash (Caitlin Berry) is presented as more reserved in solid colours whilst the progression of the times and also the characters is also expressed by presenting shop assistant Ilona Ritter (Zoe Gertz) in wide legged sailor pants as she gains more confidence and acceptance that she doesn't need to settle for bad men.
Whilst the musical is based on the play PARFUMERIE which made its stage debut in 1937, James ensures that the work is presented in a way that highlights Amalia and Ilona's strength and independence in a era that expected women to settle down and get married. Echoing the modern era's online dating, SHE LOVES ME is based on a time when hand written letters were the mainstay of long distance communication and people responded to "lonely hearts" advertisements in the newspaper. Shy Georg Nowack has been communicating with a woman he only knows as "Dear Friend" and he's gradually come to the conclusion that she could be the one as he shares the details of the romantic letters with his colleague, the meak and mild married man Ladislav Sipos (Jay James-Moody). The nice order of his work life at Maraczek's Perfumerie is however unsettled when the anxious Amalia Balash arrives wanting a job and ends up causing Nowack to lose his bet about the salability of musical boxes and is given a job by the impressed Maraczek (Tony Llewellyn-Jones) starting a rivalry between the two. Balash becomes friends with fellow shopgirl Ilona Ritter, sharing the excitement of the stranger she has been corresponding with. As the seasons pass and the busy Christmas sales rush approaches the two are ignorant of the other's letter writing arrangement, only knowing that they seem to irritate each other constantly. Woven between this love story, the audience also learns about the hopes and ambitions of the other members of the shop, particularly their views on love, relationships and marriage.
Whilst a number of the songs from SHE LOVES ME are popular in the cabaret circuit, it is a treat to finally get to hear them in context. Supported by Steven Kreamer's six-piece band and David Grigg's sound design, this production is filled with outstanding performances both musically and physically (Choreography by Leslie Bell). Witt's rendition of Tonight at Eight captures the lovelorn Nowack's anxiety at his impending first date with his letter writing stranger whilst retaining a clarity and conversational cadence to ensure that whilst singing and dancing his emotions, restrains the piece from being cheesy and ensures that the character is utterly endearing. Berry has a beautifully clear classically trained tone which helps reinforce Balash's more reserved nature whilst having a cheeky expression and physicality as she butts heads with Georg with a confident comic style reminiscent of Christine Baranski. Gertz gives Ritter a more playful expression as she ensures that the shop assistant is seen as more outgoing than the new recruit even if she isn't as smart but still having the depth to be affected by the two-timing Kodaly. James-Moody provides some fabulous physical comedy as he takes on both Sipos and the cabaret club waiter, ensuring that each character is distinct in appearance and sound. Phelan gives Kodaly the requisite oiliness and cockiness to convey the cheater's confidence that he can string Ritter along and she'll forgive him if he dances his way back into her heart. Granger delivers another fabulously amusing performance as he takes on another gawky young male in his portrayal of the ambitious Laszlo. Rounding out the cast Suzanne Steele and Georgina Walker as the customers of both the Parfumerie and the cabaret club, lending some beautiful vocals and physicality to the work.
An utterly enjoyable feel good treat for the senses, SHE LOVES ME is a traditional romance with a twist whilst featuring some confident women, even if the era in which it is set still expected women to settle down and get married. In an age of social media and image manipulation, SHE LOVES ME also shows how little things have changed when it comes to luring a mate and trying to convince others that our lives are better than they really are. A consistently brilliant performance that is definitely a must see for anyone looking for a feel good escape from the real world, appreciates beautiful classical musicals or simply wants to see a beautifully rendered romantic comedy.
SHE LOVES ME
24 August - 22 September 2018
Hayes Theatre