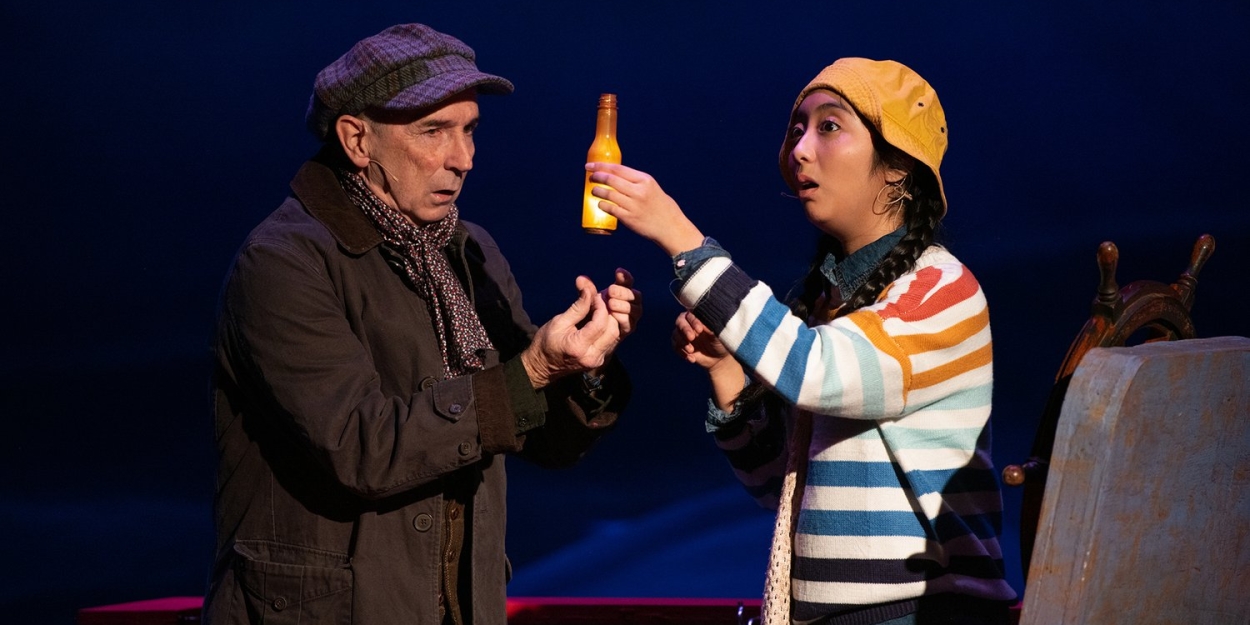 Review: SPELLS OF THE SEA at Metro Theater Company
Now on stage at the Grandel Theater
The marvelous Metro Theater Company has launched it's 50th season of fine theater for children. They open with a world premiere of a musical play, Spells of the Sea, by Guinevere Govea (with contributions by Anna Pickett). It's playing at the Grandel Theater.
I've been a fan of Metro Theater Company since my kids were little-i.e., forty years ago, when it was Metro Theater Circus. In terms of polished professional performances and imaginative staging this new show is right up there with their best.
It tells the tale of a young girl, Finley Frankfurter, in a small fishing village called Bleary. (It looks to me like we're in Maine.) We see a lighthouse on a rocky coast, a simple sea-scape behind it, and at the top of the proscenium is a long stretch of gauze (or "scrim") draped like a great fishing net. This is very effectively used to mask scene changes, or to represent the sea itself for an underwater sequence. There's a gorgeous silhouette ballet by a (perhaps) six-armed sea spirit.
The set is by that most talented design duo Margery and Peter Spack with scenic artist Cristie Johnston.
The leading role, Finley, is played by the playwright-composer herself, Guinevere ("Gwenny") Govea. She's a very bright spirit with a lovely clear musical-theater voice-and she's a fine dancer.
Finley's father is the best fisherman in town. But the town is in crisis. The old lighthouse keeper, Mr. Crank, has extinguished the light and refuses to re-light it. A gloom, a despair, has descended over the town with the dark. There is no hope. And Finley's father, Ferris Frankfurter, burdened by "too much responsibility", succumbs to the Big Bad Sickness from the big bad depths of the sea.
On the advice of the magical-mysterious Queen of the Mermaids, Finley sets out to find a cure for her father. She must retrieve three magic things to make the elixir which will cure his illness. (Well, maybe four.) Finley befriends the old lighthouse keeper and they set out in an adorable little boat.
It's a lively adventure, filled with jolly pirates and strange sea monsters and whirlpools and delightful songs and dances. The cast of nine are most gifted performers. Seven of them (i.e. all but Finley and Mr. Crank) play multiple roles and also play instruments-concertina, mouth piano, cello, guitar, bass guitar, tropical drums.
Tyler White is marvelous as a sort of spiritual M.C. of the evening, lovingly advising Finley. She has such grace and poise, and she has the world's most astonishingly fine diction. Jon Gentry plays C. S. Crank, the light-house-keeper. He fills the role with muted grief for his own lost daughter--and with love.
Molly Burris is a delight as the Sea Princess. She's a very pink sea-snail with a shell on her back. She's rather like the bright, shallow Galinda in Wicked--pampered, popular, and obsessed with herself. The heavy shell the Princess carries is filled with "all the dumb things everybody expects her to be."
Colin McLaughlin, Noah Laster, Syrhea Conway, Mitchell Manar and Hanna Geisz fill a number of roles with lively energy and zeal.
The show is full of music with often clever lyrics-all by Ms. Govea. One particularly charming number is what I simply must call "The 'F'-word Song"; here Finley Frankfurter sings lyrics in which almost every word is an "F"-word. (Well, not that one!) Things like "Feel your feeling fully. Feel it free." It's full of fine and fancy and frivolous flourishes.
Choreographer Tyler White earns great praise, for in this show almost every move is dance. Beautiful work!
Music Director Deborah Wicks La Puma works wonders with a cast who are both actors and musicians. I felt, however, that everyone was a bit over-amplified-especially the musicians.
Director Julia Flood gives us a show that sparkles with professional polish. The kids should love it.
About the script itself: The Great Quest has been a storied trope ever since Jason launched the Argos. It has been a solid favorite from the labors of Hercules all the way up through all those knights chasing the Holy Grail, through Frodo's iconic adventure to destroy The Ring (and all the cheap-jack imitations of it), and on through Sondheim's driving a flock of story-book folk Into the Woods. It's the heart of Finding Nemo and Finding Private Ryan. That trope has been running so long it's getting winded.
Here Ms. Govea is a bit arbitrary in constructing the rules of the quest. (E.g., how does a large fish-scale represent our confronting our greatest fear?) And her little life-lessons-the morals of the story: trust yourself, don't bottle up your emotions, confront your greatest fear. These are fine, but they're too explicitly stated. One feels that this play was intentionally written to teach these moral lessons-as opposed to telling a good story where the lessons just happen to appear. I've always praised Metro Theatre for not condescending to the kids in their audience. Here (just a little) they do.
One oddity in this production is the introduction of an "olfactory design". (Yeah, like Aromarama.) This was announced in the press, but it was barely discernable at the theatre. In the lobby there was a hint of something: like a waft of air freshener-or like a memory of that lady in your office who wore just a little too much perfume. Were there pheromones in it to adjust the mood of the audience? Dunno. Scrap it!
And as to size: Some business voices say that "if you don't grow, you die". That cannot be true-it must not be true-in theater. A singer has a tessitura-a certain range in which their voice is most comfortable, most beautiful. So with a theater company. Metro Theater Company has a long history of presenting small, beautiful productions-real gems. They have tried occasionally to produce larger shows, but the cast size or the technical complexity took them out of their tessitura. When they try to grow they risk the loss of some magic.
Spells of the Sea just nudges the bounds of their tessitura. But go, it's a lovely show.
(Photo by Jennifer A. Lin)