VIDEO: Kery Sankoh canta 'Simply The Best' de TINA EL MUSICAL en TOP STAR
La actriz dará vida a Tina Turner en TINA EL MUSICAL a partir del 1 de octubre.
Anoche el nuevo programa TOP STAR de Telecinco abrió con la actuación de Kery Sankoh como Tina Turner interpretando 'Simply The Best' de TINA EL MUSICAL. El viernes se anunció que la actriz protagonizará el musical sobre la vida de la famosa cantante, que se podrá ver en el Teatro Coliseum de Madrid desde el 1 de octubre. Puedes leer la noticia aquí.
Haz click en la imagen para ver el programa completo. La actuación comienza en el minuto 6:21.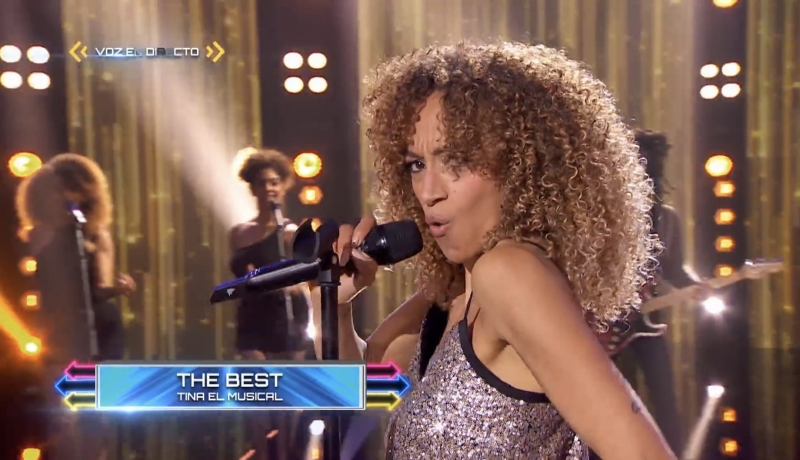 TINA EL MUSICAL, producción de Stage Entertainment que repasa la vida de la mítica cantante. El equipo creativo cuenta con Tina Turner y Erwin Bach como productores ejecutivos, Anthony Van Laast coreógrafo, libreto de Katori Hall con traducción de Miguel Antelo y Phyllida Lloyd a la dirección.
3 años después de su estreno en Londres, y tras conseguir un rotundo éxito en Nueva York, Hamburgo y Utrecht, el musical llegará a Madrid avalado por su gran éxito internacional. El musical, que se encuentra ahora mismo en la fase de preproducción, comenzará los ensayos en agosto.
Tina Turner, galardonada con 12 Premios Grammy, es una de las artistas más exitosas de la historia. Además, en la 74ª edición de los Premios Tony, que se celebrará este año en septiembre, el musical cuenta con 12 nominaciones, incluyendo la de Mejor Musical.