BWW Spain Facebook LIVE! con Guido Balzaretti y Matias Mayer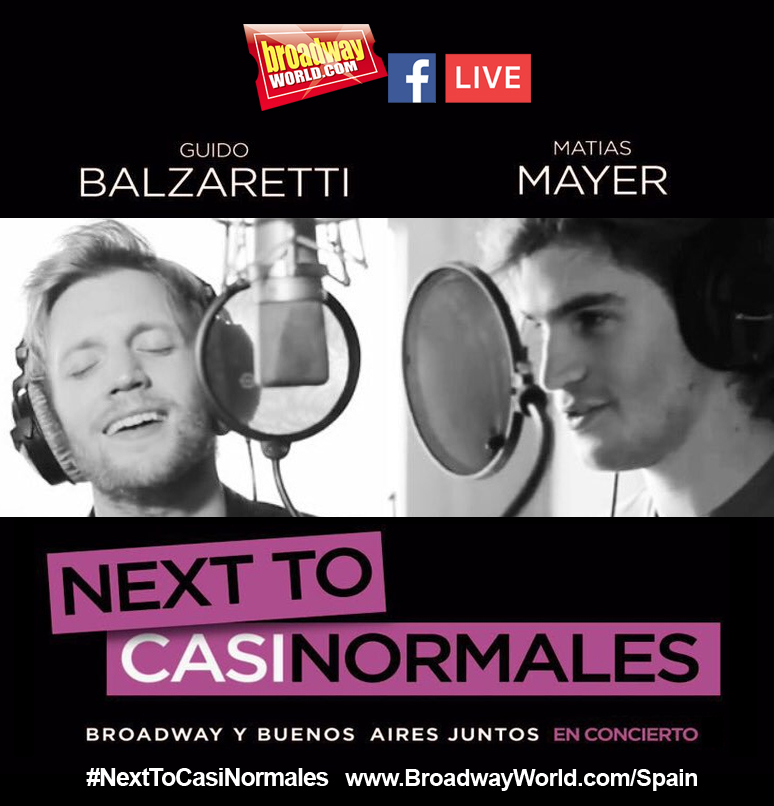 They're Alive! Disfruta este viernes 21 de octubre a las 17h (Hora Argentina) / 22h (Hora Española) de este encuentro con los actores que dan vida a Gabe en CASI NORMALES en Argentina y España: Guido Balzaretti y Matias Mayer en exclusiva en el Facebook de BroadwayWorld Spain.
Una oportunidad única, ideada por la cabeza creativa de Pablo del Campo, de conocer a estos dos artistas y poderles preguntar sobre el concierto NEXT TO CASI NORMALES en el que participarán esta semana junto a Alice Ripley y Jennifer Damiano, del reparto original de Broadway de NEXT TO NORMAL, los días 20, 21 y 22 de octubre en el Teatro Astral de Buenos Aires. Compra tus entradas aquí.
Además de LOS MISERABLES, Guido Balzaretti cuenta en su currículum con títulos como SPRING AWAKENING, SWEENEY TODD, LA VIUDA ALEGRE y más recientemente, CONTAMINATIO, que estrenó este verano en el Festival de Mérida. En agosto de este año se anunció que el año que viene será Gabe en la producción española de CASI NORMALES.
Matias Mayer fue Gabe en la versión argentina de NEXT TO NORMAL (CASI NORMALES). El actor debutó en 2008 en el espectáculo AVANT PREMIERE CAMP ROCK en el Teatro Coliseo de Buenos Aires. Cuenta en su currículum con títulos como Romeo & Juliet + QUEEN, HAIRSPRAY, CASI NORMALES, GHOST EL MUSICAL y LET IT BE.
NEXT TO CASI NORMALES contará con la participación de Josefina Scaglione (nominada a un premio Tony por WEST SIDE STORY), Matías Mayer (Gabriel en CASI NORMALES), Mariano Chiesa (Dr. Madden en CASI NORMALES) y la aparición estelar de Nacha Guevara.
NEXT TO NORMAL es un musical escrito por Brian Yorkey con música de Tom Kitt que cuenta la historia de Diana, una madre con trastorno bipolar, y cómo su enfermedad afecta a su familia.
NEXT TO NORMAL se estrenó en Broadway el 15 de abril de 2009, protagonizado por Alice Ripley y Aaron Tveit. Obtuvo once nominaciones a los Tony de 2009, ganando tres de ellos, incluyendo Mejor Partitura. Además, obtuvo el Pullitzer a Mejor obra dramática en 2010. NEXT TO NORMAL se ha representado en todo el mundo, incluyendo producciones en Buenos Aires y México DF.
Featured This Week on Stage Door
Shoutouts, Classes, and More from Your Favorite Broadway Stars
He was born in Zarzalejo, Madrid (1983). He studied Medicine in Universidad Complutense, and he's always been an avid theater-goer, specially musical theatre. He's attended (read more about this author...)