BWW Review: SWEAT brings heat to Warehouse Theatre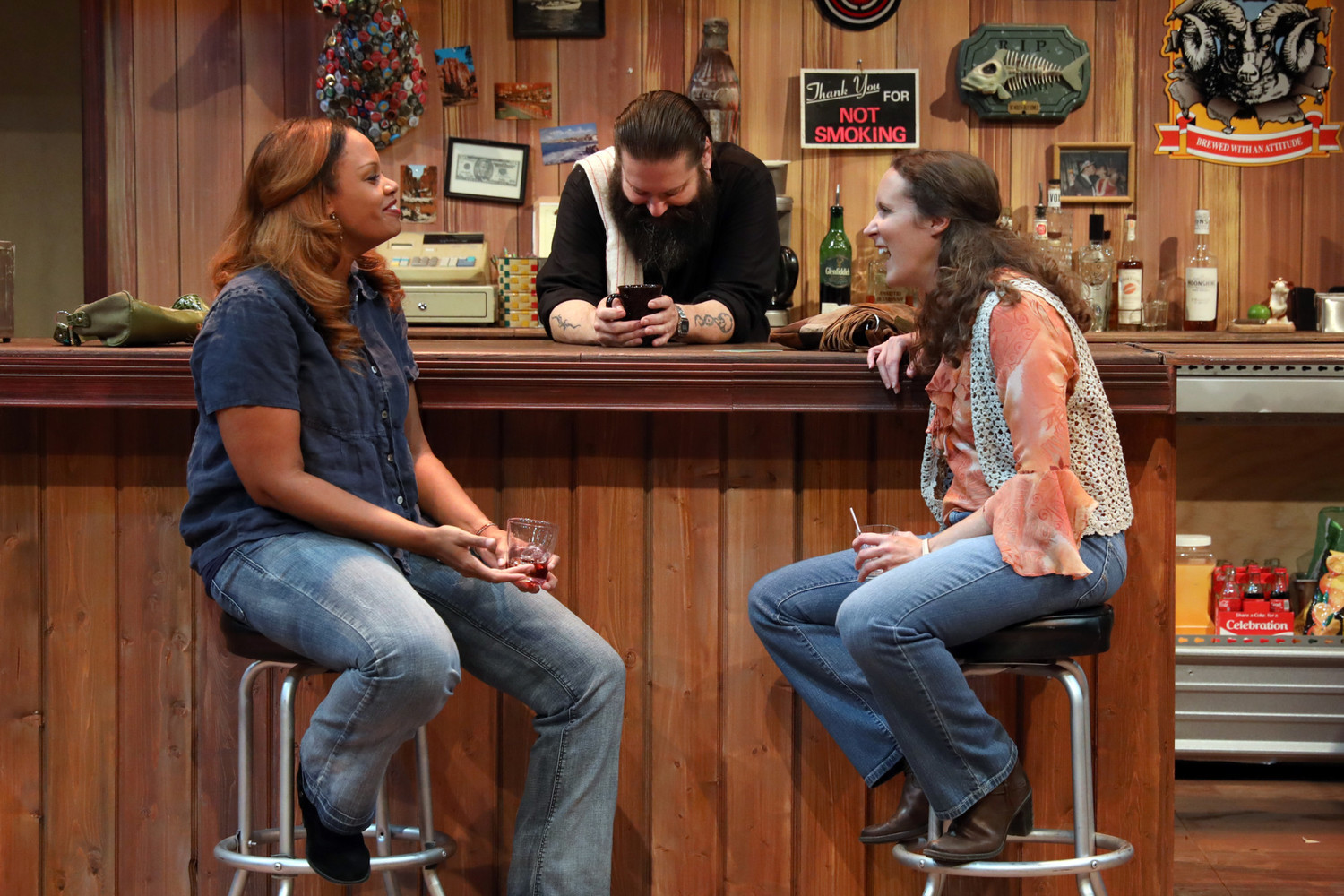 "This place ain't what it used to be."
Earlier this year, one of Pickens county's oldest textile mills, Alice Manufacturing's Ellison Plant, shut down, putting 175 people out of work. "Once vibrant U.S. and NAFTA markets on which plants like Ellison have depended have changed dramatically," the company said in a press release announcing the closure.
Those overarching political changes and the effects they've had on individuals - and communities - is the subject of Lynn Nottage's Pulitzer Prize-winning play Sweat, now playing at the Warehouse Theatre in Greenville, SC. It's a compelling production that mixes warmth, humor, and camaraderie with vivid characters and bone-shivering relevance.
Set in and around the 2000 election season, the show takes place primarily in a Pennsylvania bar where steel mill workers hang out to drink, laugh, and complain about upper management. Their lives center around the mill, as did the lives of their parents and as do the lives of their own children. But when one member of their group gets promoted off the floor, relationships begin to unravel and tensions begin to rise.
Brittani Minniweather plays Cynthia, the most level-headed member of a core trio of women that also include the gregarious Tracey (Anne Kelly Tromsness) and the hard-drinking Jessie (Maegan McNerney Azar). Cynthia's son, Chris (Sean Michael) hopes to break out of the multigenerational cycle of millwork by attending college. He is not helped, though, by his friendship with the aimless Jason (Adrian Baynard). Nor is he encouraged by his mostly absent father, Brucie (Brian Reeder).
Watching over it all is bartender Stan (Jayce T. Tromsness), an ex-mill worker who got injured on the job. And what to make of Stan's quiet barback, Oscar (Bryan Montemayor), the ultimate outsider? When he begins asking about a Spanish language flyer soliciting non-union help at the mill, questions and tempers begin to flare.
More than anything, Sweat feels real, from the dialogue to the actions to the performances. This is slice of life theatre that focuses on voices that, if anything, have only gotten louder since the play's 2015 premiere. In that sense alone, this is a vital, must-see show.
The dialogue has a very naturalistic feel to it as ideas about unions, race, and relationships boil up between well-drawn characters. Director Martin Damien Wilkins lets the action play out naturally and his actors rise to the challenge of keeping moments measured and real. Brittani Minniweather brings empathy to the beleaguered Cynthia, giving us a real feel for the weight she bears as the show goes on. As Chris, Sean Michaels is warm and appealing, making some of the character's choices even more painful to witness.
Bryan Montemayor gives Oscar a quiet dignity that beautifully contrasts with the bar patrons, particularly Anne Kelly Tromsness' volatile Tracey and Brian Reeder's bitter, troubled Brucie. Two of the best performances are also the most subtle: Maegan McNerney Azar as blowsy lush Jessie, and Jayce T. Tromsness as Stan. Both actors are disarmingly simple and understated, helping even more to ground the electric arguments.
---
Sweat by Lynn Nottage runs October 12th - 28th, 2018, at The Warehouse Theatre in Greenville, SC. For tickets and additional information call the box office at 864-235-6948 or visit warehousetheatre.com.
Photo credit: Escobar Photography