BWW Review: Impressive POWER OF SAIL Premieres at Warehouse Theatre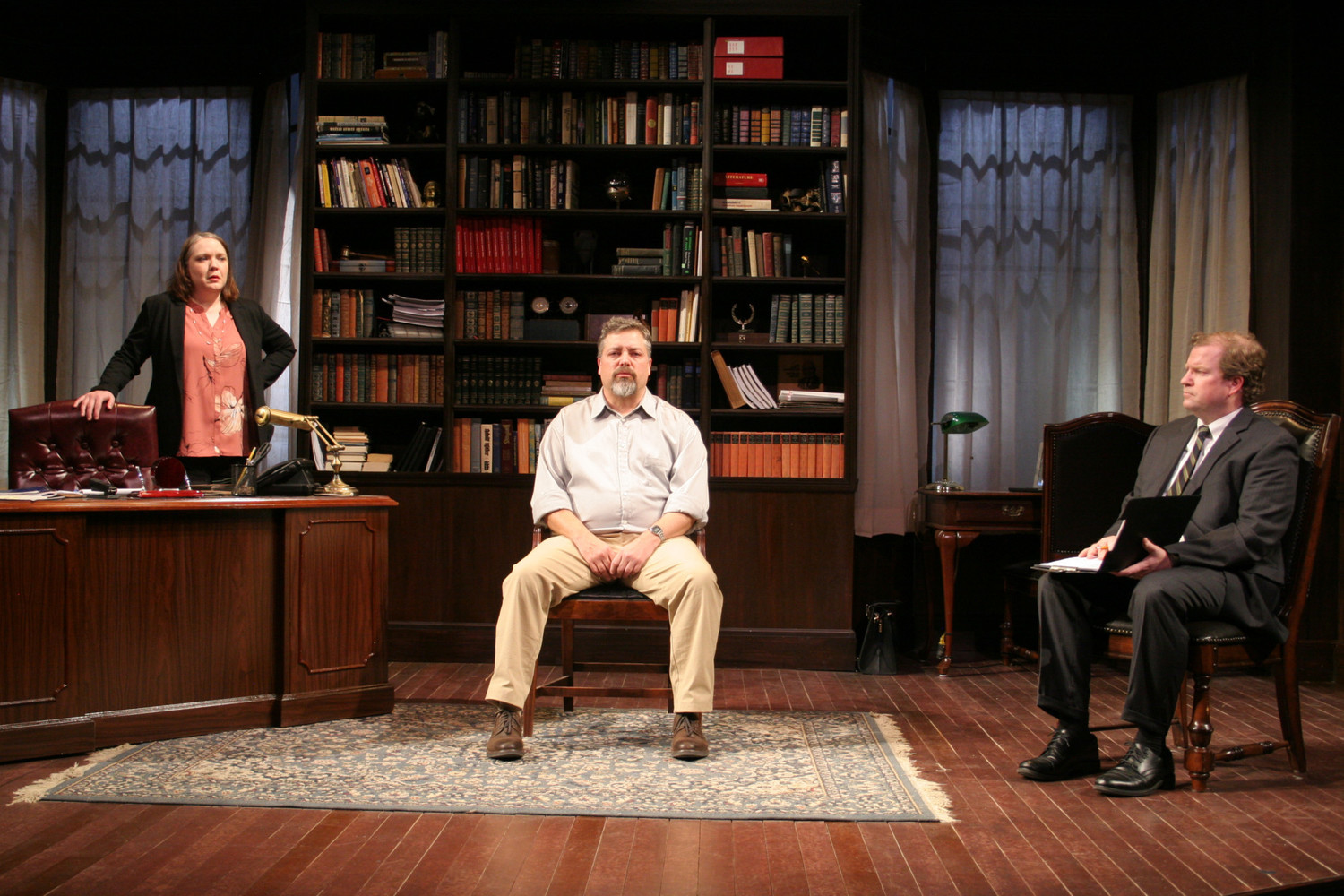 "Power of Sail" is a maritime law, explains one character in Paul Grellong's new play of that title. A ship under power of motor must give way to a ship under power of sail.
It's a trenchant metaphor underlying a complex, fast, often funny, and - unfortunately for our culture at large - still timely play.
Rob Kahn plays Charles Nichols, a Harvard University history professor who has invited a white supremacist to speak at his annual lecture series. But someone leaked the news about the speaker early, spurring student protests.
"I had a plan!" Nichols tells the Dean (Kerrie Seymour). He wanted to manage the event, manage the announcement of the speaker's name. Nichols also planned to use the event to verbally demolish the speaker, allowing the speaker to present his racist views only to be crushed by Nichols' superior intellect. After all, Nichols says, a voice needs to be amplified in order to be silenced. So why not let this speaker espouse his views in a public forum where they can be properly debated?
One of Nichols' grad students offers a succinct rebuttal to that view: "Life's too short to engage with Nazis."
The Warehouse Theatre's world premiere production of Power of Sail brings a sea of issues to the forefront. Questions of race, of privilege, of power, of the proper response to evil, of inexplicable cultural and personal blindness - all of these and more are brought up, discussed, and offered for our own reflection. It's all beautifully layered and even after several days, I have yet to process it all. I was, frankly, worried that the play would simply be an angry polemic attempting to incite outrage. But it's so much more than that. It's got plenty of laughs, fantastic performances, and a conflicted, all-too-human heart.
Rob Kahn impresses as the blowhard professor, Nichols. He navigates some big emotional depths with fierce honesty while never dipping into caricature. Professor Nichols presents himself as an above-it-all intellectual, and when that perspective is questioned, his bubble bursts. Kahn is simply terrific in the role.
Kerrie Seymour, too, brings power to her performance as the Dean, but from an opposite perspective. She represents a cold, brutal, reality that beautifully contrasts with Nichols' facade. I've been a fan of Seymour for years, and she has never been more devastating than in the second act of this show.
Also great is Sean Michael as Baxter, a former student who's gone on to become an intellectual leader - in many ways, Baxter is the person Nichols envisions himself as. Michael brings gravitas, along with charisma and fire, to the role of the student who has in many ways outgrown his mentor.
Christopher Paul Smith is terrific as a laid-back, hipster grad student who seems primarily concerned with getting coffee for his professor. But, again, all may not be as it appears. So, too, it goes with Anna Abu Elliot as another grad student, this one agitated and maybe a little too reactionary. Rounding out the cast is the always reliable Andy Croston, who manages to make a strong impression in two small roles.
Paul Grellong's script, while sometimes a little too on the nose, utilizes a time-fluid structure that worked like gangbusters for me, allowing some eventual revelations to truly pack a punch. I also appreciated the many nuggets of observational wisdom proffered by the characters, from arguments about the nature of debate to wonderfully cranky tirades that "society is aging in reverse."
Credit also goes to director Jackson Gay for keeping the play moving along at a nice clip while still allowing both the humor and the drama to land.
I mostly loved the beautifully detailed and surprisingly versatile set designed by Shannon Robert, although I did have a couple of quibbles about verisimilitude - for instance, what human being in 2019, even a hoity toity Harvard professor, would keep his computer on a second desk in the back of his office? I did understand the choice theatrically, though, and it mostly worked, but it just seemed slightly artificial in a play that otherwise felt pretty real.
Power of Sail brings up a lot of questions, some of them disturbing, some of them more philosophical, all of them worth examining. It is a cogent and urgent message for our time.
---
The world premiere production of Paul Grellong's Power of Sail runs through March 31 at The Warehouse Theatre in Greenville, SC. For tickets and showtimes call the box office at 864.235.6948 or visit warehousetheatre.com.
Photo credit: Tony Penna