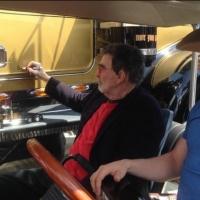 by BWW News Desk - Mar 25, 2014
East bound and down Indiantown Road, Jupiter, Florida on Saturday, March 22nd, a long line of custom cars and vintage Trans Ams followed a tractor trailer emblazoned with scenes from the old West into Pennock Industrial Park. The reason - the grand opening of Bubba's East Coast Rods and Customs - home toreality tv stars Bubba and Tom Lloyd and some of the most beautiful automobiles ever built. Bubba, 25, is an exceptionally talented master craftsman and designer, with a reputation for building some of the best cars in the industry. He and his dad already have a successful show on the Velocity channel - Hot Rod Reality - now airing its sixth season. The show won a coveted Silver Telly Award. Soon, a second show will begin airing on a major television network.
by BWW News Desk - Sep 18, 2012
Bay Area audiences will have the opportunity to experience a lost musical theatre treasure when 42nd Street Moon presents the first ever post-Broadway production of a musical collaboration by the composers of My Fair Lady and Brigadoon, CARMELINA. The show has a beautiful score by Alan Jay Lerner and Burton Lane and a saucy book by Lerner and Joseph Stein, whose Fiddler on the Roof remains one of the world's most popular musicals, but CARMELINA nevertheless vanished from sight. CARMELINA plays October 31 - November 18, 2012 (press openings November 2 and 3) at the Eureka Theatre in San Francisco. Get a first look at the cast in the photos below!