The Trail of the Lonesome Pine - 1912 - Broadway
(New York, NY)
214 West 42nd St.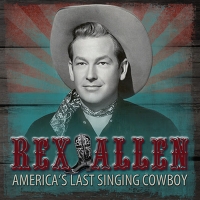 by Kaitlin Milligan - Oct 24, 2019
Rex Allen - America's Last Singing Cowboy is the latest release by Country Rewind Records and the first in a new series, referred to as the Western Heritage Series which will also feature The Son's of the Pioneers and Tex Ritter. Rex Allen was a multimedia star before the term 'multimedia' was coined. He found fame as a singer, a song- writer, a Western movie star, a television actor and (in later life) as a narrator of Disney movies and TV shows. Rex Allen - America's Last Singing Cowboy is being distributed by Select-O-Hits and available to order on Country Rewind Records website countryrewindrecords.com.
by Chris Gibson - Apr 14, 2010
Upstream Theater's production of Scottish playwright David Greig's OUTLYING ISLANDS is an intriguing evening of theater, thoroughly confounding expectations, and providing plenty of food for thought. As a person who seeks out the unusual and unexpected, I was pleasantly surprised to find myself haunted by moments from it that linger in the memory long after viewing. Maybe it was all the references one character makes to Laurel and Hardy's classic 1937 film comedy Way Out West, or the fact that they actually break into a song from that film, warbling a drunken rendition of 'The Trail of the Lonesome Pine'. Whatever the cause, Philip Boehm's fine direction, and the wonderful work of an exceptional cast, help to make this a compelling and entertaining journey.