Click Here for More Articles on Virtual Events
BWW Interview: Sara Mearns Talks Premiere of GALLOP APACE Dance Film With Seattle Dance Collective, Plus More!
Gallop Apace, premiering April 15, features choreography by Bobbi Jene Smith and Or Schraiber, and cinematography by Trevor Tweeten.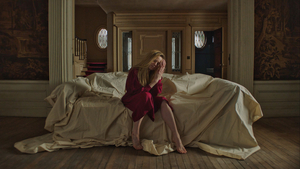 Sara Mearns is one of the most renowned ballet dancers in the world today. Mearns is a principal dancer with New York City Ballet, and her career has reached - and only continues to reach - incredible heights. She has originated roles in pieces by choreographers including Alexei Ratmansky, Justin Peck, Benjamin Millepied, Susan Stroman, Joshua Bergasse, and more; she made her Metropolitan Opera debut during their 2020 Winter Season in La Traviata; in December 2020 she starred in a virtual immersive production of The Nutcracker at the Wethersfield with NYCB's Ballet Collective; she has a new partnership with The Joyce Theater where she is producing and starring in upcoming new dance works, and this is only scratching the surface of her incredible resume.
Mearns recently partnered with Seattle Dance Collective, founded by Pacific Northwest Ballet Principal Dancers Noelani Pantastico and James Yoichi Moore, on the new dance film Gallop Apace. Starring Mearns, the film interprets Shakespeare's 'Gallop Apace' monologue from Romeo and Juliet through movement, navigating Juliet's emotional transformation from young girl to woman. Gallop Apace features choreography by Bobbi Jene Smith and Or Schraiber, cinematography by Trevor Tweeten, an appearance by Bligh Voth as the Nurse, spoken word by Israeli actress Lihi Kornowski, vocals by Anthony Roth Costanzo and cello performance by Coleman Itzkoff.
The film premieres on April 15 and will be available for streaming from April 15-22, 2021. Gallop Apace will be available to view for just $5. For more information, please visit Seattle Dance Collective's website at www.seattledancecollective.org.
We spoke with Sara Mearns about the premiere of Gallop Apace, how her approach to dance has changed during this past year, what she sees for herself in the future, and more!
---
How have you been during this past year?
Good and bad. I think all artists and performing artists are feeling the same way. It's sort of like the rug was taken out from under us and there was no end in sight. I had a really tough beginning of the pandemic, and then I sort of buckled down and started making things happen and putting collaborations together that I never would have been able to do otherwise, and thinking outside of the box creatively. I got to do a ton of things and I'm really grateful for a lot of it. It's interesting, it's been a rough year, but I sort of found a silver lining in it all which is great.
Do you miss the daily structure of dancing with New York City Ballet, or have you found that you've accessed more creative freedom during this time? I guess it could be a little bit of both!
Yeah, I definitely miss the company life. I miss dancing with my colleagues and that everyday 12-hour day with everybody, just being at the theater. It's unlike anything else, and I know that everybody misses it, and we never thought that we would be saying that just because it is such a hard life! But I definitely miss those crazy days and just the non-stop, it's really a great profession and I'm excited to get back to that. But we've all had to figure out how to deal with that, and how to not have that. So, everybody has made their own way through it and everybody's made their own schedules and figured out how to make it work, and so, I've had to do the same here in New York.
In December you starred in an immersive Nutcracker at the Wethersfield with NYCB's Ballet Collective. Can you tell me about that experience?
I had been coming off doing a bunch of other projects here in the city, so I was really in shape and I was ready to go. It was sort of a last-minute thing for me, and I definitely was excited but also nervous to go into a bubble like that because I had never really experienced anything like that yet, not being able to leave. I didn't know what to expect. But then I was with my colleagues and with people that I know really well, so it turned out fun and great. It felt like we were a little company, and we got to work every day together, and we got to perform together - perform as in there were ten, fifteen, I don't know how many guests were allowed in- but the feeling of performing with your colleagues, it was really fun.
I got pretty emotional actually after when I had to leave because you never know when that opportunity is going to happen again. Especially at that time, there was no assurance yet, there was no light at the end of the tunnel. So, it was sort of like, "Okay, I don't know if I'm going to get this again." But I loved it, it was great. Troy Schumacher, who started his ballet collective, really put something extraordinary together, and I think he hopes to continue it in a much larger way when we're not in COVID times. So, we'll see.
Let's talk about the project you have premiering, Seattle Dance Collective's Gallop Apace. What can you tell me about that?
I was approached by Seattle Dance Collective, which is a small group in Seattle run by two principal dancers with Pacific Northwest Ballet, Noelani [Pantastico] and James [Yoichi Moore]. I'm friends with them, and Noelani has always said, "If you want to do anything with us, we'd love to have you." So, they've had to navigate, as everybody else did during the pandemic, how to create work and put it out there. Film is the obvious option, and I said, "Well, what if you guys commissioned a film?"
They asked me, "Who do you want to work with?" and my first name was Bobbi Jene Smith... I just think she's such a strong female voice in the choreographic sphere of New York City, and I wanted to take this opportunity to work with her. She immediately said yes, and we brainstormed ideas, and one of them that came to mind was inspired by a scene in Romeo and Juliet.
The backstory of this is that I've never done Romeo and Juliet, never got to play the role of Juliet and I've always wanted to, but I've always been told that I'm too mature looking or I'm too tall, or I would overtake my partner, or I'm just not childish... So, I wanted to take this on just because I didn't think that Juliet was just that, that's not what she is, she's so much more than that. And Bobbi and I agreed. And so, taking on this scene where it's about Juliet growing up and starting to become a woman, and having thoughts like a woman and waiting for her new husband to come home at night, all of these things that maybe people don't want to address in a big production, or don't know how to. Bobbi would listen to the words of the play and then get inspired by those words and come in with material.
How involved were you in the process of creating the interpretation with Bobbi?
Bobbi and I would talk about it a lot. A lot of our time together when we would meet was actually talking about the scene and who Juliet is, and what she would be if it [took place] now, and how would she react right now? Really breaking down every aspect of it. When I would be sitting there going through the different movements, that really informed me of like, "Okay, this is not so foreign to me because I am a woman and I have been there," so I can access all of these feelings that she is going through in the play.
Bobbi would make the material, but it was a collaboration in that I would try it, she would see something different and go, "Do that instead," or I would say, "Can I do this here?" It was very much a collaboration. And then she brought her husband in, Or [Schraiber] who also works with her. And he helped create content, and asked questions, and watched, and gave us advice or an opinion or any comments. It was a very close, intimate collaboration.
What was the filming process like?
We filmed it in one afternoon at this massive, abandoned, broken-down mansion in Long Island that Bobbi's friend found for us, and he's a scouter and interior designer. He knew about this place because someone had bought it, and they were going to completely renovate it, and before they were going to renovate it he said, "You guys should use this." We had a couple of days to say yes, and so we did. We drove up there one morning and used the natural light and filmed it in one afternoon in this broken-down place that had no heat, no running water, no toilet, no nothing. It was sort of crazy, but amazing at the same time. We had a cinematographer Trevor [Tweeten] that came, and he was a one-man-show, he did everything, he did the lighting, the filming, the camera, the set stuff, it was crazy. There were only five of us there, and we just went in and got out and it was like nothing happened, and it was sort of nuts, but we made it happen.
Can you tell me about any other projects that you have coming up?
I have stuff in May and June coming up, but I can't really say because it's not announced yet! But I do have stuff coming up that is very exciting, and I'm building up to that. I also am working on a larger project that is going to happen in March of 2022 at The Joyce Theater, it's a whole evening and it's going to be a bunch of new works and some other things, so I am slowly and consistently working on that with my collaborators that are all here in New York. And obviously, revving up for New York City Ballet, we're hoping to start rehearsing in August and open in the fall season, which is awesome.
How has your connection to dance changed during this past year?
I've always been a huge bunhead and a huge movement geek, and I think it got even deeper this past year because I couldn't do what I normally do, I couldn't go to the theater and do ballet. And so, I sought out everything else possible, and I've been exposed to collaborators I never would have before, and choreographers online. I think I became even more obsessed with finding new challenges because I had the time, and I tried to make those things happen because I don't know if when we come back that I would have the time to do that, so why not do it now? I didn't feel like I wanted to waste this year. I didn't want to look back on this year and feel like it was lost. Now I can really say that I used it as best as I could, and I don't consider any of it lost, which is really satisfying to me, and I'm really grateful for this time.
Going forward, when life returns to some sort of normalcy, what direction do you see yourself going into with dance?
I definitely have big plans, and I'm brainstorming things that I want to do. It's sort of like I was waiting for things to come to me, but now I'm like, "I'm not going to wait anymore, I don't have time for that." I'm just going to go after things and ask for them, and make it happen because no one else is going to. I'm in charge of my own journey, so I need to make it happen. So, that's how I'm approaching these next couple of years. Obviously, a lot of my time is going to be devoted to New York City Ballet because losing a year at New York City Ballet is devastating to me, and I know to all of my colleagues, and a lot of my intention will be focused on that because it's so sacred, it's so special to me. I've already looked at the season schedules and looked at all of the ballets we're going to get to do, I've become such a bunhead. I'm just like, "Oh my god, I'm so excited to get to do that!" Even though it's nine months away, I'm already thinking about it. That's who I am, and I am just really excited for all of that to be coming back.
---
Photo credit: Trevor Tweeten