SaraSolo Festival Announces 2018 Festival Award Recipients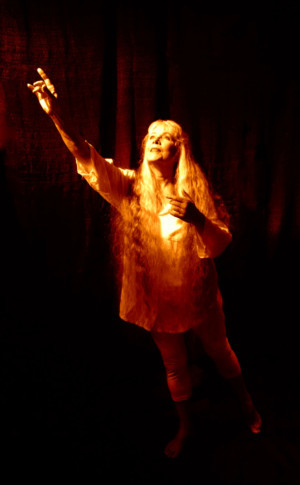 SaraSolo Festival 2018 Announces Award Winners. See the full list of 2018 SaraSolo Festival Award Recipients below!
Bill Bowers Award of Excellence, SaraSolo Festival's top honor recognizes a quintessential solo performance, named after Bill Bowers who was our first "Singular Award" winner - Nisha Coleman for SELF-EXILE. Nisha
Singular Award, presented annually for a performance that is exceptionally "Uncommon, Ground-breaking, Original and Inventive." - Willi Carlisle for
THERE AIN'T NO MORE: DEATH OF A FOLKSINGER
Outstanding Actor - Walker Vreeland for FROM SHIP TO SHAPE
Outstanding Actress - Karle Murdock for WITHIN THE LIGHT OF CONSCIOUSNESS
Outstanding Premiere - WITHIN THE LIGHT OF CONSCIOUSNESS
- Written by Gretchen Yates Lum, Performed by Karle Murdock
Rasa Award, presented annually to an exceptional performer who demonstrates "Rasa," the essence, flavor and "juice" of the art, especially as a characteristic quality of music, literature, and dance. - Elizabeth Weil Bergmann for COMING TO MYSELF
Queen's Medal For Valour, presented to an exceptional performer who brings bravery, grace, and humor to extraordinary circumstances. - Hedda Matza-Haughton for INNER VOICES: SEX, INTIMACY, AND AGING
Humorist Award, presented to an exceptional artist who uses wit to weave humorous and sometimes poignant stories about the human condition - Steve McAllister for Will Rogers REVIVED
Emergence Award, presented annually to a performer demonstrating the process of "Coming Into Being" and whose voice may become important and prominent. Gabrielle Lennon for TOUCH ME REAL
Maestro Award, presented annually in recognition of an exceptional performer who is "A Master of His or Her Art." - Ashley Strand for GLORIFIED DISASTERS/ 3 SAD STORIES, 1 FUNNY GUY
Creative Spirit Award, presented annually to an exceptional performer who demonstrates a unique approach to their art. - Cody Clark for CODY CLARK: A DIFFERENT WAY OF THINKING
Superior Bard Award, presented annually to a performer who demonstrates the art of storytelling. - Daniel Leary for THE SLEEPING CHILD
Bravura Award, presented annually to a performer who demonstrates great skill and spirit. - Brenda Watty for BRENDA WATTY: LIFE AS A MARVELETTE
Flying Solo Citation, presented annually to an exceptional debut performance -
-Kathryn Chesley for DORIS DINKLE DISHES THE DIRT
-Peg Harvey for SEVEN BLESSINGS
-Carole Kleinberg for LAST DANCE
More on the SaraSolo 2018 Winners:
Canadian writer, storyteller, actor, musician Nisha Coleman presents her autobiographical drama "Self-Exile".
Arkansas singer, musician, folklorist, storyteller, Willi Carlisle created his "There Ain't No More! Death of A Folksinger," an award-winning tour-de-folk operetta based on legends of American folk music. Carlisle was recently honored with "Best Show of the Fringe" at the 2017 Orlando Fringe Festival.
New Yorker Walker Vreeland, recently premiered his humorous and moving autobiographical play with music, "From Ship To Shape" to great acclaim at the United Solo Festival in New York.
Sarasota visual artist and actor Karle Murdock in "Within the Light of Consciousness" channels collaborator Gretchen Yates Lum's visual art and poetry (and book) into a performance piece of movement, poetry with Fine Art (some of which is created onstage).
Internationally-recognized, Sarasota based Dancer, Instructor and Choreographer Elizabeth Weil Bergmann finds an expression of discovery and celebration through her Poetry with Dance in "Coming To Myself".
Sarasota based Hedda Matza Haughton, social worker, director, actor, teaching artist and coach, presents several diverse, funny and touching characters in her "Inner Voices, Sex, Intimacy and Aging". President of "For the Health of It" consultation services.
Steve McAllister was born in in Sarasota and traveled a bit, picked up skills and now tries to make the world a better place by writing well, playing music, making movies, cooking good food and hugging people. Recently starred in the Players Centre's production of "Will Roger Follies"
Sarasota based Gabrielle Lennon, writer, actor appears in theater, independent film, music videos and voice-overs. Author of two books of short stories and poetry. Also teaches her workshop "Writing and Acting the Personal Monologue".
New Yorker Ashley Strand earned his MFA in classical acting and appeared on the stage in Shakespeare productions. He discovered Stand Up as he travelled the US and world earning awards for Stand-Up Comedy. Also teaches Stand Up Comedy at workshops.
Cody Clark is a full-time Magician who is on the Autism spectrum. He has been a regular in the magic show circuit at Derby City Magic, Indy Magic Monthly, and Magic Chicago as well as festivals such as the 2017 Orlando Fringe.
Daniel Leary, actor and storyteller, hails from the mountains of Virginia with a background primarily in Appalachian Theater--storytelling and song in a series of vignettes-- the style of his play "The Sleeping Child".
Often in Sarasota, singer Brenda Watty ("Brenda Watty: My Life as A Marvelette") was born in Baltimore Maryland, moved to NYC at age 21 to study vocals with June Montero and met and sang with the girl group "The Toys" and then famously joined "The Marvelettes" travelling all over the world , and appearing with such artists as The Temptations, The Four Tops, Bo Diddley, Chuck Berry and many more.
Sarasota based Kathryn Chesley: 'Doris Dinkle Dishes The Dirt' (comedic fictional biographical play)
As theater educator and trained theatrical adjudicator, Kathryn performs with the Asolo Theatre Guild Play Readers. Her play about Bertha Palmer is currently on tour. She is a member of the Sarasota Area Playwrights' Society and the Historical Society of Sarasota County. She writes scripts and portrays historical women for venues in Sarasota. Currently, she is portraying Bertha Palmer, Mae Prodie, Marie Selby and Mable Ringling.
Sarasota based Peg Harvey: 'Seven Blessings' (autobiographical play)
After a 33-year teaching career, Peg relocated from Staten Island to Sarasota four years ago. She has continued her community theatre and choral singing endeavors in Venice, Sarasota, and Bradenton. Currently in Singin' in the Rain at the Players, Peg was thrilled to 'curse' in the area premiere of Billy Elliot at Venice Theatre, and teach the boys about "Showbiz" in The Full Monty. In the understudy pool at the Asolo Rep, she is awaiting the call! After many years of writing parody skits and songs, she is finding that being yourself onstage is the biggest challenge of all.
Sarasota based Carole Kleinberg: 'Last Dance' (autobiographical play)
Carole has enjoyed a long career as a theater professional. In Sarasota, as director of many productions at The Players Centre for Performing Arts, co-producer of Education and Outreach for Asolo Rep, Artistic Director at the Banyan Theatre and her ongoing work as "midwife" to playwrights helping them refine their new plays. She also serves on the SaraSolo Productions, Inc. Board of Directors. Earlier, she was a Professor of Theatre at Oakton Community College, Illinois and lead director for their Performing Arts Center main-stage. Now she brings her own story to the stage and stars in it.
More on SaraSolo Festival
The 2018 SaraSolo Festival, the fourth celebration of theatre and solo artists, was held January 27-February 4, 2018. This annual theater festival features an eclectic mix of 45-90-minute solo performances by national and International Artists - featuring music, dance, cabaret, comedy, magic, poetry, performance art, stand-up, storytelling and visual art creation as well as biographical, autobiographical and poetic plays.
SaraSolo Festival is the brainchild of Gotta Van Productions, Inc. a 501(C) (3) non-profit corporation. Doing business As SaraSolo Productions, Inc. SaraSolo Productions believes in affordable theatre, in traditional and non-traditional spaces, that supports diversity, collaboration, and the transformative power of intimate theatre for both artists and audiences. Our venues include festivals, fringe theatre, educational outreach, video, and online media. Our goal is to develop a retreat for solo artists to create new work. SaraSolo Productions Inc. Artistic Director Ann Morrison and Associate Artistic Director Blake Walton are award winners in the world's largest solo performance festival, The United Solo Festival in NYC.