Town Hall Announces Second Production of the 2022-2023 Season, THE SHAPE OF THINGS
Performances run March 4th-25th,  2023.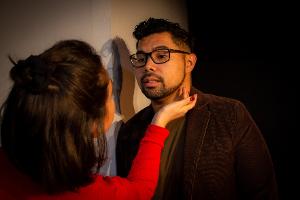 Town Hall Theatre presents a story of love, art, connection, and deception in Neil LaBute's The Shape of Things as part of their Main Stage season. When normal, boring Adam and unconventional and exciting Evelyn meet in the museum Adam's life is changed for better... or worse.
A young student drifts into an ever-changing relationship with an art major while his best friends' engagement crumbles, unleashing a drama that peels back the skin of two modern-day relationships.
Featuring amazing, thoughtful, and brutally honest performances from Linda Maria Girón, Alejandro Eustaquio, Andrew Mondello, and Mayreni Sweis under the direction of Salim Razawi, The Shape of Things will be a play that raises questions about truth, beauty, and trust.
"My first encounter with The Shape of Things was early on in the pandemic," says the plays director, Salim Razawi. "A group of artists and I were trying to nurture our artistry without being able to gather in a theatre safely, so we gathered virtually to read and discuss plays. This particular work resonated with me, because one of the overarching themes is art and love. That being said, LaBute has a tendency to write his characters with a misogynistic undertone, and in this particular play attempts to showcase women as evil. However, I'm more interested in showcasing the internal struggle of Evelyn. Evelyn, a radical progressive, independent woman, is falling in love and wrestling with her feelings, she just doesn't want to be caught unguarded and ends up unintentionally hurting her loved ones along the way. There is so much more complexity than writing on the page, that I'm excited to explore with these incredible artists."
"Town Hall has a history of choosing controversial works, but always with the aim of exploring a larger theme rather than shock value," says Town Hall's Managing Director Dennis Markam. "When Salim presented Shape for consideration in the season, I think what was most appealing was how much more dimension he was able to find in this piece once he subverted what one expects to find in a LaBute piece and chose to center Evelyn and what's going on with her. I think this will be one of the most interesting and challenging pieces we've included in our Main Stage season for quite some time."
There will be a talkback on March 17th and 24th after the performance led by the dramaturg Katherine Stein.