Trinity Theatre NEW WORKS FESTIVAL Set to Begin This Month
The festival runs March 31 - April 2nd.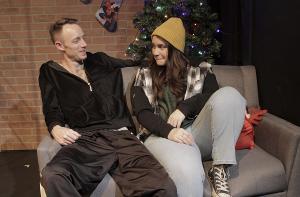 Trinity Theatre Company continues their 11th Grown Up Stage (GUS) season under the guidance of Artistic Director, Sean Boyd with their first New Works Festival. The New Works Festival celebrates the works of 10 Emerging New Playwrights from across the county and runs from March 31 - April 2nd Friday, Saturday at 7pm and Sunday at 2pm. To learn more or purchase tickets https://trinityttc.org/current-productions/ Trinity Theatre Company performs in Community Actor's Theatre space at 2957 54th St, San Diego, CA 92105
Artistic Director, Sean Boyd, shared "We received 400 submissions from across the country for our first New Works Festival. From that we chose 25 finalists and ultimately 10 new plays that we will produce in our festival. We are so lucky to live in a performing arts community that is full of talent to bring these stories alive. Each staged reading is directed and performed by a group of local, San Diego-based artists giving voice to these new works from across the country. At Trinity - we recognize the importance of continuing to share new stories and give a platform to emerging playwrights. We look forward to sharing them with the community."
Local Directors Include: Bobby Imperato, Courtnee Stagner, Hannah Meade, Estefania de la Torre, Tyler Richards Hewes, Jaeonnie Crawford, Austyn Myers, Cody Bray, Erica Kahn, and BJ Robinson
Local Actors Include: Phoebe Appel, Charlotte Baltzer, Marley Bauer, Connor Boyd, Joshua Christopher, Gretchen Conrad,Andy Elden, Zahara Farrar, Abi Hood, Sharonfaith Horton, Arturo Ibarra, Angelina Janelle, Wes Jensen, Sashank Kanchustambam, Ellen Kaz, Valentine Marie, Alana Marshall, Melanie Mino, Amy Oliverio, Bruce Dylan Patton, Kayla René, Ruth Russell, Steve Schlam,Samantha Schmidt, Jonny Taylor and Kimmy Weinberger