SD Junior Theatre Presents HOW I BECAME A PIRATE in March
How I Became A Pirate will run Fridays at 7pm and Saturday and Sundays at 2pm from March 3-19.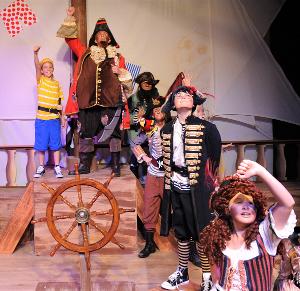 San Diego Junior Theatre, the nation's longest-running youth theatre program, continues its 75th Anniversary Season with the popular musical adventure, How I Became A Pirate!
Sail off on a fantastical musical excursion when a band of comical pirates lands at North Beach looking for an expert digger to join their crew. Braid Beard and his mates enlist young Jeremy Jacob as they look for the perfect spot to bury their treasure. Jeremy finds that adventuring can be lots of fun, but also learns that love and home are treasures you can't find on any map!
Joining returning director and JT teaching artist, Hunter Brown (last season's The Stinky Cheese Man...) will be JT teaching artist David Decker (music director), and JT alum and teaching artist Gina Barba (choreographer).
How I Became A Pirate will run Fridays at 7pm and Saturday and Sundays at 2pm from March 3-19. The whole family will love this delightful and swashbuckling musical advenure!
Thanks to a generous contribution from The Conrad Prebys Foundation, Junior Theatre continues to provide an ASL-interpreted performance for each production. For this production, the ASL-interpreted performance will be Saturday, March 18 at 2pm. For optimal seating, members of the Deaf community can reach out directly to the box office at boxoffice@juniortheatre.com.
Additionally, a sensory-friendly performance has been added on Saturday, March 11 at 11am. The show will be modified for individuals with sensory needs, including people on the autism spectrum, allowing them to experience theatre in a safe, non-judgmental environment. Tickets for this performance are not available online and can be booked by calling the box office at 619-239-8355.