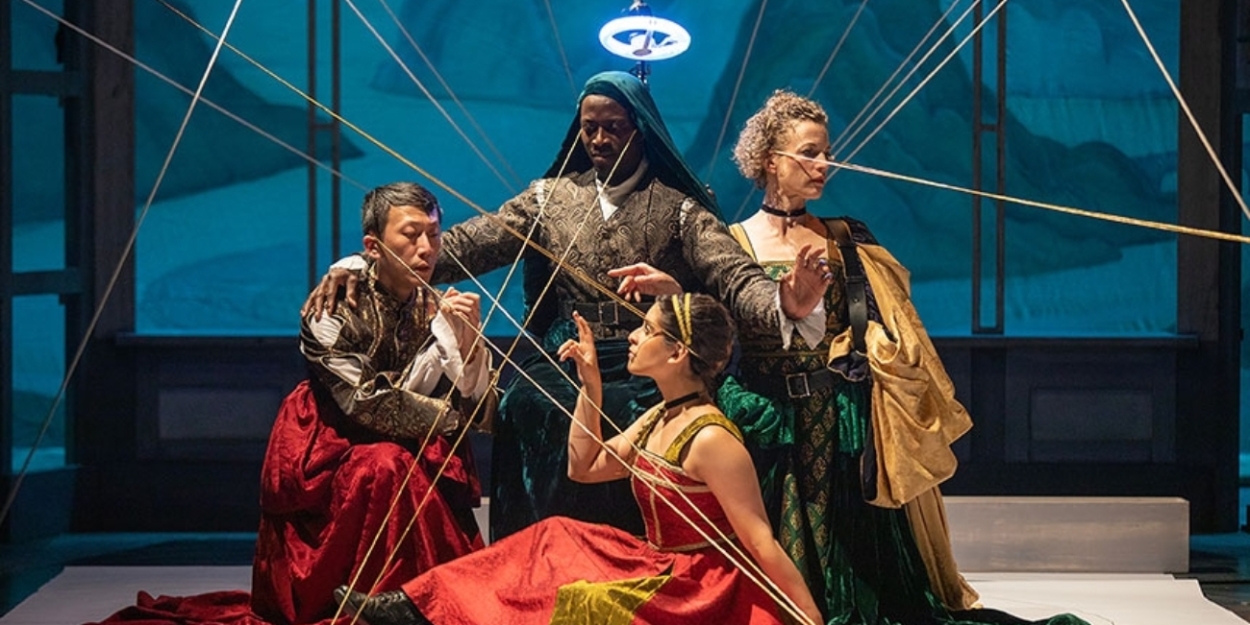 Review: THE NOTEBOOKS OF LEONARDO DA VINCI at The Old Globe
The production runs through February 26th.
THE NOTEBOOKS OF LEONARDO DA VINCI at The Old Globe brings a visually sumptuous peek into the mind of a creative genius. The production is so much more than a play; it is art, movement, dance, math, and philosophy all brought to life on stage. THE NOTEBOOKS OF LEONARDO DA VINCI is playing at The Old Globe through February 26th.
This 90-minute one-act is performed with a cast who are all referred to as Leonardo, they each take turns as him and as part of the physical embodiment of whatever Leonardo is explaining. The cast includes Adeoye, Christopher Donahue, Kasey Foster, John Gregorio, Anthony Irons, Louise Lamson, Andrea San Miguel, and Wai Yim.
It would be impossible to condense 5,000 plus pages of notebooks of Leonard da Vinci into a play, so Mary Zimmerman instead chooses to feature some parts that showcase his endlessly creative mind. While the show has dialogue taken from his notebooks, it is a small part of the production that features songs, dance, acrobatics, and props to create layered scenes.
Zimmerman takes inspiration from the layout of the notebooks themselves, which sometimes had sketches, inventions, and mathematical theories all on one page. So too do scenes have someone in the foreground speaking, while multiple elements are happening behind them as they fluidly segue from sculpting, painting, mathematics, astronomy, and more.
The show is peppered with moments that draw back the veil of the mysterious genius to reveal a glimpse of the person behind it. With moments of vulnerability, or some funny scenes like da Vinci dealing with his assistant Salaì, or da Vinci's reaction when he overhears people speaking about his rival Michelangelo.
One stand out is a beautiful sequence where a pair of performers perform a pas-de-deux of sorts as another performer as Leonardo explains da Vinci's ideas on weight.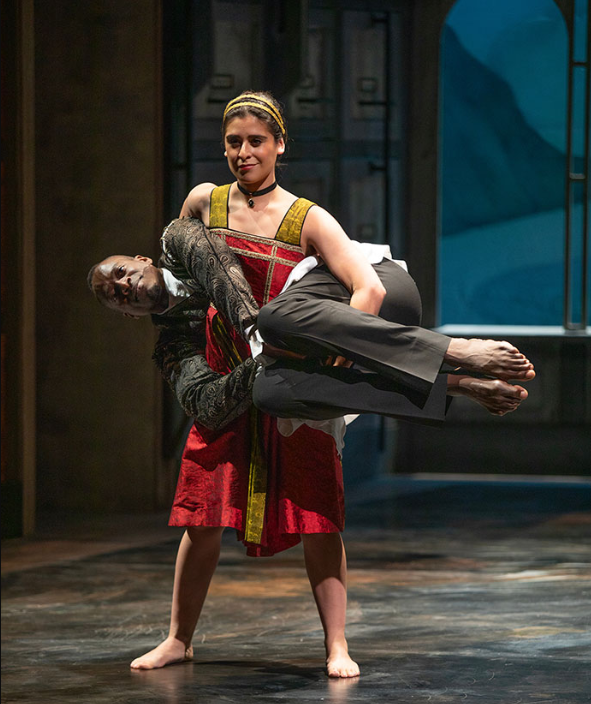 Another is when the artistic perspective is being explained and the performers weave cords throughout the stage to show both the landscape and the featured individuals positioning to achieve the perfect perspective.
The lighting design by T. J. Gerkins is gorgeous, and I can't imagine the pressure to light a show where Da Vinci himself is quoted on how to illuminate and shadow properly. When a small pool is revealed the whole stage is covered in rippling light from its reflection to a stunning effect. Yet, it is also subtle as it provides a warm glow, or plays with shadow to highlight other moments.
The scenic design by Scott Bradley gives a playful backdrop of a seemingly endless cabinet of curiosities that not only holds everyday items like clothing, and paper, but also becomes stairs, a river, and even a field of wheat. It is both a background and a climbing wall for performers to scale, leap, and perch.
The costumes by Mara Blumenfeld (based on the original designs by Allison Reeds) are a superb blend of frilly flounces, and the beautiful brocades of da Vinci's time period, mixed with a touch of a steampunk aesthetic and easily allow for the quirky choreography and movement. The sound design by Michael Bodeen (who also wrote the original music along with Michael Bodeen) is well-balanced and gives a nice sense of depth.
For as visually engaging as the show is, there is no narrative arc to follow, no one character that we watch from point A to point B. Instead, it is more ruminations on themes and variations from da Vinici as he reflects on his childhood through old age, without losing his curiosity.
THE NOTEBOOKS OF LEONARDO DA VINCI is a poetic physical manifestation of da Vinci's mind, and each scene is its own composed tableaux vivants.
How To Get Tickets
THE NOTEBOOKS OF LEONARDO DA VINCI is playing at The Old Globe through February 26th. For ticket and showtime information go to www.theolglobe.org

Photo Credit: Jim Cox