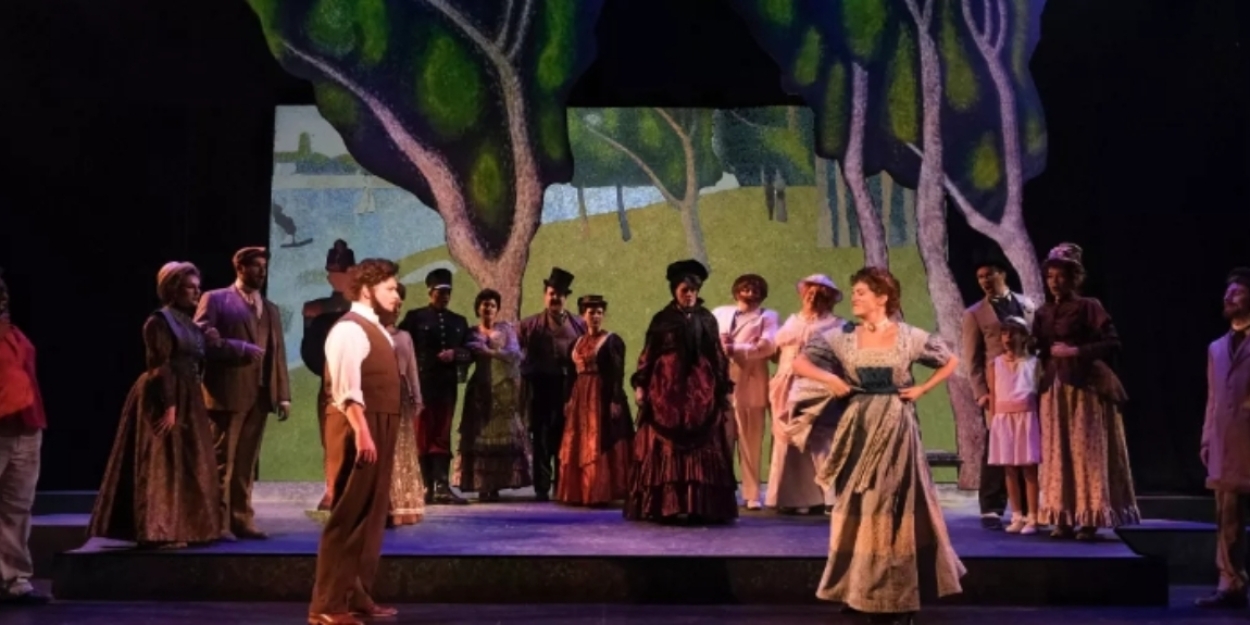 Review: SUNDAY IN THE PARK WTH GEORGE at CCAE Theatricals is not to be missed
Playing through March 5th
SUNDAY IN THE PARK WITH GEORGE may be a beloved musical, but it isn't staged that often- it requires an excellent cast to perform a show based on a classic painting by George Seurat, with the complicated but gorgeous Sondheim music to perform in order to make it great. Luckily, this show by CCAE Thearicals is stunningly good, from vocals to musicians, and scenery it is a show you do not want to miss. SUNDAY IN THE PARK WITH GEORGE is playing through March 5th.
The show is about Neo-Impressionist Geroge Seurat, who is famous for his painting style of" pointillism, which is painting with a series of multicolored dots instead of the traditional brushstrokes. As one would expect from someone who paints in dots to create an overall painting, George is not someone who can easily overlook details, even if it means he sometimes misses the big picture of life happening around him.
The show opens with George (Will Blum) setting his model Dot (Emily Lopez) in the precise position to stand so he can sketch her and the island inhabitants that are there that Sunday morning. George is sensitive, talented, obsessive, and thoughtless at times. His mood and memory can be mercurial based on what has captured his attention. His muse Dot has found herself in a situation where she has to make a decision of what is best for her, and whether that includes George or not.
The first act navigates 1884 as painter George and Dot try to find balance in their personal and professional lives, both with and without each other. The second act is a century later in 1984, where we find a new George (also Blum) who is an artist/inventor who is a sculptor of light. He is debuting his latest piece, based on Seurat's famous painting, along with his grandmother Marie (also Lopez). He struggles with finding investors and inspiration for his work and looks to do something new with his art.
Blum as 1884 George is a study in contrasts; intense but soft, imaginative but pragmatic, kind but cruel. His 1984 George is equally faceted as he is frustrated and inspired, self-assured, and battling insecurity in his artistic vision. His singing voice is excellent and he is a nuanced performer as his characters experience a wide range of emotions.
Lopez as Dot and Marie is equally impressive- her voice is rich and full of character. Her roles are vastly different, one young and full of life and the other older and clinging to the past and she is excellent in both, finding heart and humor in both.
The duets between Blum and Lopez are beautiful, with "We Do Not Belong Together" and "Move On" as stand-out numbers.
The rest of the ensemble is as talented as the leads, this score is not an easy one to sing and the vocals are beautifully harmonized. Ensemble standouts are Debbie Prutsman as the Old Lady in act one and Art Critic Blair Daniels in act two, Nicholas Bailey as a fellow artist Jules, and Bethany Slmoka as the Nurse.
Directed by T.J. Dawson the production is incredibly detailed, and uses the entire ensemble well both in performance and to create indelible images as they are arranged on stage. The only thing that feels too big is the Mr.and Mrs. characters which feel much more cartoonish than necessary for a piece this well-balanced.
Told entirely through song, the music is challenging to perform with fast-moving and clever lyrics as well as soaring swells of music and it is all beautiful to hear. The 13-piece live orchestra is wonderful and led by music director Elan McMahan is rich and full-bodied, with splendid strings especially the harp played by Sophie Graf Camden.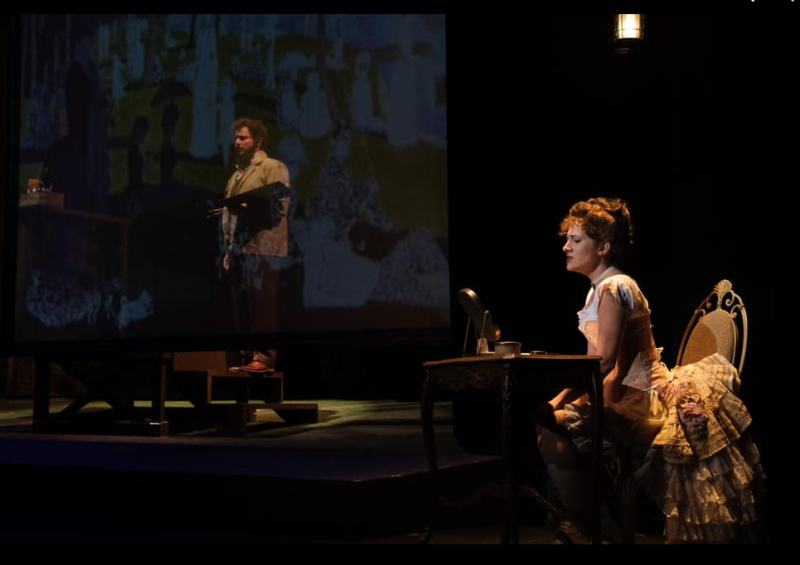 The scenic design by George Gonzalez is a beautiful blend of both reality and Seurat's artistic vision. The use of a translucent projection allows the audience to watch as George paints with a single-minded focus, and there is also an excellent use of the screen and projections in the more modern George's artistic piece.
Lighting by Michelle Miles, compliments and completes the set, while costumes by Janet Pitcher are clever and full of delightful details of lace, and flounces, that both the 1880'sand the 1980's seemed to have in common. Wigs and makeup by Peter Herman are perfect for each time period.
There is a lyric that says "Having just the vision's no solution, everything depends on execution" and this production of SUNDAY IN THE PARK WITH GEORGE is a gorgeous execution that everyone should see.
How To Get Tickets
SUNDAY IN THE PARK WITH GEORGE from CCAE Theatricals is playing through March 5th. For ticket and show time information go towww.artcenter.org
Photo Credit: Ken Jacques