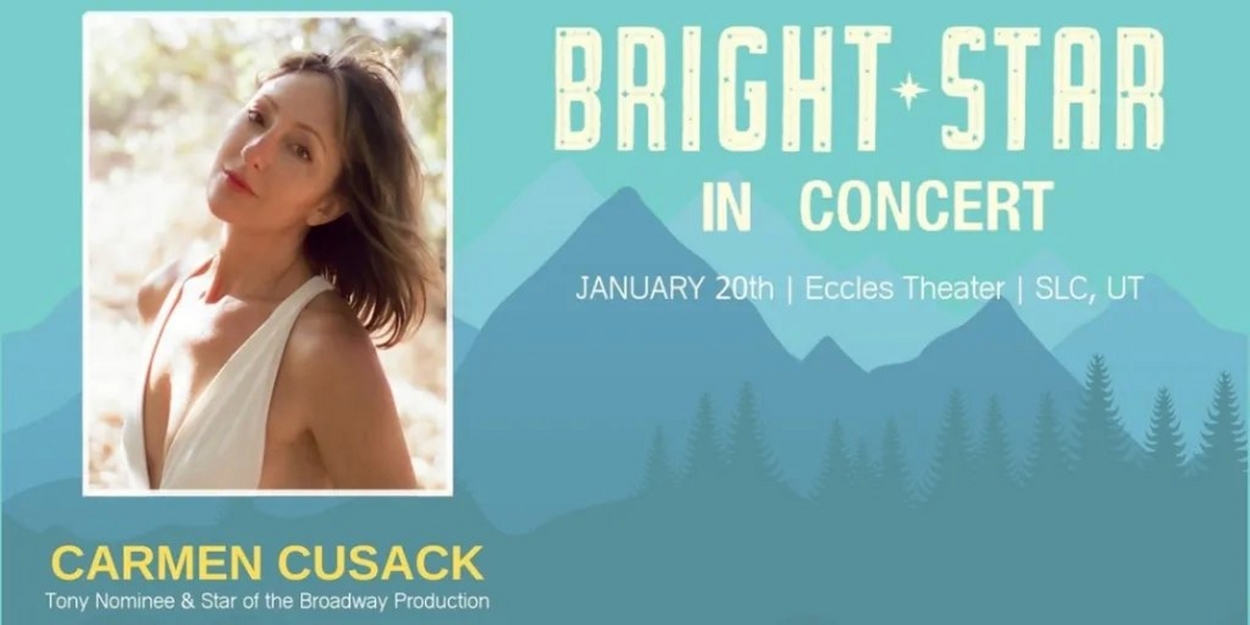 Review: Carmen Cusack Triumphed in BRIGHT STAR in Concert at the Eccles Theater
BRIGHT STAR in Concert played the Eccles Theater for one night only on Friday, January 20, 2023.
Carmen Cusack triumphantly returned to her Tony-nominated starring role of Alice Murphy in BRIGHT STAR in Concert, which played the Eccles Theater for one night only on Friday, January 20, 2023.
BRIGHT STAR (music, book, and story by Steve Martin; music, lyrics, and story by Edie Brickell) was nominated for five Tony Awards in 2016. Inspired by a true event, it tells the dual story of a young World War II veteran named Billy Cane, who attempts to convince editor Alice Murphy to publish his stories, and Alice's experiences as a young woman in love in the 1920s. The flavorful, memorable score is a unique brand of Americana that incorporates elements of folk, bluegrass, and Broadway to spin the uplifting tale.
Salt Lake City was one of the few places in the country where the Broadway production of BRIGHT STAR was seen along with members of its original Broadway cast, thanks to Pioneer Theatre Company in January 2018. It was also the final city where Carmen Cusack performed the role.
Now exactly five years later, she's returned without missing a beat, and how wonderful of her to agree to do so. Her iron-clad vocals were still filled with masterful nuance, and her acting was still nothing short of a revelation. As she traversed the distance from a seasoned magazine publisher to a fiery teenage girl and back and forth again, she astonished with her ability to reflect every uncertainty and inner thought right along with all the crushing turmoil and beaming joy. It is truly a performance for the ages.
GENTRI member Casey Eliott brought exquisite singing and an intrepid spirit to the part of Jimmy Ray Dobbs. Other highlights of the cast included David Olsen (Mayor Dobbs), Nathan Kremin (Billy Cane), and Kenzie Davis Kremin (Margo Crawford).
The live bluegrass band and chorus wove a splendid tapestry of music over which the story was told.
Producer/director Tanner J. Christensen did a great job leaning into the concert format, smartly utilizing the microphones in ways that didn't impede staging and relationship development.
A decision was made to truncate most of the script, leaving only the most crucial portions of scenes. While this made for a fast-moving evening, it lost some of the world and character building that leads to the catharsis at the climax of the show. The occasional narration added in to bridge gaps was ultimately unnecessary and sometimes repetitive to what the dialogue was about to reveal.
As with any one night only production such as this, opportunities for rehearsal were surely minimal, especially with Carmen Cusack, but there were no scripts in hand, and every song and line was fully memorized and fully invested in. The audience and performers were all clearly honored to be there, and the result was a lovely experience for all.
It is an extremely rare occurrence for an artist to reprise a role they originated in such a way, anywhere, but especially in Utah. It would make for an incredible series of concerts to continue the formula with other shows and performers, so fingers crossed there are more to come.
For information on upcoming performances in the Live! at the Eccles series or to buy tickets, call ArtTix at 801-355-ARTS (2787) or visit www.artsaltlake.org.
Photo Credit: Live! at the Eccles