OPPA! Presents PETER AND THE STARCATCHER
The story comes to life on OPPA!'s main stage now through April 8th.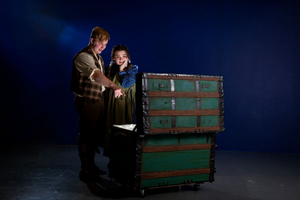 Based on the 2004 novel by Dave Barry and Ridley Pearosn, "Peter and the Star Catcher" provides a backstory for the characters of Peter Pan, Mrs. Darling, Tinker Bell and Hook. The story comes to life on OPPA!'s main stage now through April 8th and is suitable for younger audiences. From marauding pirates and jungle tyrants to unwilling comrades and unlikely heroes, this production playfully explores the depths of greed and despair...and the bonds of friendship, duty and love.

"Peter and the Starcatcher is not a retelling of Peter Pan, but rather a story about a Boy made to grow up far too soon by adults who lie and adults who leave him behind" says Tiffani Allan, Director. "I hope that as you watch this show you feel the magic of childhood imagination, and walk away feeling hope to be who you want to be by the support of your community and the people around you."

A young orphan and his mates are shipped off from Victorian England to a distant island ruled by the evil King Zarboff. They know nothing of the mysterious trunk in the captain's cabin, which contains a precious, otherworldly cargo. At sea, the boys are discovered by a precocious young girl named Molly, a Starcatcher-in-training who realizes that the trunk's precious cargo is starstuff, a celestial substance so powerful that it must never fall into the wrong hands. When the ship is taken over by pirates - led by the fearsome Black Stache, a villain determined to claim the trunk and its treasure for his own - the journey quickly becomes a thrilling adventure.

Don't miss OPPA!'s next community theater production. A special thank you to First Community Bank, and Utah Division of Arts and Museums for their sponsorships and continued support.