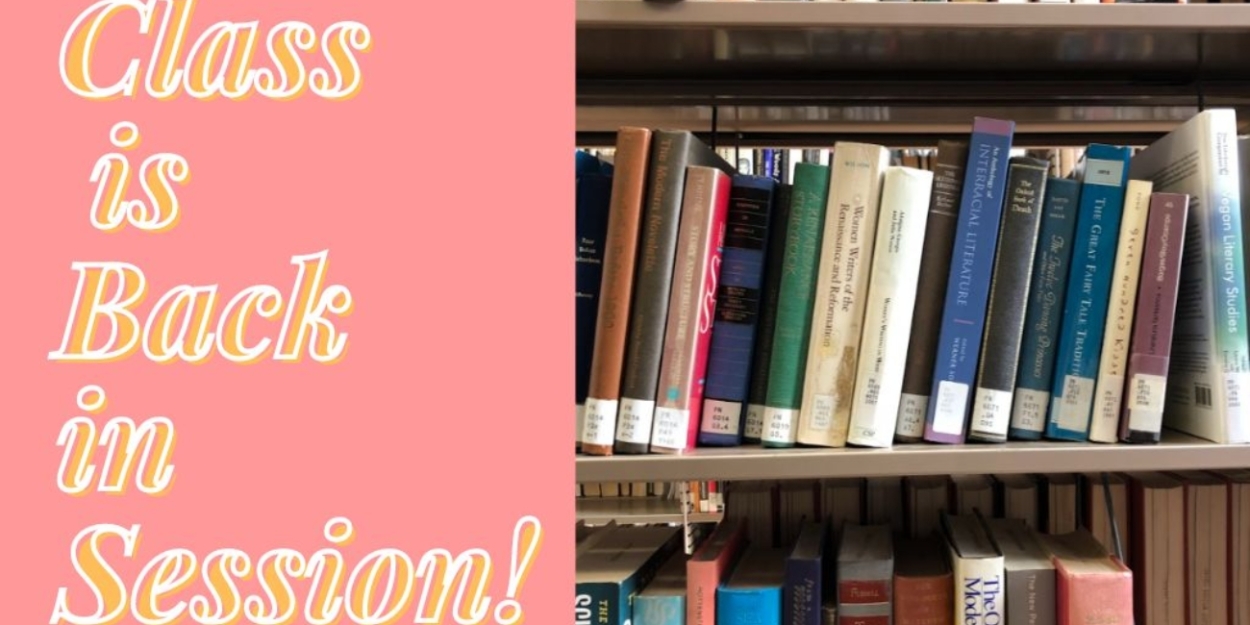 Student Blog: Class is Back in Session!
This past month has been quite eventful, I can't wait to see what else this semester brings!
After a nice month-long break (if you can even call it that since I worked the majority of it), I'm back on campus trying to get into the swing of things for the spring semester. The biggest change for me has been the additional class I have to take. Last semester I was only taking four classes, a luxury I took for granted. Despite this change, I'm happy to say that I've been having fun!
The first class I am taking is Intro to Arts Administration. This class was supposed to be my way of testing the waters of an Arts Administration major and I don't know if it's a genuine interest in the major or the fantastic vibes my professor radiates or both but I love it! So far we've touched upon topics such as what makes an arts organization successful, what is a not-for-profit organization, how to write a mission statement, etc. This week I've been working on a project, creating my own "arts organization". And I know it's a fake made-up organization but I just think my idea is so cool, it's a non-profit museum and theater for Latine artists and creatives to showcase their work. I just finished drafting its mission statement and now I have to work on my "staff's" salary. I've been enjoying the course so much it has made me change my major and pursue arts administration. The only downside is... business classes.
In order to satisfy my required business courses I have begun taking microeconomics. I am not much of a math person so this is more than just a step out of my comfort zone, it's a giant leap. As you can imagine I was scared for my first class, but I went early, grabbed a seat at the front, got a copy of the syllabus, and realized... I WAS IN THE WRONG CLASS! Once I got to the right class, I sat down and listened as my professor went on and on about stuff I couldn't even dream about understanding. By the end of class, I felt terrible but decided I would only be confused if I continued to sit around and do nothing. Before the next class, I studied for a total of 5 hours and understood everything! I have a test next week so we'll really see if I understand then but I'm definitely feeling more confident in my microeconomics skills.
My main goal for my classes this semester was to try new things so I chose a French Feminist Film class. As expected this course is beyond interesting, we read books, watch movies and just talk and talk and talk. And while I haven't spoken in class yet, just sitting there and hearing everyone's ideas and opinions makes me feel smarter and wiser. As I mentioned I have read several books written by female French writers such as Françoise Sagan and Marguerite Duras, which has helped me get back into an old favorite hobby of mine, reading. A lot of the media we take a look at in this class is so rich in content and just so thought-provoking that my letterbox has definitely been thriving. My favorite of the films so far has been Ruby Sparks (2012), it's such a good critique of the male gaze and manic pixie dream girl tropes. It also features Antonio Banderas!
My fourth class is advanced creative writing, an extension of my beloved poetry class from last semester. I was very intimidated at the start of this course because there are some amazing writers in the class. Their work is just so immersive and poetic! I do have to admit, I did feel a bit self-conscious about my own work. However, these feelings of self-doubt soon faded with the overwhelming kind comments from my peers and their amazing critiques. This class is such a nice safe space to learn, write and grow as a writer. I've said it once and I'll say it again: take a poetry class/course/workshop! They are amazing!
Finally, last but certainly not least is Intro to design and technology. This class is three hours long! And normally, three-hour classes are the worst for someone like me who likes snacking and being out and about but man, do I love this class! Since it's still early on in the semester we have been primarily discussing costumes and scenery in theatrical productions. My professor who has done lighting and scenic design for many shows likes to show us her own work and tells us the stories of how she got to her fantastic final product. In accordance with our lesson on costume design, we read The Foreigner by Larry Shue. It is a terrific play, I read it in one sitting and just couldn't put it down! For our project, we were supposed to take the play, originally set in the 1980s, and reimagine it as a different concept. My group decided to set the play in the 1920s, which was great because what decade has more exciting fashion than the 1920s? Normally I don't like working in groups but I loved seeing how my classmates and I carried this vision. Currently, I am completing a costume project where I design a costume based on a song. I chose the song Hora Zero by Rodrigo y Gabriela. I imagine the song accompanying a dance/fight scene set in 1850 Spain (listen to the song and trust me, you'll see my vision). While the class's content is very fun and exciting, it is ultimately my peers that truly make the class so fun. Their ideas are so unique and interesting, my favorite idea of theirs so far has been a version of The Foreigner set in 2012 in the midst of "the end of the world" (Does anybody else remember those terrifying times?).
This past month has been quite eventful, I can't wait to see what else this semester brings!