BWW Interview: Maria-Christina Oliveras Talks WE'RE GONNA DIE, Her Unlikely Career Path and the Subversiveness of Presence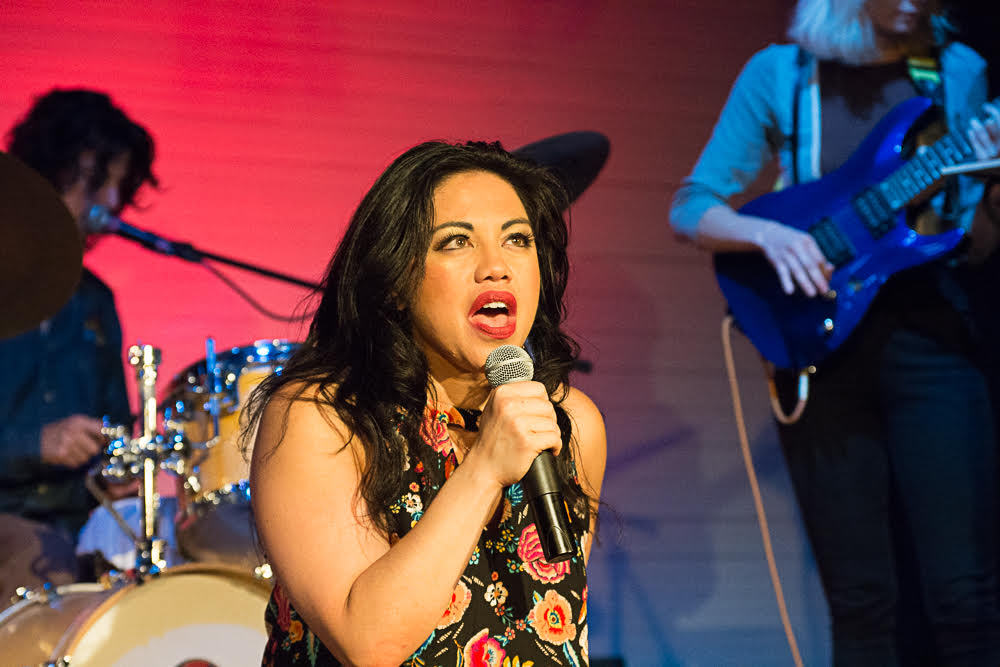 We take a moment on this balmy summer day to chat with one of the most flexible and wildly-dynamic performers I know. I've been a friend and fan of Maria-Christina Oliveras since our paths crossed during the superb Roundabout revival of MACHINAL. I have since enjoyed her scene-stealing turns in HERE LIES LOVE, AMELIE and (a personal favorite) the fantastic porn-centered musical PRETTY FILTHY.
The often-employed native New Yorker and Yale graduate finishes off a busy summer with the Herculean task of Young Jean Lee's solo cabaret WE'RE GONNA DIE. She found the time to chat about her life, the piece and her secret to showbiz success.
Tell me a little about your background. Where were you born and raised? How did the bug first hit you, and when did you get a sense that this would be doing for a living?
I am a native New Yorker-born in Manhattan and bred in the Bronx. My mom is from the Philippines and my dad is from Puerto Rico. The middle child of three Fili-Rican sisters, I was your typical, first-generation over-achieving immigrants' daughter-scholarship kid, took Latin, Greek, Russian, was president of my class/student council/every club possible, varsity cheerleader, played clarinet and piano, etc.
I was on the trajectory to fulfill my parents' dream of me becoming a lawyer or a doctor, though they were always very supportive of my "hobby." Ironically, my very old-school machismo Latino dad was the one who first sparked my curiosity and love of the theater. He would endlessly play Topol's version of "If I Were a Rich Man" from FIDDLER ON THE ROOF, and "Soliloquy" from CAROUSEL, amidst Julio Iglesias and Neil Diamond, and I got hooked.
And when it became clear that I was good, and that this "hobby" made me happy and offered a very good life, he and my mom became my biggest supporters.
That said, it took me a really long time to wrap my head around the fact that I could do this for a living, and an even longer time for that to become a reality. All I knew is I wanted to be an actor, and I was willing to sacrifice. I was not a trust fund kid-my family was working middle class, but I worked really hard and got every scholarship out there and took advantage of every opportunity, so I could exist in worlds beyond my imagination.
I told myself early on, "You are not gonna get priced out of your dreams." So I did what I had to do. I lived at home initially after school, lived very frugally, saved every penny so I could put it towards classes and go to shows, or accept a $200/week contract and still survive.
I was a personal assistant for years, and always took up odd jobs to support myself-odd jobs. I'm a firm believer in manifesting-and not in the sense, "if I say it, it will come true." But, if you have a dream, set up your reality so that dream is inevitable. Dream and then Do.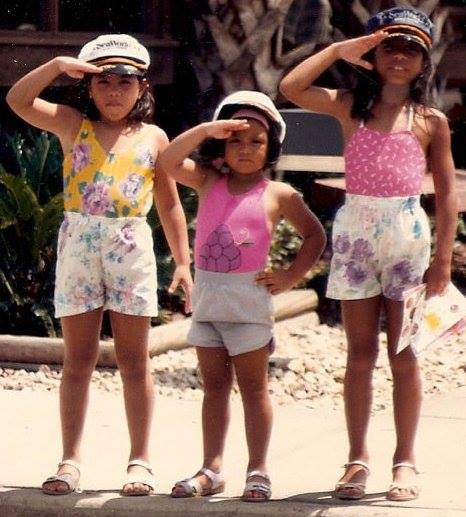 You're probably one of the most hard-working people I know! Broadway, workshops, regional, film... what were you working on earlier this year/summer?
This was an exciting year, because after two years of workshopping and developing AMELIE, both at Berkeley Rep and subsequently at CTGLA, we opened on Broadway at the Walter Kerr Theatre in March. It was a new musical based on the 2001 film, music by Dan Messe and Nathan Tysen, book by Craig Lucas, directed by Pam McKinnon and musical staging by Sam Pinkelton.
We ran through May 21st. Right after that, I immediately jumped back into new works and some television gigs. I was just up at the O'Neill Theatre Center (new works' paradise) working on a new play, so I was able to get a little bit of time away from the city, which is always a treat.
Jumping right in, how did you get involved in this project? Had you worked with Young Jean Lee previously, or seen any of her other work?
A colleague had referred me to the director and producer of the piece, Jeff Mousseau and Paul Ricciardi. They sent me the material- I fell in love with it, we met, and moved forward. Jason Grote, another playwright, first turned me on to Young Jean's work. I've never worked with her before, and unfortunately, have only been able to read her writing and see videos of her previous work.
The show has been described as a hipster cabaret focusing on facing loneliness and pain, yet surprisingly uplifting. How would you describe the show, both in terms of message and style?
It's an intimate evening of deeply poignant, humorous, personal stories and original songs which revolve around the universality of loneliness, pain and death. It doesn't wallow in any way though. It is celebratory and uplifting, emphasizing how, though pain and confronting death can feel very solitary and lonely, ultimately, it is something we all connect to and experience, and that solidarity helps to get us through.
The show offers up simple, ordinary common-sense comforts that "Singer" has encountered to get her through various painful times including being alienated on the playground, losing her father, and breaking up with her live-in lover.
The music is awesome-indie pop/rock, subversive and catchy and embraces duality in such a smart way-should we be laughing or crying? Appalled or delighted? I mean, the show is called "We're Gonna Die," which is also the closing number. Honestly, it is one of the most uplifting, joyous numbers to sing, particularly because we get the audience chanting along by the end, so you've got everyone on their feet, belting, "We're gonna die. We're gonna die someday. Then we'll be gone and it'll be okay." In writing, it probably sounds so bizarre, but it really is so funny and tragic and happy and sad.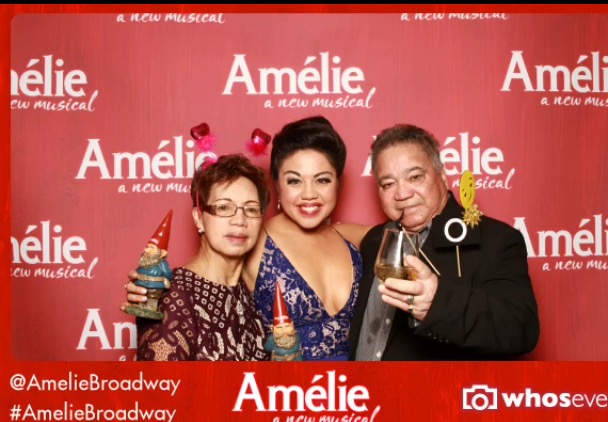 In that you and Young Jean Lee are both performers of color, did that factor into your desire to take the piece on? Does it deal all with race, or in this case is it more of a "happen to be" situation?
We're Gonna Die doesn't deal specifically with race in any way. I took on the piece because it interested me. I loved Young Jean's perspective; the music, which is so thrilling to sing; and the material. The stories are humorous and honest without being sentimental. And I loved the challenge of taking on a solo piece, which I've never done before.
I am drawn to good, interesting work that has a strong point of view and reflects the world we live in--sometimes that work is race-specific and sometimes it's not. Generally, my aesthetic and taste does tend toward underrepresented stories and non-traditional work, but again, it's not necessarily race-specific.
I've been very blessed throughout my career to not have been boxed into stereotypical roles, and I pride myself with cultivating versatility and craft so I can step into any world and serve the story. For me, my most subversive act as a female artist of color is my presence.
Get in the best rooms possible, do the work with joy and generosity and craft and a deep sense of play, and serve-presence: that's how I represent, and whether the work calls attention to it or not, I am indeed or happen to be a woman of color. That's my given and always comes with the package.
How has the reaction been from the 1st weekend audiences? There are a lot of older people/retirees in the area, so a show dealing with death might be seen as a risky endeavor.
They have been amazing! So receptive to this non-traditional form. It is a little bizarre to share stories about death and loneliness to a crowd who is much older, and some have shared their own personal stories with me. Many have confronted cancer head on or via loved ones, all have confronted death on some level, "This was so cathartic." "I had such a great time! Who knew death could be so funny a topic?"
One gentlemen said, "I survived 4 bouts with cancer, and hey, it is what it is, and this show reminded me of that, and you just gotta accept and know it can happen to anyone, and you just put one foot in front of the other, hold on to your loved ones, and laugh a little, knowing we're all gonna go anyway."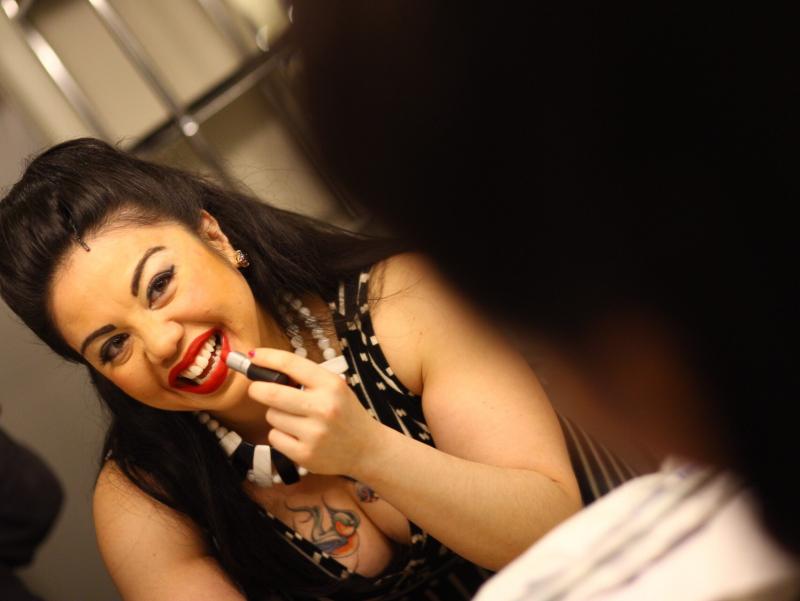 Tell me a little more Ancram Opera House. It's a new company in a very small town. What brought you there, and how have you enjoyed your time?
The material and the notion of getting out of the city for a bit was initially what brought me out there. I'm always looking for projects that interest and excite and challenge me; always looking for ways to combine work and play; and always looking for little bit of respite from NYC, especially in the summertime.
I had spent some time in the Hudson Valley last summer at Hudson Valley Shakespeare Festival, and loved it. Also, Jeff and Paul are bringing such interesting programming to the Hudson Valley region, and it intrigued me to bring this piece to life there.
Ancram is in a stunning, serene setting-it is so peaceful and conducive to creativity and ease and balance and flow. And when I saw the Ancram Opera House itself, I was thrilled. It fosters a deep sense of intimacy which is so vital to the show, and the space itself has a beautiful energy and history which permeates throughout. It feels like Joe's Pub meets P.S. 122, nestled in the beautiful Columbia Count/Hudson Valley region. I have enjoyed every moment!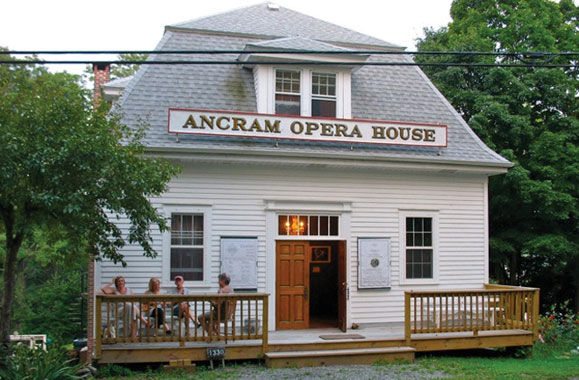 In the show, you sing, perform standup bits, carry an entire hour of material solely on your shoulders. How do you keep yourself healthy and energized? Do you have a favorite moment in the piece? What has been the most challenging aspect?
Coffee. Almonds. Popcorn. Luna/Rx bars. Red Wine post show. Cheese. Yoga. Long Walks Outdoors. Deep breaths. Lots of laughter. Engaging with folks and listening to other people's stories. Baths. Rosemary and Lavender Aromatherapy Oils.
One of my favorite moments is "meeting" the audience each night, and feeling what kind of dance we will be doing together for the evening-riding each other's waves of emotion and breath and experience of the piece together. It is why theatre has become my life blood-it is live, visceral, in the moment, and anything can happen-the possibilities for change are endless.
Initially, it was daunting to think of how much material there was, but I played Macbeth last summer in a three-woman version of the play, so that line-learning certainly primed me for this. Truly, this piece has been a gift. I love sharing these stories and singing these songs, particularly in this house, and with this team.
We have an amazing band-Monte Weber, Claire Cuny and PatRick Robinson, and it is a joy to rock out with theM. Monte and Claire have their own band called Reliant Tom--check them out! www.relianttom.com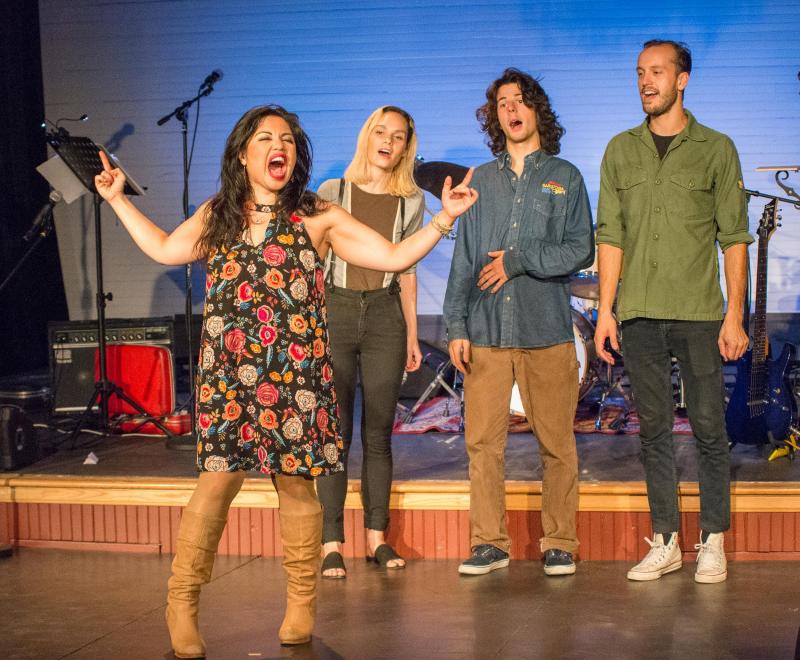 What have you got lined up next?
New work as always: I'm in the midst of the Asian American Mix Festival at the Atlantic Theater, then jumping into a workshop for LCT3 of a new musical by Michael R. Jackson, which Stephen Brackett is directing. In September, I'll be heading out to San Francisco to do the West Coast Premiere of Taylor Mac's A 24-DECADE HISTORY OF POPULAR MUSIC. Particularly excited about that, because I think I will get to fly in the show, which I've never done before.
There are a couple of other projects in the ether-new plays, some film/television, so stay tuned. This piece has inspired to finally my own solo show, so aiming to do a cabaret of that in Spring 2018. I am also on the lookout for opportunities to produce.
I'm not the best at social media, but I try to post links of what I'm up to on Facebook, and I have an Instagram. @mcoliveras
Finally, as one of the most versatile and often-employed actors I know, any words of wisdom or advice you can offer to aspiring MC's out there?
*Show Up. On Time. Prepared.
*Always find the love, always find the joy, and always find the sense of play.
*Stay curious and open to discovery. Every moment onstage should be an exploration of something-every time out, including opening night up through closing, is an "open rehearsal" which you are sharing with whoever is lucky enough to be in the room.
*There are so many factors you cannot control in this industry. Focus your energy on what you can control: take care of your instrument-body, mind and soul.
*The story should always have the biggest ego in the room. Serve the story-if you are in service of something beyond yourself, you will be able to play more truthfully, more generously, and with more freedom.
*Be as generous and kind as you can.
*Take everything everyone says with a grain of salt.
*BREATHE
BONUS: Your One Dream role, male or female, old or young. And don't say, "a new role written for me." Everyone says that, but everyone has an existing dream role too!
Willy Loman in DEATH OF A SALESMAN.
*
The limited engagement wraps up August 12 at 8 PM.
Ancram Opera House is located at 1330 County Route 7, just north of the corner of Route 82. Parking is available on the adjacent lawn. For tickets and more information, please visit www.ancramoperahouse.org, write info@ancramoperahouse.org or call (518) 329-0114.
*
Matt Blank is an arts journalist, educator, designer and lecturer. He most recently spent a decade on the editorial team for Playbill.com and as Editor-in-Chief of PlaybillArts.com, publishing over 7,000 articles and covering five Tony Award ceremonies. Follow him on Twitter @MattBlankPlease and Instagram @brdwymatt.