Arc Stages Presents PETER AND THE STARCATCHER in March
Performances are March 24 - April 1.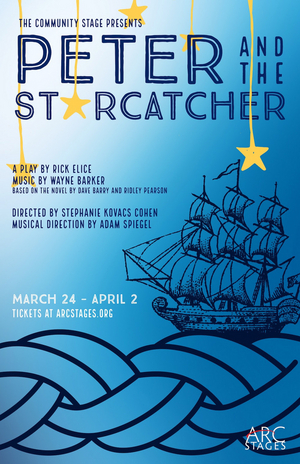 Pleasantville theater company Arc Stages' Community Stage presents Peter and the Starcatcher. The Community Stage is the second wing of a company that also includes a thriving Educational Stage and a professional stage, the Next Stage.

This tale is a coming-of-age adventure story about how a nameless orphan -- inspired by a remarkable and ambitious girl -- became the strange and celebrated hero that is the Boy Who Would Not Grow Up. From marauding pirates and jungle tyrants to unwilling comrades and unlikely heroes, Peter and the Starcatcher playfully explores the depths of greed and despair...and the bonds of friendship, duty and love.

Peter and the Starcatcher will be directed by Stephanie Kovacs Cohen, with musical director Adam Spiegel. Starring: Alan Cohen, April Castoldi, Cleo Esposito, Rena Gavigan, Mary Horoszowski, Richie Hunter, Andrew Laden, Aidan McCarthy, Peter Moriarty, Eric Novak, John Palacio, Alan Partelow, Rob Webber and Chris Zika.

Performances will be held at Arc Stages, located at 147 Wheeler Avenue in Pleasantville, NY.

Friday, March 24 at 8pm
Saturday, March 25 at 8pm
Sunday, March 26 at 2pm
Friday, March 31 at 8pm
Saturday, April 1 at 8pm

Tickets are $28 for adults, $22 for students and seniors. To purchase tickets, please visit www.arcstages.org or call 914-747-6206.