BWW Review: Gotta Crow! Radiant FINDING NEVERLAND Soars at Providence Performing Arts Center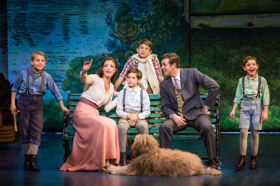 All writers (yes, even theater reviewers) eventually fall prey to that most dreaded of creative ailments - writer's block. The struggle for inspiration strikes at random and without respect of deadlines. Even the greatest authors combat this malady, oftentimes when most desperately in need of their words to earn their next paycheck. Such is the case of J.M. Barrie as the curtain comes up on the quasi-biographical musical Finding Neverland. In the early 1900s, Barrie was already an acclaimed novelist and an established playwright, but he found himself at loose ends artistically until an unlikely friendship with a widow and her sons sparked his imagination and inspired his most enduring and beloved work.
Finding Neverland chronicles the creation of Peter Pan from the germ of playtime make-believe to smash-hit stage extravaganza. The basic plot line - inspired by, but not entirely faithful to, real-life events - is adapted from the 2004 motion picture of the same title, but Neverland's transformation from cinema to stage musical lends a special kind of magic to the narrative that not even Hollywood special effects could wholly capture. Live stage presentation rings true given Peter Pan's theatrical pedigree, and the inclusion of musical performance adds an essential depth to the storytelling. Under the smart direction of Diane Paulus, Neverland proves rich in both wonder and emotion. The stagecraft for this production is spellbinding in every particular (more on these dazzling effects a bit later), but it is the heartwarming, heartrending tale of friendship and love at the center of Finding Neverland that lingers longest in memory after the curtain falls.
Billy Harrigan Tighe leads the cast as J.M. Barrie, infusing genuine warmth into the playwright's camaraderie with the bereaved Llewelyn Davies family and portraying Barrie with a winning, boyish air. He grounds his character in maturity when Barrie faces debilitating self-doubt and devastating personal losses, but he never drops the shimmering thread of Barrie's whimsical and inventive worldview. Tighe also brings a phenomenal, powerful vocal talent to his role, delivering each musical number as a natural expression of his character's thoughts and emotions.
As the widowed Sylvia Llewelyn Davies, Lael Van Keuren delights from the moment she rushes into the spotlight (sporting a rakish pirate eye patch, no less). Van Keuren has a golden singing voice and her acting brims with all the playfulness and spunk that make Sylvia and Barrie kindred spirits. She subtly allows a note of bittersweet to tinge her characterization; though Sylvia is every bit as imaginative as her boys, she still grieves the loss of her husband and will do anything she must to shield her children from future anguish. In these moments, Van Keuren brings a wonderful, steely strength to her depiction of devoted motherhood.
John Davidson plays a dual role in Neverland, first as the big-hearted, perpetually exasperated theater producer, Charles Frohman, and later in that most coveted of all theatrical roles, Captain James Hook. Davidson has some of the snappiest lines in the show and delivers them with spot-on wit and timing. He also shines in two of the production's biggest musical numbers, the vivacious and intricately choreographed ensemble piece "Play," and the show-stopping Act I finale "Stronger."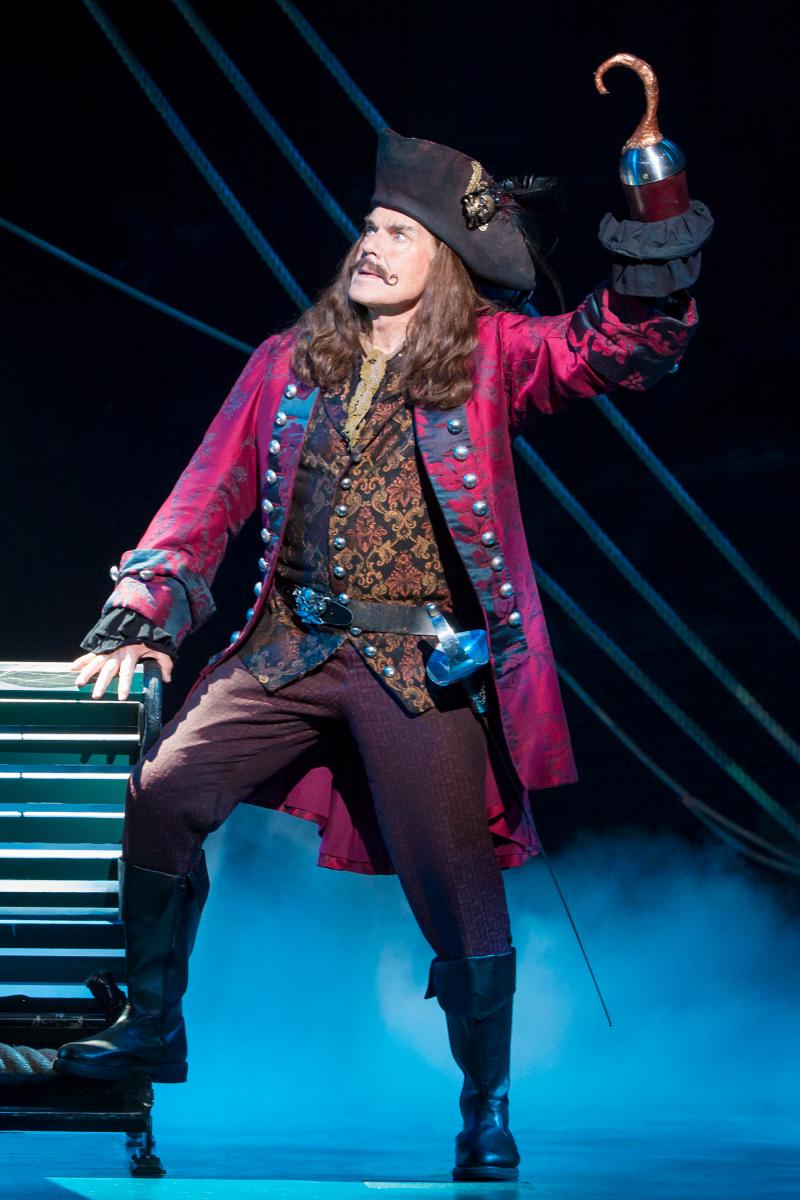 Neverland's other musical selections give this fine company ample chance to sing out. Big full-cast numbers deliver great energy, tight harmonies, and loads of personality, from the lightheartedness of "Believe" and "We Own the Night" to the dramatic, claustrophobic tension of "Circus of Your Mind." The second act features two beautiful duets, Barrie and Sylvia's tender "What You Mean to Me" and "When Your Feet Don't Touch the Ground," a deeply moving scene between Barrie and Peter Llewelyn Davies.
Speaking of the Llewelyn Davies children, the four young actors who portray the brothers are polished and professional in each and every scene. Colin Wheeler (George), Connor Jameson Casey (Peter), Wyatt Cirbus (Jack), and Tyler Patrick Hennessy (Michael) stand at the very heart of the story line and they more than hold their own with the adult cast members. There is a real depth to their performances as the Llewelyn Davies boys; mirroring their mother, the brothers run a gamut of emotions from playful, exuberant innocence to deep-rooted sorrow. The children's more rambunctious antics are countered by the austere presence of their grandmother, Mrs. Du Maurier. Karen Murphy is wonderful in this part, elegant and stately, assured and set in her ways. Yet for all her stuffiness, Mrs. Du Maurier's underlying concern for her family glimmers through, and her gradual softening allows Murphy to fully explore her character's development by play's end.
Neverland features some impressive feats of onstage magic and the line between reality and fantasy blurs believably as the characters' imaginings spring to life. With the creative vision of scenic designer Scott Pask, a sedate stroll in Kensington Gardens becomes a perilous trek through pirate-infested seas; an elegant dinner party set under an enormous, ornate chandelier devolves into a rollicking food fight; and Barrie plucks up the courage to battle his hesitations and fears after a close encounter with his darker alter ego, the nefarious Captain Hook.
Full-scale projections by Jon Driscoll pair with painted drops to stand in for bustling London streets or the lush greenery of Kensington Gardens, and the details are so finely wrought that they accomplish a true sense of scope and depth. Hook's pirate ship is formed from a mere handful of ropes and sheets suspended over an upturned park bench, but these few props attain the impression of movement on storm-tossed waves with the addition of Kenneth Posner's lighting and Jonathan Deans' sound design. The closing notes of the "Neverland" reprise feature an utterly sublime visual effect, crafted with a combination of light, air, and a pinch of pixie dust. Here Paul Kieve and Daniel Wurtzel partnered with Pask and Posner, creating a breathtaking artistic illusion to accompany one of Neverland's most significant and touching scenes.
Suttirat Anne Larlab's gorgeous costumes add another layer to the storytelling, with Edwardian-inspired evening wear adorning socially elite ladies and gentlemen and fanciful, period-influenced costumes attiring Frohman's motley cast of thespians. Richard Mawbey's fine hair and makeup designs provide finishing details and establish a sense of time and place in Barrie's London.
Finding Neverland touches every emotion and offers a real measure of theatrical magic for audiences of all ages. It is sure to uplift the young and the young at heart.
Finding Neverland plays The Providence Performing Arts Center through Sunday, December 3, 2017. Tickets can be purchased online at www.ppacri.org, by phone (401) 421-ARTS (2787), or by visiting the box office at 220 Weybosset Street, Providence, RI. Individual are $42-89 and group orders (15 or more) may be placed by calling (401) 574-3162.
Photo Credit: Jeremy Daniel