VICKIKRISTINABARCELONA Comes to Sala Carmen Dolores in September
The performance is on 27 September.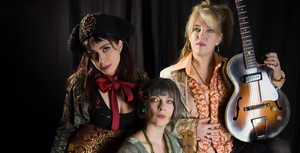 Rachelle Garniez, Amanda Homi e Terry Radigan compõem a aclamada banda Nova Iorquina que, através dos seus instrumentos, transforma as canções de Tom Waits, apresentando-as com arranjos surpreendentes. Três estilos distintos, que formam uma mistura original cativante.
Ficha artística
Terry Radigan Voz, Guitarra eléctrica e Banjo
Rachelle Garniez Acordeão, Guitarra e Banjo
Amanda Homi Voz, Harmónio, Bateria e percussões
The performance is on 27 September. Learn more at https://cloud.broadwayworld.com/rec/ticketclick.cfm?fromlink=2184257®id=316&articlelink=https%3A%2F%2Fteatrotrindade.inatel.pt%2Fespetaculo%2Fvickikristinabarcelona%2F?utm_source=BWW2022&utm_medium=referral&utm_campaign=article&utm_content=bottombuybutton1