GEOCIDE Will Be Performed at Teatro das Figuras This Week
The performance takes place on Saturday 26 June 2021.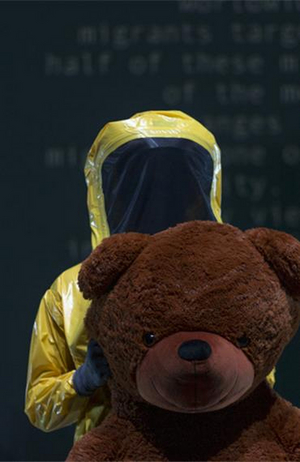 Geocide will be performed at Teatro das figuras on Saturday 26 June 2021.
"Geocide" tells the story of a world. It could be the world we know, or anything else, exactly the same, only with an infinitesimal difference in focus that transforms it completely. A history without history, in a more or less dystopian place, more or less distant. On stage, three beings inhabit a space and the action is not in what they carry, but on the device they step on. Can you imagine a time ("future"?) Where memory it will have been erased in favor of a notion of humanity reduced to (its) eternal contemplation.
"Geocide" is a show that proposes an essentially performative, visual and that navigates the themes of demographic mobility, the anthropocene, narratives dystopian views, apocalyptic visions of the future, accelerationism, technocentrism, post-human, biopolitics and geopolitics.
Duration: 60 minutes
Age: > 12
Price: 10,00€
Learn more at https://www.teatrodasfiguras.pt/en/agenda/54804/geocide.aspx.
Credits:
Creation: Cátia Pinheiro e José Nunes
Dramaturgical collaboration: Rogério Nuno Costa
Interpretation: Cátia Pinheiro, José Nunes e Tiago Jácome
Lighting design: Daniel Worm d'Assumpção
Costumes: Jordann Santos
Creation assistant: Mafalda Banquart e Tiago Jácome
Image, registration and support: António MV
Production: Estrutura
Coproduction: Centro Cultural Vila Flor, 23 Milhas - Fábrica das Ideias da Gafanha da Nazaré
Residence support: O Espaço do Tempo, Centro de Criação de Candoso e Fábrica das Ideias da Gafanha da Nazaré