Review: JOE TURNER'S COME AND GONE at Black Theatre Troupe
Celebrate Black History Month with this outstanding production until February 19th.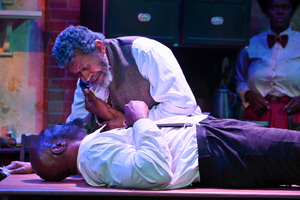 It's Black History Month, February 2023. Having the privilege to experience black art is one of the most tremendous opportunities one could have. Especially when that Black art comes from prolific Black writers and is presented by a theatre that is easily a cornerstone of the community. Joe Turner's Come and Gone by August Wilson is that prolific black art and Phoenix, AZ's Black Theatre Troupe (August Wilson American Century Cycle Award recipient) is that cornerstone, as they bring this amazing piece with amazing players to life.
Joe Turner's Come and Gone follows the happenings within the household of Seth Holly (Calvin J Worthen) and Bertha Holly (Rico Burton). The Hollys rent their rooms to people working or passing through town, giving them meals to eat and treating each one like family. Without giving too much of the story away, when mysterious new tenant Harold Loomis (Roosevelt Watts) and his daughter Zonia Loomis (Imani Jones) find themselves at the Holly house, whilst in search of his wife, the happenings become increasingly bizarre. In the end, this revealing piece is astoundingly eye-opening, with touching and gut-wrenching moments that keep theatergoers enthralled.
Scenic Designer Sarah Harris's set is outstanding. Their beautiful display of levels as well as their wonderful use of the space showed magnificent attention to detail. Stacy Walstons Lighting design paired tremendously with the set as well as the progression of the story, building drama to scenes and creating depth to an already amazing set.
An absent pre-show announcement leads to a few patrons' phones noticeably glowing at the top of the show. It didn't take long for individuals to catch on, but it did seem like a relatively avoidable situation. The show in itself felt as if it took time to build. Although the pacing and performance were seemingly there, the top of the first act seemed to trudge. This could be akin more to a quiet Saturday evening crowd rather than performance quality. Nonetheless, it wasn't long before we were off to the races, digging into a beautifully written show that kept audiences excited to see how situations progress and play out.
The chemistry on stage was phenomenal. Starting with the Hollys, Calvin J Worthen and Rico Burton fit with one another so well. Working in tandem, Worthen and Burton take the reins of the story, bounding the cast together similarly to one of Bynum's songs. With Just as strong of a connection, Raphael Hamilton as Jeremy Furlow and Mike Traylor as Bynum Walker are magnetic any time they touch the stage. Together, these two play off of each other beautifully. Hamiltons smooth talking as Jeremy Furlow builds into some amazing connections, pairing with Amanishakhete Anacaona as Mattie Campbell and Shonda Royall as Molly Cunningham. Mike Traylor is exciting and fun to watch as Bynum and is easily recognized as the vessel that progresses the story. Roosevelt Watts is a powerful presence as Harold Lumis. Watts flawlessly exudes the mystery of Lumis, which is especially noted during a few captivating moments paired with Traylor.
The overall production was astounding. Under the Direction of Mark Clayton Southers, the play keeps its audience captivated well beyond the final bow. With such a well-crafted cast of players and beautiful execution, it's no wonder why Black Theatre Troupe received The August Wilson American Century Cycle Award, as they do its namesake more than justice. And in a time when representation is key, this theatre is and has always answered the call. Joe Turner's Come and Gone will continue at Black Theatre Troupe until February 19th. Be certain to make this magnificent show part of how you celebrate Black History Month.
Find your tickets here: https://cloud.broadwayworld.com/rec/ticketclick.cfm?fromlink=2225212®id=64&articlelink=https%3A%2F%2Fapp.arts-people.com%2Findex.php%3Fshow%3D142407?utm_source=BWW2022&utm_medium=referral&utm_campaign=article&utm_content=bottombuybutton1