Click Here to Visit the College Center

Blogs are the opinions of the authors and do not necessarily reflect the opinions of BroadwayWorld. BroadwayWorld believes in providing a platform for open and constructive conversation.

Student Blog: Freshmen Year and Friends: A Reflection from a College Senior
I made two of my best friends in freshman year. Now, I have to leave them.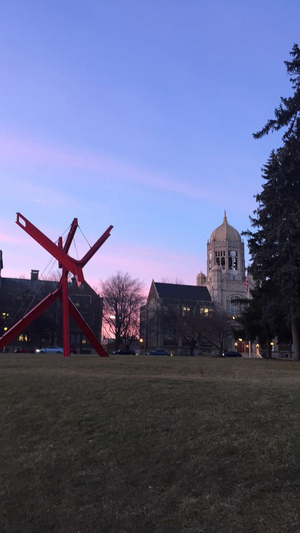 I took a walk tonight, like I've done many nights over the course of the past four years. My school's campus (Muhlenberg College in Allentown, PA) is very small and safe, so I can comfortably walk the entire distance of the campus, which takes me about twenty-five minutes to go across and back once, in the dark without too much anxiety. I found myself wandering through the freshmen quad, which is surrounded by the three freshmen dorms. Upperclassmen have no reason to venture down near these dorms unless they're visiting younger friends in their dorms.
The air smelled like it was excited for spring, the slight scent of rain on the way and the earth coming back to life sweetening the breeze. As I walked the path past the dining hall and down towards the freshmen housing, I remembered many specific nights from my days as an underclassman, walking back from late night study sessions turned hangouts with classmates turned to friends. I sat next to two of the people who have become my best friends on the first day of freshmen year. I didn't talk to them until a month into the semester, hesitantly asking these two boys, one shy, one sassy, if they would like to exchange contact information and meet up some time to read the plays assigned in class. They said yes. And so, began a friendship of late nights, snacks, secrets, homework, laughter, and a few fights. I wouldn't have changed a thing.
Freshman year was terrifying. I was incredibly attached to my family and being away from them was devastating. I was also grappling with the fact that I didn't end up at the school I had been dreaming of since sixth grade, NYU. Eighteen-year-old me was bitter and depressed, scared of the future and resistant to the unplanned present. I was ridiculously uptight, (I probably still am), but was also painfully shy. Looking back at pictures is like looking at a completely different person, the tension in my body and the anxiety in my face visibly evident, my style so vastly different than it is now, my body shape and carriage strange and foreign. But during that confusing and painful year of growth, these two boys, the ones I more or less forced into becoming my friends through the guise of doing homework for our "Theatre and Society" course together, were my anchors. And although our relationships have shifted and changed throughout the years, they still remain the first memory association I have when I think of freshmen year.
I'm currently sitting in one of their rooms as I type this blog. He is my dearest friend, next in line to my sister and my childhood best friend. The other boy and I have drifted apart a bit, but every time I see or hear from him is like picking up exactly where we left off. If I had the chance to go back and relive those nights with them, I would take it in a heartbeat. I would document so many more memories, write down more quotes, spend even more time with them, hug them tighter and more often, and go on more adventures together. Freshman year is incredibly difficult. It's the real, official beginning of stepping into adulthood. You make friends, you lose friends, you struggle with classes, roommates, and freedom. But the memories you make will be ones that you never forget. I know that sounds cliché, but oftentimes statements are cliches for good reason, and it's because they're true.
The people you become close with, whether or not you remain so, will always hold a small piece of your heart. They knew the version of you that existed before you discovered your "real self". Or, at least, in my case, the real self that exists at twenty-two as a senior in college. I watched these boys change into men, and they were by my side as I grew into a woman. I'm just as terrified and confused as I was at eighteen in freshman year. My two friends and I have no idea what we're going to do after graduation. We're finishing college in the middle of a pandemic, so it's hard to know anything for certain about the future, for right now at least. But one thing I do know is that I'm taking the big plunge into the adult world with the friends, network, and education I need in order to know that I'll be okay someday soon. And the two boys who got me through freshman year will be right there to hear all about it.