BWW Review: COMPLETENESS at Theatre Exile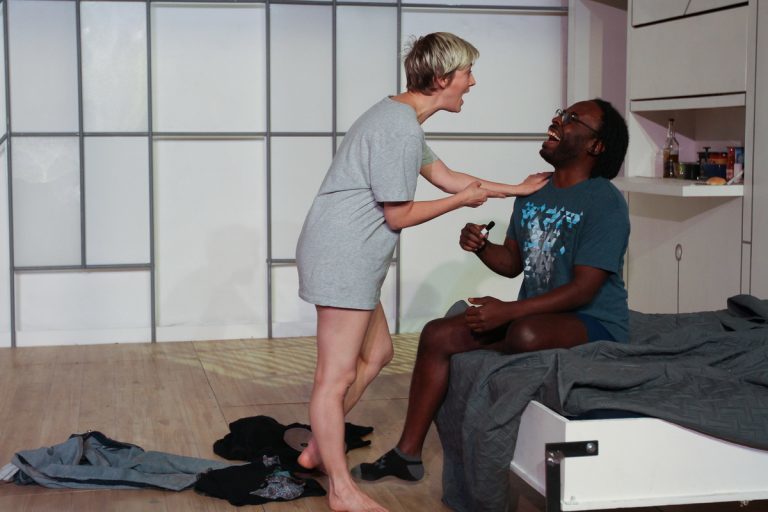 For the first ten minutes of Completeness at Theatre Exile, I was bored out of my mind. "Oh god, these next two hours are going to suck," I thought. Despite my initial distaste, as the play unraveled I was faced with a beautiful presentation of the universal human experience.
Completeness is marketed as a romantic comedy and on the outside, it is. Two grad students, Elliot (James Ijames) and Molly (Mary Tuomanen) meet in a computer lab and fall into an easy romance. Their nerdiness plays so well off one another that Elliot breaks ties with the girl he's seeing, Lauren (Claire Inie-Richards) and Molly ends a relationship she's having with her professor, Don (Justin Rose).
The majority of the show is spent explaining the traveling salesman problem and how it relates to finding true love. Symbolism aside, the most impactful moments in the show are when the characters are straightforward about their emotions. Elliot reveals he is deadly afraid of commitment. Molly reluctantly tells Elliot she's holding on to pain gained from a past relationship.
Ijames and Tuomanen play Elliot and Molly in such a way that they feel real. It feels like you're hearing about relationship problems on the phone with a close friend, or even more, like deja vu. I am convinced there is not a person in the audience that cannot remember a time they laid on a significant other's bed and hesitantly spoke exactly what's in their mind. Molly says she feels like she'll never have a "clean slate" again. I know everyone who has been in a serious relationship that didn't work out can recall feeling something very similar. Elliot says he doesn't know if he can be sure if someone is the one. Who hasn't had the same crisis?
Among the universality to it all, however, there were several barriers to understanding. The show centered around complicated computer science and molecular biology (Elliot and Molly's graduate programs) terminology. Computers were used in practically every scene, and when the main characters went into nerdy, detailed explanations of their science, the audience visibly retracted.
The science was used by Theatre Exile to its benefit though, through what could be called an iSet - a set resembling an Apple-branded box that unfolds to reveal beds, lab tables, and whiteboards. This background helps the transition between excessively technical and raw emotion however, because computers are introduced by the set as ubiquitous, and the story instead feels like an episode of Black Mirror where technology provides a backdrop for a more human storyline.
The four-person cast made an effort to make each character fully real and relatable. Inie-Richards stands out with her genuine starpower and gives Lauren hyper-realistic feelings; something so often lost in secondary characters.
I left the theater feeling rather emotionally exhausted and truly in awe of how writer Itamar Moses could capture such deeply true feelings in a one act play. Give Theatre Exile a visit to experience their unique take on Moses' tale of the mess that is love.
Completeness at Theatre Exile runs until December 23. Tickets can be purchased at www.theatreexile.org
| | | |
| --- | --- | --- |
| | Donations | Arts Orgs |
Related Articles View More Philadelphia

Stories

Shows