Latest News on Renee Blinkwolt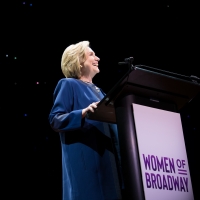 BWW TV: Watch Secretary Hillary Clinton Deliver Closing Speech at 3rd Annual Women's Day On Broadway
by BroadwayWorld TV - Mar 11, 2020
On Monday, in celebration of International Women's Day, Disney on Broadway welcomed Secretary Hillary Rodham Clinton to deliver The Closing Keynote Address at The 3rd Annual Women's Day On Broadway: The Decade Ahead And How Women Will Shape It  at The New Amsterdam Theatre in New York City.

Video: Ars Nova Releases Music Video From RAGS PARKLAND SINGS THE SONGS OF THE FUTURE
by Alexa Criscitiello - Sep 10, 2018
Ars Nova, "one of the most adventurous Off-Broadway companies" (New York Times), under the leadership of Founding Artistic Director Jason Eagan and Managing Director Renee Blinkwolt, is pleased to kick off its 2018-2019 season at its original home with the world premiere of Rags Parkland Sings The Songs Of The Future. Created by Andrew R. Butler, a former Ars Nova resident artist and 2018 Jonathan Larson Grant recipient, this sci-fi folk concert is directed by Jordan Fein (Erin Markey's Singlet) and strengthens Ars Nova's reputation as an innovator in stretching the bounds of music-driven theater.