Latest News on John Dietrich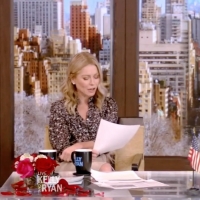 VIDEO: Kelly Ripa Talks ABC DAYTIME: BACK ON BROADWAY, Raising Money for Broadway Cares
by Stage Tube - Feb 11, 2021
Kelly talks about the ABC Daytime: Back on Broadway airing on February 11, raising money for Broadway Cares.
STAGE TUBE: Dramatists Guild Panel - Wright, Hall, Holzman and Ives on Adapting for the Stage
by Stage Tube - Aug 24, 2013
Dramatists Guild of America presented the 2nd Annual National Conference in Chicago 'Having Our Say: Our History, Our Future' livestreaming on HowlRound TV channel on Thursday, August 22 and Friday, August 23. On Friday, Doug Wright, Carol Hall, Winnie Holzman and David Ives spoke with John Dietrich about working with adaptations, translations and more. Watch the panel below!