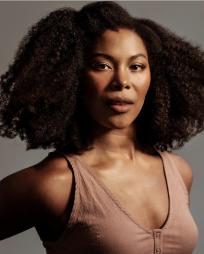 Bio:
Off-Broadway: The Steadfast (Slant Theatre Project); Dirty Blood (Billie Holiday Theatre). Regional: Merchant of Venice, Two Gentlemen of Verona, Comedy of Errors, A Midsummer Night's Dream, Christmas at Pemberley (Shakespeare & Co.); Saturday Night/Sunday Morning (Lyric Stage Company, Elliot ...
(read complete bio)
Latest News on Cloteal L. Horne
BWW TV Exclusive: Get Thee to the Berkshires for the 2016 Season of Shakespeare & Company!
by BroadwayWorld TV - Aug 13, 2016
BroadwayWorld's Richard Ridge recently stopped by the theatre company in the beautiful Berkshires to chat with some Shakespeare & Company insiders for a scoop on the summer season. Below, check out interviews with Jonathan Croy, Tamara Hickey, Cloteal L. Horne, and Ryan Winkles as well as sneak peeks of some of their currently-running shows!