Latest News on Jodi Foster
Jodi Foster News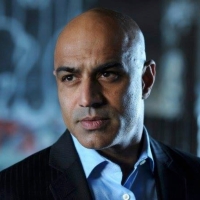 Faran Tahir Will Play the Title Role Of Shakespeare's MACBETH Next Summer On The Boston Common
by Stephi Wild - Dec 2, 2022
Commonwealth Shakespeare Company (CSC) and Steven Maler, Artistic Director, are very pleased to announce that Pakistani actor, writer, director, and producer Faran Tahir will return to CSC next summer to play the title role of Shakespeare's Macbeth on the Boston Common.

BWW Review: BOLD GIRLS at Brigit Saint Brigit Theatre Company Presents Powerful Women
by Christine Swerczek - Mar 10, 2019

BWW Interview: Sean Thompson of LOVE NEVER DIES at Robinson Performance Hall
by Mike Noland - Nov 4, 2018
A Philly boy, Sean Thompson, sees the country in Andrew Lloyd Webber's Love Never Dies. See how he got to be so lucky.
Cary Elwes & Jake Busey Join the Cast of Netflix's STRANGER THINGS Season Three
by Macon Prickett - Apr 18, 2018
Netflix has announced two new cast members joining season three of their smash-hit original series Stranger Things. Cary Elwes has been cast as a guest performer in the role of 'Mayor Kleine and Jake Busey joins as 'Bruce'

CSC Announces Faran Tahir To Play RICHARD III At Annual Gala
by Julie Musbach - Apr 9, 2018
Commonwealth Shakespeare Company (CSC) is pleased to announce that its Annual Gala, held at the Taj Hotel in Boston on Saturday, April 7, raised $230,000 to support this summer's Free Shakespeare on the Common production of Richard III.
Harriet Harris to Star in Comedic Double Feature with Berkshire Theatre Group
by Julie Musbach - Mar 5, 2018
Berkshire Theatre Group (BTG) and Kate Maguire (Artistic Director/CEO) are thrilled to announce an additional Unicorn Theatre production, the comedic double feature: Sister Mary Ignatius Explains It All For You and The Actor's Nightmare, featuring Tony Award-winner, Harriet Harris (Thoroughly Modern Millie, Phantom Thread, Frasier; BTG: Arsenic and Old Lace) as Sister Mary Ignatius.This cast also features Jenn Harris (Silence! The Musical, Modern Orthodox; BTG: Cat on a Hot Tin Roof, The Heidi Chronicles), Tom Story (BTG: The Glass Menagerie,Camelot, The Heidi Chronicles) and Matthew Sullivan (The Roads to Home; BTG:Arsenic and Old Lace).
Jim Gaffigan, Carl Reiner Lend Voices to Animated Film DUCK DUCK GOOSE
by TV News Desk - Feb 2, 2016
Original Force Animation continues to add cast and filmmaking talent to its first animated feature DUCK DUCK GOOSE. Joining the impressive list of vocal talent, actor/writer Jim Gaffigan has been cast in one of the film's leading roles and will voice the rebellious but lovable goose Peng. Legendary director/writer/actor Carl Reiner will voice Larry, a venerable, wise and loyal friend who happens to be a turtle.
Photo Flash: STOMP Celebrates 13th Birthday with Star-Studded Gala
by Tyler Peterson - May 13, 2015
STOMP at London's Ambassadors Theatre recently announced it has extended booking period until 5 June 2016. The show, which has broken all previous box office records at the Ambassadors Theatre, also celebrated its 13th Birthday in the West End with a Gala Night for Teenagers on Monday 11 May. Check out a look back below!