Date of Birth: May 29, 1945 (77)
Birth Place: Southend, Essex, ENGLAND
Latest News on Gary Brooker
Gary Brooker News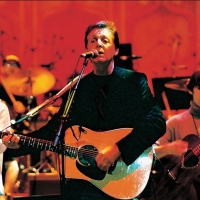 CONCERT FOR GEORGE Comes to the Big Screen at Park Theatre
by Stephi Wild - Nov 21, 2022
The Park Theatre will present a special one-night-only screening of 'Concert for George', on Tuesday, November 29, in selected cinemas worldwide, coinciding with the 20th anniversary of the momentous 2002 concert.
Filmmakers Stéphanie Chuat and Véronique Reymond, Ayn Rand Institute's Yaron Brook, & Carmine Appice Up Next on TOM NEEDHAM'S SOUNDS OF FILM
by A.A. Cristi - Jan 19, 2021
Stéphanie Chuat and Véronique Reymond, the writers and directors of MY LITTLE SISTER, author Yaron Brook, and Vanilla Fudge's Carmine Appice are Tom Needham's special guests on THE SOUNDS OF FILM.
Ringo Starr Announces 'Ringo Rocks: 30 Years of the All Starrs' Limited-Edition Commemorative Book
by Sarah Jae Leiber - Dec 16, 2020
It's been three decades since Ringo Starr founded his All Starr supergroup and took the stage with some of rock and roll's biggest luminaries, creating an exceptional legacy of performances of some of the greatest hits of all time.
EVERYBODY UNDER THE SUN: VOICES OF SOLSTICE VOLUME I: THE SINGERS to be Released December 6
by Kaitlin Milligan - Oct 16, 2019
 Everybody Under the Sun: Voices of Solstice – Volume I: The Singers will be released on December 6, 2019. This two-disc anthology presents live recordings of 22 guest singers from 13 cultures of the world who have been featured in Paul Winter's solstice celebrations in the world's largest cathedral, New York's St. John the Divine, over the past 38 years.
Procol Harum Embarks On 2019 US Tour In Support Of NOVUM Album
by Tori Hartshorn - Jan 7, 2019
In February 2019, the legendary Procol Harumwill return to North America in support of their latest album Novum (Eagle Rock Entertainment). The band will perform at various City Winery locations in major markets, allowing attendees an up-close-and-personal experience.

City Winery Chicago Announces Special Holiday Show with AMERICAN IDOL Winner Kris Allen
by Kaitlin Milligan - Sep 18, 2018
City Winery Chicago, 1200 W. Randolph Street, announces a special holiday show with "American Idol" winner Kris Allen and more. The following shows go on sale to the public on Thursday, September 20 at noon. All tickets will be available at citywinery.com/chicago.
BWW Previews: NEW YEAR'S EVE with LURAY PRODUCTIONS at Minquadale Memorial Hall
by Greer Firestone - Oct 2, 2017
Luray Productions and Club Phred, a perfect match for New Year's Eve 2017. Lois Parker, founder and producer of successful Golden Oldie events, teams with Club Phred, a self-proclaimed Rock n Roll Event to tear down the house at their 5th annual New Year's Eve celebration.
Legendary Violinist Darryl Way to Release New Concept Album/Rock Opera 'Underworld'
by Caryn Robbins - Jun 21, 2017
Much to the excitement of prog music fans worldwide, legendary Curved Air violinist Darryl Way is releasing a new Concept Album/Rock Opera called "Underworld" on June 21st. "Underworld" is released in 2 versions: "Underworld Rock Opera Complete" which is the whole show with dialogue and narration and "Underworld Rock Opera the Songs" which just contains the songs.
YUSUF/CAT STEVENS Returns With 'Tell 'Em I'm Gone', Out 10/27
by Casey Judge - Sep 15, 2014
Legacy Recordings today announced that iconic singer-songwriter and 2014 Rock and Roll Hall of Fame inductee Yusuf / Cat Stevens has joined the label's storied musical family. To kick off this exciting new chapter in Yusuf's career, Legacy Recordings will release his first new studio album in five years, entitled Tell 'Em I'm Gone, on October 27.