BWW Review: THE VIRGIN TRIAL at The Great Canadian Theatre Company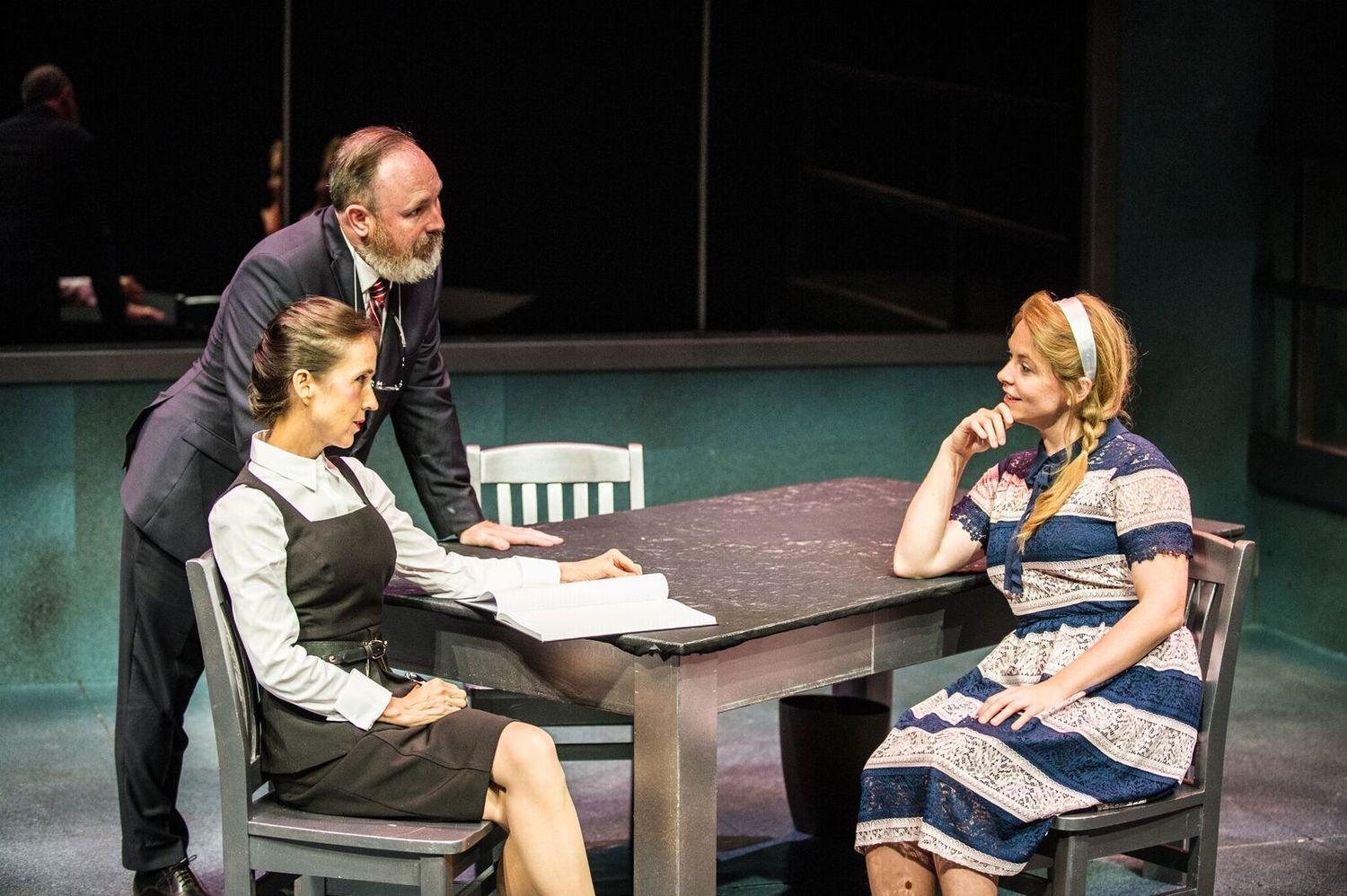 I had the pleasure of being invited to attend the premiere of The Great Canadian Theatre Company's production of Kate Hennig's The Virgin Trial, directed by Eric Coates. Although this production is the sequel to Hennig's The Last Wife, the play stands on its own so no prior knowledge is needed. The play is set in modern times, but the characters and events are from the Tudor era. English history buffs will particularly enjoy the story as it is partially based on factual events with some speculation thrown in, which makes for a fascinating crime drama.
The Virgin Trial begins with Thomas (Thom) Seymour, played by Attila Clemann, arrested for treason for a plot to either assassinate or kidnap King Edward VI. Elizabeth (Bess) Tudor, performed by Lydia Riding, has been brought in for questioning about her suspected involvement in the plot. Her interrogators, Ted (Chris Ralph) and Eleanor (Kristina Watt) pounce on Bess in a good-cop / bad-cop fashion. Bess' governess, Ashley (Kate Smith) and accountant, Parry (Cassel Miles), are being questioned separately. Since they are not nobility, interrogation techniques applied to them are less pleasant, with preferred methods being electric shocks and waterboarding.
The relationship between Thom and Bess is revealed through a series of flashbacks interwoven with the present-day events. Despite the fact that Thom is Bess' stepfather, it becomes apparent that the nature of their relationship is far from innocent. Was their relationship consensual or was an innocent fifteen year old taken advantage of by a much older man in a position of power?
Hennig's Bess is portrayed as a young woman seeking her independence and coming into her own. She is third in line to the throne, after her half-brother, King Edward VI, and her half-sister, Mary. Could she have orchestrated the entire plot to hasten her advance to the throne? Or was it all Thom's idea? After all, his thirst for power led him to wed Katherine Parr too quickly after King Henry VIII's death to be seemly. Is Thom Bess' co-conspirator, her lover or merely her puppet? It becomes clear that Bess' reputation is of the utmost importance to her. How can Bess maintain her innocence and clear her name of the scandal surrounding the House of Tudor?
The performances by all cast members were outstanding. Particularly, Riding's Bess was simultaneously sympathetic and devious. Bess maintained her dignity throughout questioning, as one might expect from nobility, expertly sidestepping attempts to ensnare her.
Ralph and Watt were convincing in their roles as Ted and Eleanor. Ted wants to protect his brother, Thom, from execution and, although he begins as Mr. Nice Guy when he questions Bess, his underlying goals become apparent as his desperation increases. Watt's Eleanor is sadistic, clearly enjoying her role as torturer. We can tell that she would love to use the same tactics on Bess that she is using on Parry and Ashley.
Although a minor character, Miles' portrayal of Parry was particularly entertaining. Indeed, it is difficult to believe that this show is Miles' first after a fourteen-year hiatus from professional theatre.
Mary's role was the smallest, but Anie Richer ensures that all focus is on her whenever she appears on stage. Richer reprised her role from Hennig's The Last Wife and we can keep our fingers crossed that she will continue when the third instalment of the series is eventually performed at the GCTC.
The direction, set and costume design deserve praise. The set is simple, putting all the focus on the actors. The use of flashbacks on such a simple stage could, and perhaps should, have been confusing, but it isn't. Mary is dressed entirely in black, fitting for a character who will become known to history as "Bloody Mary". Towards the finale, Bess changes into a white dress, likewise foreshadowing her eventual moniker of "The Virgin Queen", which inspired the play's title.
Hennig's script shows that events occurring in the 16th century were not all that different from those happening today. Topics such as victim shaming, sexual consent and feminism are explored in this drama. I am looking forward to see what Hennig comes up with for the next phase of the story.
The Virgin Trial is on stage until September 30, 2018 at the Great Canadian Theatre Company. See https://www.gctc.ca/shows/the-virgin-trial for more information or to purchase tickets.
Photo credits: Andrew Alexander
| | | |
| --- | --- | --- |
| | Donations | Arts Orgs |
Related Articles View More Ottawa

Stories

Shows
A native of Montreal, Canada, Courtney loves the theatre, in general, and Broadway, in particular. She saw her first show when she was thirteen years (read more...)