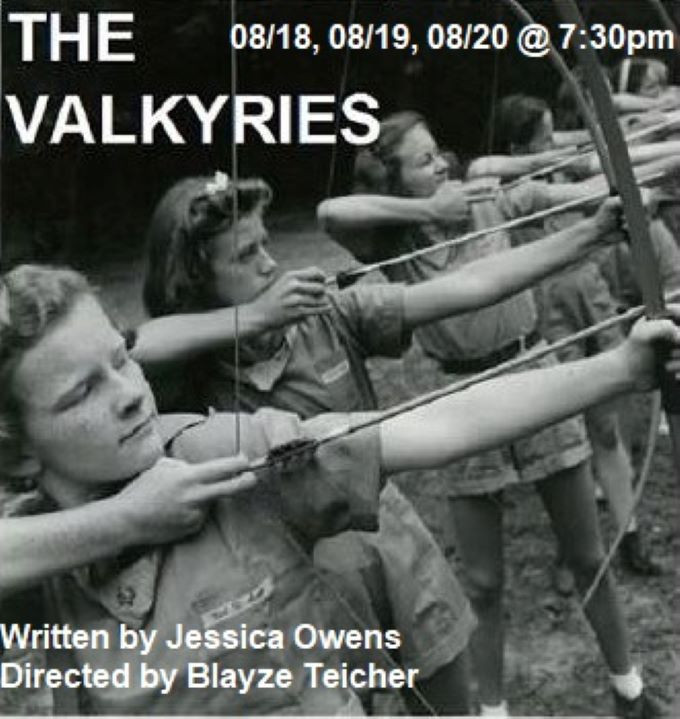 The Valkyries at The Tank
Dates

8/18/2019 - 8/20/2019

Theatre


312 West 36th Street, 1st Floor
New York, 10018
Twitter Facebook Instagram

Tickets Info

$15
Phone: (212) 563-6269




In The Valkyries (by Jessica Owens) the tenuous strands of connection between three women in an all-female doomsday cult start to unravel revealing how women deal with trauma, what lengths they are willing to go to, what traumas they're willing to inflict on others, and what portion of their own autonomy they are willing to give up, to feel they've regained some semblance of power.

CAST:
Alex Beechko
Amy Berryman*
Allison Haglund
Ashley Marie Ortiz*
Stage Managed by Patricia Garcey

*Member of Actor's Equity Association

Jessica Owens (Playwright) is a Brooklyn based Playwright, Dramaturg, Producer and Theatre Administrator. Recent writing includes The Valkyries (Dixon Place, The Tank) and I LOVE NEW YORK: a found text american dream (Dixon Place, The Tank) Dramaturgy includes the upcoming Farragut North (5th Floor Theatre), The Glass Menagerie (Pigeonholed Theatre), I Once Found Myself in an Isolation Chamber (The Tank), The Pitchforks (The Loading Dock, The Drama League), Macbeth (Columbia Stages), Northern Lights (ATHE Development Workshop), Ascent, and MAY: A New Musical Fable. Jessica has worked at institutions such as The Broadway League, Roundabout Theatre Company, The Public Theater, and Creative Artists Agency. She is a Script Reader for Roundabout, The Public, Dramatists Guild Fellowship, YouthPLAYS Publishing, Jewish Plays Project, and various other playwrighting competitions. Co-Founder of The Varsity Theatre Company and Initiative for Millennial Theatre Artists. She holds a BA from Vanderbilt University and an MA from the Royal Academy of Dramatic Arts & Birkbeck College.


Blayze Teicher (Director) is a Brooklyn-based director who develops Queer, magical, and political stories for theatre and film. She served as the Resident Director of the Off-Broadway immersive show Trainspotting Live and as an Artistic Associate of The Parsnip Ship, a podcast series of new plays paired with live music. Select productions include The Virtuous Fall of the Girls from Our Lady of Sorrows by Gina Femia (The Flea), The Diplomats (Winner: Best Direction, Fresh Fruit Festival, DUAF) by Nelson Diaz-Marcano, Charlie's Waiting (Under St. Marks) by Melisa Annis, How to Field Dress an Android (University Settlement), Mother Knows Best (New Light Theatre Project), Paper Towels (The Brick) by Nelson Diaz-Marcano, The Day the Sky Turned Black (United Solo Festival) and, upcoming, Moses by Grace Connolly (HERE SubletSeries). Development credits include Andrew Rincón's I Wanna Fuck Like Romeo and Juliet (The Parsnip Ship), Andrew Rincón's You Got That Same Kind of Lonely (Amios), Grace Connolly's The Escape (Primary Stages, The Playwriting Collective), Ben Ferber's I'm Very Online (The Dirty Blondes, BAM Attic), Alexander Sage Oyen's A Night Like This (54 Below), and Gina Femia's The Mermaids' Parade (The Parsnip Ship). As a filmmaker, her work has screened at several festivals across the country, including Frameline, Out on Film Atlanta, and Cinema Diverse, and has been featured on Huffington Post, Broadway World TV, and Funny or Die. She directed the original series Interested In now streaming on Amazon Prime channel myDekkoo and served as Script Supervisor/Assistant to Randy Harrison on New York Is Dead (Winner: Best Comedy, New York Film & Television Festival, Tribeca Film Festival). Currently, she's the Producing Manager for The Lee Strasberg Theatre and Film Institute. Blayze has assisted for Portia Krieger (2ST Uptown, NYMF), Ilana Ransom Toeplitz, Carolyn Cantor, Lauren Keating, and Sarna Lapine.

Scenic and Lighting Design by Kailey B. Hayes Lenihan
Sound Design by Carsen Joenk


News About The Valkyries at The Tank
The Tank and New Light Theater Project Present MEET YOU AT THE GALAXY DINER.
August 13, 2020
The Tank and New Light Theater Project will present a virtual production of the new play meet you at the Galaxy Diner. by Gina Femia, directed by William Steinberger. meet you at the Galaxy Diner. will premiere live on Friday August 21, 2020 at 8pm ET on CyberTank and will be available through August 28, 2020 on CyberTank OnDemand.
Discounted Tickets Available for Opening Night of THE VALKYRIES at LadyFest
August 15, 2019
In The Valkyries (by Jessica Owens) the tenuous strands of connection between three women in an all-female doomsday cult start to unravela?"revealing how women deal with trauma, what lengths they are willing to go to, what traumas they're willing to inflict on others, and what portion of their own autonomy they are willing to give up, to feel they've regained some semblance of power.
THE VALKYRIES Joins LadyFest At The Tank With All Female Creative Team
August 07, 2019
The Valkyries written by Jessica Owens and directed by Blayze Teicher will be presented as part of The Tank's LadyFest, a festival featuring pieces written, directed, produced, acted, managed, and designed all by female or gender non-confirming artists. The festival is 'in celebration of womxnhood and the female voice, in all its glory.'
The Tank To Present LADY FEST 2019
July 09, 2019
The Tank will present their third annual Lady Fest, featuring new work by some of the most exciting lady-identified artists out there, in celebration of womxnhood and the female voice, in all its glory.
Cast and Creative team for The Valkyries at The Tank
Alex Beechko as Drew
Trained at Strasberg Institute, Atlantic Acting, Upright Citizen's Brigade, and received a BFA from The Hartt Conservatory. Limited theatre credits include "A Christmas Carol," the stage debut of "Snow Falling on Cedars" at Hartford Stage Co. as a lead dancer and actor in two shows simultaneously, "Gynx" an award winning play at NY Summerfest (received best actress nomination), "Personhood" at HERE Arts Center. Limited film credits include "Myth," "The City is Like a Character in the Film," "Samena," and "Hell House LLC II."  She completed her first short film "3-2-1," a suspense film, screening in the international and domestic film festival circuit 2019-2020. You can also catch her portraying the role of 'Jess' in the webseries "Interested In," picked up by Dekkoo, a gay network, streaming on Amazon Prime. Grateful to be telling new, inventive stories and working with familiar faces. Follow @thealexbeechko  
Amy Berryman as Hilda
Amy Berryman is a writer and actor originally from Seattle. She was recently seen off-Broadway in The Convent by Jessica Dickey, directed by Daniel Talbott. Her full length plays include Walden (Premiere Play Festival Runner Up 2019, Title Wave Theatre Festival at Bay Street, Great Plains Theatre Conference), The New Galileos (O'Neill Finalist 2019, Playwrights Realm Fellowship Finalist 2018) Three Year Summer, and The Whole of You (commissioned by Rising Phoenix Rep for Cino Nights). Her work has been developed with Portland Stage, Premiere Stages, Nomad Theatricals, Caltech, Prop Thtr, and Last Frontier Theatre Conference. Her short film "You Are Everywhere" won "Best Short Drama" in the LA Short Film Festival 2018. amy-berryman.com  
Allison Haglund as Gunnie
Allison was born and raised outside of Orlando, FL and has called NYC home for 5 years. Most recent credits include: You've Got That Same Kind of Lonely by Andrew Rincón, Lovesickness (Bank Street Theater), What It's Like to Be a Bat (Gallery  Players) and I'd Kill For You on Investigation Discovery. For the last three years, Allison has worked with NYU's Center for Diversity, Inclusion and Belonging performing in diversity workshops for large businesses. Currently, Allison works in development at Theatre for a New Audience, where she is passionate about supporting arts education programs.   
Ashley Marie Ortiz as She
Ashley Marie Ortiz is a New York based Actor and Teaching Artist. Some stage credits include: Morgan, Meet me at the Fountain(Lincoln Center Education), Thorn, Malefactions, Maria, Patience, Fortitude, and Other Antidepressants (INTAR/LATC), Meiken, Marfa Lights(INTAR), Mary/Eve, A Beautiful Star (Triad Stage). Teaching Associate at the Park Avenue Armory. Member UNIT52, Barefoot Theatre Co. Associate Producer, Symphonics Live. Assistant Director Saturday Cast The Possibility Project, an Off-Broadway theatre organization dedicated to producing theater for social change with the youth of NYC. Proud volunteer at The 52nd Street Project.