THE LEAH/RACHEL PLAY Comes To The 14th Street Y As Part Of The Genesis Plays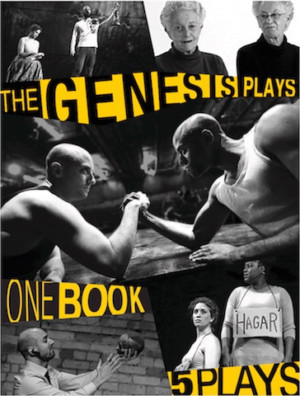 THE IN[HEIR]ITANCE PROJECT and THE 14TH STREET Y are pleased to present THE LEAH/RACHEL PLAY, as part of The Genesis Plays, a collection of plays inspired by stories in the book of Genesis, and devised with communities in different US cities. Created in a collaborative process led by Jon Adam Ross and directed by Chantal Pavageaux, featuring a film directed and produced by Emmy-award winning filmmaker Ilana Trachtman (Praying with Lior), THE LEAH/RACHEL PLAY performs in rep (with four other plays) during a three-week limited engagement at The Theater at the 14th Street Y (344 E 14th St at 1st Ave, New York, NY 10003). Performances begin Tuesday, May 1st and continue through Wednesday, May 16, 2018.
Using documentary-style interviews with community members in tandem with the scripted action on stage, in The Leah/Rachel Play a historian unearths an ancient papyrus about sisterhood and struggles with what it means for a man to have made this discovery that reveals so much about female identity. As a new father to twin baby girls, he's looking for advice anywhere he can get it.
"In Seattle we explored how history is written by men, even in the bible. And in response we explored the concept of sisterhood, the voices of biblical women, and the sibling relationship of Leah and Rachel," shares creator Jon Adam Ross. "Brandon Blake will be flying out to recreate his work in The Leah/Rachel Play, he brings such infectious joy with him everywhere he goes. Ilana Trachtman is an Emmy-award winning film director who produced and directed the film for the play and her incredible talent and experience have made adapting the piece for the NYC stage extremely exciting."
For director Chantal Pavageaux, "The Leah/Rachel Play is an experiment for The In[heir]itance Project and, as such, is the most unpredictable. The interaction between film and live performance allows for great theater magic, and for interesting twists in storytelling."
Starring Brandon Blake and Jon Levin.
Produced by Martha Goode. Featuring set design by Deb O, costume design by Andja Budincich, lighting design by Stacey Boggs, sound design by Caroline Faustine and projections by Phoenix Sweeney. Tyler Winthrop is the stage manager, Eli Reid is the production manager, and Zhailon Levingston is the associate director. Marketing/PR by Kampfire PR, and graphic design by Billy Keefe. Film directed and produced by Ilana Trachtman (cinematography by Lars Larson, film editing by Zelda Greenstein, and studio sound recording by Bob Marts).
The Leah/Rachel Play plays the following performances through Wed, May 16th:
Tuesday, May 1st at 7:00 p.m.
Friday, May 4th at 9:00 p.m.
Sunday, May 6th at 4:00 p.m.
Wednesday, May 9th at 9:00 p.m.
Friday, May 11th at 9: 00 p.m.
Saturday, May 12th at 4:00 p.m.
Sunday, May 13th at 2:00 p.m.
Wednesday, May 16th at 7:00 p.m.
Tickets are $18 (or see three plays for $14 each with a Flex Pass) and are now available online at www.14streety.org/genesis or by calling 646-395-4310. Tickets may also be purchased in-person at the box office half-hour prior to the performance.
Running Time: 70 minutes
The developmental process of The Genesis Plays includes text study with artists and clergy, devising workshops, open rehearsals with participating organizations and houses of worship, performance talkbacks, and community engagement events where local artists and audiences also respond to the source material.
The Genesis Plays are funded with generous support from The Covenant Foundation, in association with Downtown Jewish Life, co-presented by The Theater at the 14th Street Y.
THE GENESIS PLAYS features:
THE LEAH/RACHEL PLAY (Seattle 2017): Investigates sisterhood using filmed interviews of sisters of all ages, live music, and ancient papyrus.

THE SARAH PLAY (Kansas City 2017): Three actors struggle with how to tell a sacred shared narrative of the Muslim, Christian and Jewish traditions, when there are multiple accounts of the truth.

THE ABRAHAM PLAY (Twin Cities 2015): Follows a Wall Street stock jock searching for a lost deed in a scavenger hunt where the audience holds the clues.

THE JACOB PLAY (Austin 2016): A hard-hitting, smackdown, knockout wrestling extravaganza!

THE REBECCA PLAY (Charleston 2016): The city becomes a mother playing favorites among her children, White and Black.
To learn more visit www.inheiritance.org