Manhattan Repertory Theatre Presents SATURDAYS WITH LENNY
Featuring Alessandro Caronna, Giorgio Varipapa, Nicole Hayes, and Ivan Rodriguez.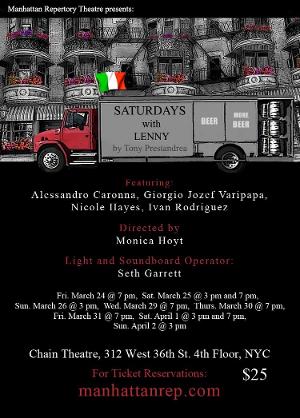 Manhattan Repertory Theatre presents Saturdays With Lenny, a coming of age story written by Tony Prestandrea.
Set in Boston in the 1980's, an optimistic 13 year old boy, Frankie Russo, who works at his uncle's beer and grocery market, develops a friendship with Lenny, a 35 year old college graduate, as they drive around Boston delivering beer and having adventures together on Saturdays.
Beautifully directed by Monica Hoyt, this funny and moving play will transport you to a unique time and place, make you laugh and cry, as Frankie and Lenny learn and grow from their friendship, while sharing Saturdays together in a beer delivery truck.
Featuring: Alessandro Caronna, Giorgio Varipapa, Nicole Hayes, Ivan Rodriguez
Fri. March 24 @ 7 pm, Sat. March 25 @ 3 pm and 7 pm, Sun. March 26 @ 3 pm, Wed. March 29 @ 7 pm, Thurs. March 30 @ 7 pm,
Fri. March 31 @ 7 pm, Sat. April 1 @ 3 pm and 7 pm,
Sun. April 2 @ 3 pm
Chain Theatre, 312 West 36th St. 4th Floor, NYC
For Ticket Reservations:
$25
manhattanrep.com